Are you on the search for the best vape in Pakistan? We recommend trying out RELX – an international vape company with an impeccable reputation. RELX has quickly taken over the popularity of JUUL, and there are several reasons behind this brand's fame.
Here is everything you need to know about why RELX is becoming popular in Pakistan.
What is RELX?
Since 2017, RELX has been committed to revolutionizing electronic cigarettes and vaping technology.
They use the most modern production methodologies, allowing them to produce some of the most innovative vaping equipment in the market. RELX's range of vaping products has cutting-edge technology and stylish designs for the modern vaper.
Even though RELX is an emerging vape company, they have raised 5.8 million USD from their initial investments. As a brand, they aims to modernize the vaping experience for those looking for a suitable alternative to traditional cigarettes. By making their vape products user-friendly and straightforward, RELX enables customers from all over the world to vape anywhere with zero hassle.
Compared to other vape devices in the market, RELX focuses on developing elegant and sophisticated pieces of vape equipment. Their vape pens and e-cigarettes are known for their quick recharge time and long-lasting battery life.
The best part about using RELX is enhancing your vaping experience with a new, unique airway design. You can vape with RELX for hours and still enjoy a smooth pull with every puff you take.
Top RELX Devices
If you wonder which RELX device to buy in Pakistan, we have the top three options for you:
Infinity Kit,
Essential Kit
Classic Kit.
All of these are closed pod devices, letting the user experience a hassle-free vaping experience.
Here is a detailed rundown on the most popular RELX vape pods:
For beginner vapers who want to make their experience as smooth as possible, the RELX Infinity Kit is a great choice. The kit uses pre-filled pods with 1.9 mL e-liquid and a variety of nicotine strengths. The device is available in three colours: black, silver, and red.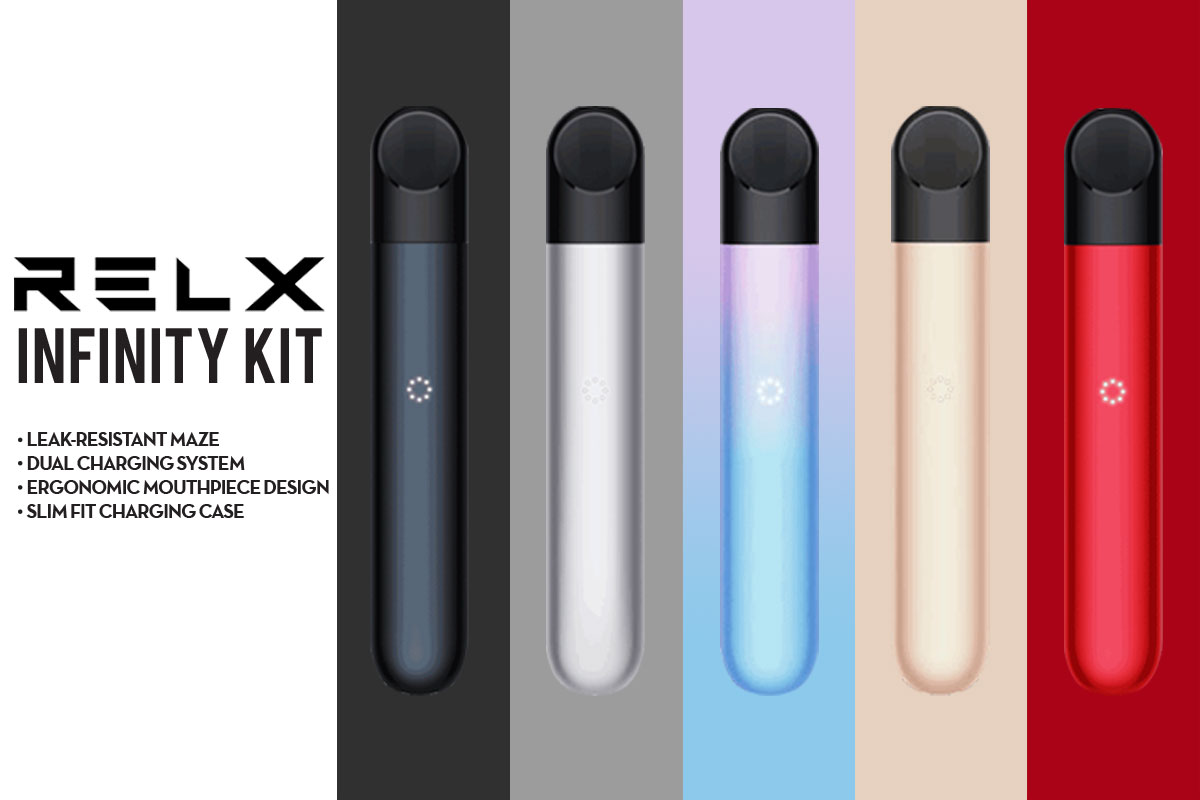 If you want to carry your vape around with ease, then the Infinity Kit is lightweight and portable. While it is pretty similar to the Classic Kit in size, it has a new, rounded design that provides a better hand-feel. The Infinity Kit is a practical vape for anyone – you can keep it in your pocket or bag and forget that it's there.
There are two ways to charge the Infinity Kit. You can plug it via the USB-C port at the bottom or use a portable charging case by RELX. Charging cases are available in either 1000 mAh capacity or 1500 mAh, and you can choose one depending upon your usage. At full charge, RELX claims that the Infinity Kit can give you up to 650 puffs.
With the Infinity Kit, RELX offers a range of flavours to enhance the user experience. You can choose from Menthol Plus, Fresh Red, Tangy Purple, Raspy Ruby, Ludou Ice, Golden Slice, Garden's Heart, and Dark Sparkle. Not only do these flavour names capture your attention immediately, but each of them has a unique flavour hit ranging from a watermelon taste to a cola flavour.
What Makes the RELX Infinity Kit a Best Buy?
The first thing that a user would notice is the new shape of the mouthpiece. While RELX typically has more ergonomic mouthpiece designs, the Infinity Kit has a flat mouthpiece. It fits comfortably on the lips, and you don't have to struggle to take a hit.
The magnets that hold your pod together are powerful, so you will never have the pod accidentally popping out of the Infinity Kit. There is a new vibrating mechanism on the Infinity Kit as well that makes it a unique wonder. The device will automatically vibrate if you take 15 hits within a 15-minute window; this is an excellent feature for those who want to limit their nicotine consumption or track how much they are vaping.
RELX incorporates the Super Smooth Tech and the latest pod design by FEELM into this versatile Infinity Kit. Even though the device is made with eight different parts, it has an entirely leak-resistant mechanism. The Infinity Kit is almost noiseless, as RELX claims that the sound is less than 10 dB.
Who should buy The Infinity Kit?
We recommend the RELX Infinity Kit to beginner vapers and those who wish to cut down on their daily nicotine intake.
With this kit, you can choose between the 5%, 3% or 0% pods. Even if you smoke half a pack of cigarettes daily, you would be satisfied with the 3% pods on the Infinity Kit.
The 0% pods are for those who want the illusion of a strong throat hit without any nicotine. If you're going to go nicotine-free, the Infinity Kit can cater to all your needs with diverse flavours and menthol content.
If you switch to vape kits for the first time, we recommend using the RELX Essential Vape Pod Kit. This device is compact and easy to use, especially for beginners. All you need to do is insert your chosen pod flavour and start vaping. There are no complicated buttons on the device either. When you inhale on the mouthpiece, the RELX Essential Vape Pod Kit switches on automatically.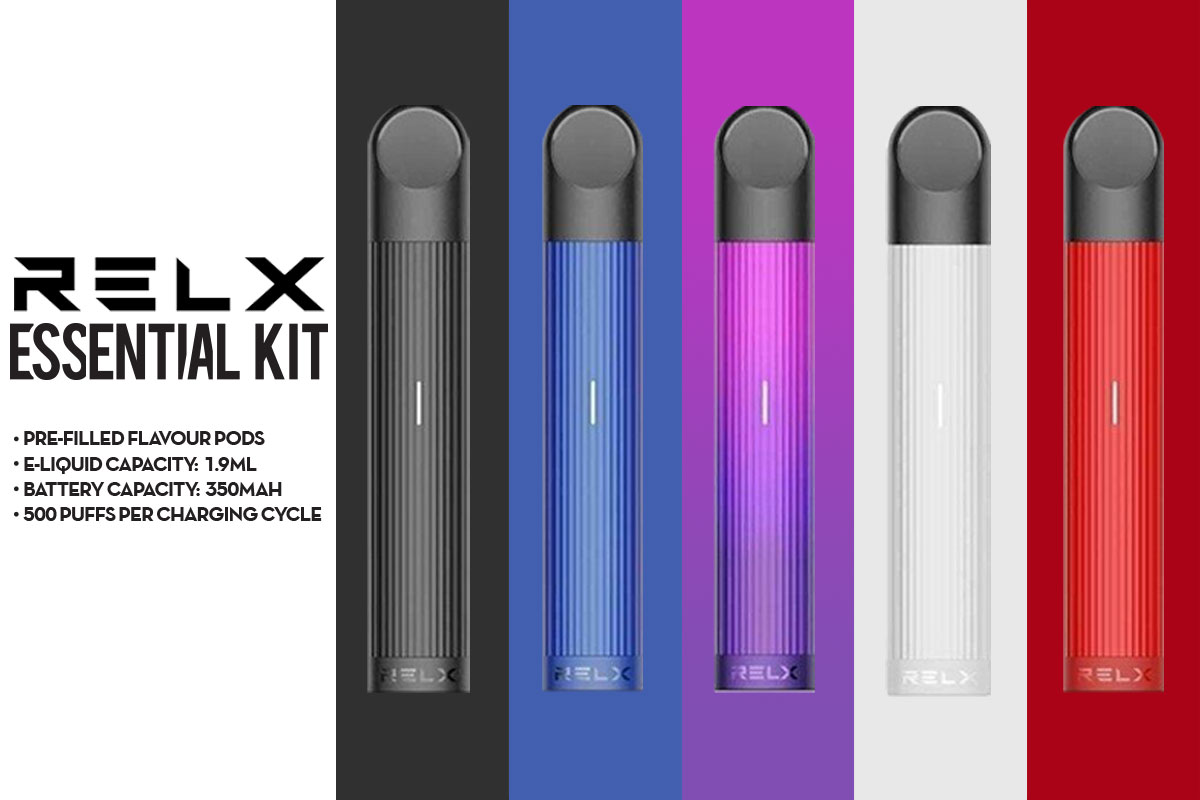 The most significant advantage of using the Essential Vape Pod Kit is that it uses pre-filled pods. Pre-filled pods mean that the user does not have to learn the expertise of refilling the e-liquid or changing the coil. Once your pod runs out of e-liquid, you can dispose of it off and insert a new one into the device to continue vaping.
The Essential Vape Pod Kit is fitted with a 350mAh battery that can last up to 24 hours. With complete charging, you can enjoy up to 500 puffs with this device. There is also a USB-C charging cable included in the kit to recharge your device quickly. You can reach complete charging in just 40 minutes.
What Makes the RELX Essential Vape Pod Kit Different?
In recent years, the main focus of vaping has shifted towards pod mods and nicotine salt e-liquids. Unfortunately, other manufacturers have only focused on these developments for expert vapers who use open pod systems. RELX developed this Essential Vape Pod Kit for beginners using closed pod systems, making the vaping experience much more straightforward.
With the closed pod system of the Essential Vape, you can have a similar experience as smoking a cigarette. Experiment with a range of flavours with a high nicotine concentration without worrying about the complexities of an open pod. The RELX Essential Vape Pod Kit offers an easy and clean vaping experience with advanced coil technology and a leak-proof exterior design.
You can pair the RELX Essential Kit with the PRO Pods range. Their extensive range lets you experiment with exotic flavours such as Sunset Paradise, White Freeze, and Menthol XTRA.
Who should buy The Essential Kit?
If you want a leak-proof pod that resembles your cigarette smoking experience, then the RELX Essential Pod Kit is for you.
We recommend this device for new vapers and those who want a long-lasting battery life on their vape kit. People who love a direct mouth-to-lung vaping experience will also enjoy using the Essential Kit. Since the device is compact and portable, the RELX Essential is an excellent choice for those who often travel or go on long drives.
The RELX Classic Kit has everything you need in a simple vape device. It is compact, lightweight, and offers an automatic mouth-to-lung inhale. Once you get the RELX Classic Kit, you can insert pre-filled 2 mL pods into the device. The Classic also has modern FEELM atomization technology that features a honeycomb wicking design.
The device itself has a 350 mAh battery which you can recharge quickly. You don't have to remember to switch your device on and off either. Instead, the Classic will automatically activate itself when you take a hit from the mouthpiece. A programmed LED light will light up when the device is active and switch off once you have finished taking a drag.
You can use the Classic Kit with a range of classic pods that feature many flavour options. The most popular choices include Mint, Tangy Purple, and Exotic Passion. If you are trying to quit smoking, we recommend trying the Classic Tobacco Pod with this kit. Each of the pre-filled pods is available in either 3% or 5% nicotine salt strength.
What Makes the RELX Classic Kit Unique?
For those who want to end their cigarette addiction, the Classic Kit is a perfect choice. Like a cigarette, the Classic Kit will give you a tight but easy drag. Instead of pulling too hard or collapsing your cheeks, you can use the RELX Classic with minimal effort. You will never experience a dry or burnt hit with the Classic kit, no matter how long your drag is.
Thanks to this vape device's modern and sophisticated design, there is no risk of leaking and gurgling. You can enjoy a smooth vaping experience and experiment with a wide range of flavours with the latest RELX Classic Kit.
Who should buy The Classic Kit?
If you are a heavy smoker who wants to quit cigarettes and switch to vaping, then the Classic Kit is for you. You can take a drag up to the cutoff and still have a comfortable vaping experience.
Even if your pod looks relatively empty, you can continue enjoying saturated hits and a flavorful vape. To keep track of your e-liquid levels, you can refer to the tip of the pod, where it shows how much flavour is remaining in your device.
RELX E-Liquid Pods & Flavours
Apart from RELX vape devices, the company also produces its e-liquid replacement pods with high-quality ingredients and a strict quality control procedure.
To make their unique blend of flavours, RELX uses non-oil-based flavouring that you can often find in food products. Since nicotine salt e-liquids are becoming the latest trend, they use nicotine salt as their primary ingredient.
Despite the common misconception, nicotine salt is a safer alternative to cigarettes as most experts do not consider nicotine carcinogens. Other active ingredients in the RELX e-liquid are glycerol, generally used as a hypoallergenic sweetener, and propylene glycol, often used in baked goods.
---
RELX VS JUUL?
When you think of vape, two brands stand out from the crowd: JUUL and RELX. Both these brands invest a considerable amount of time and effort into developing the perfect e-cigarette for users. As a customer, you can enjoy a range of different vape products from both companies.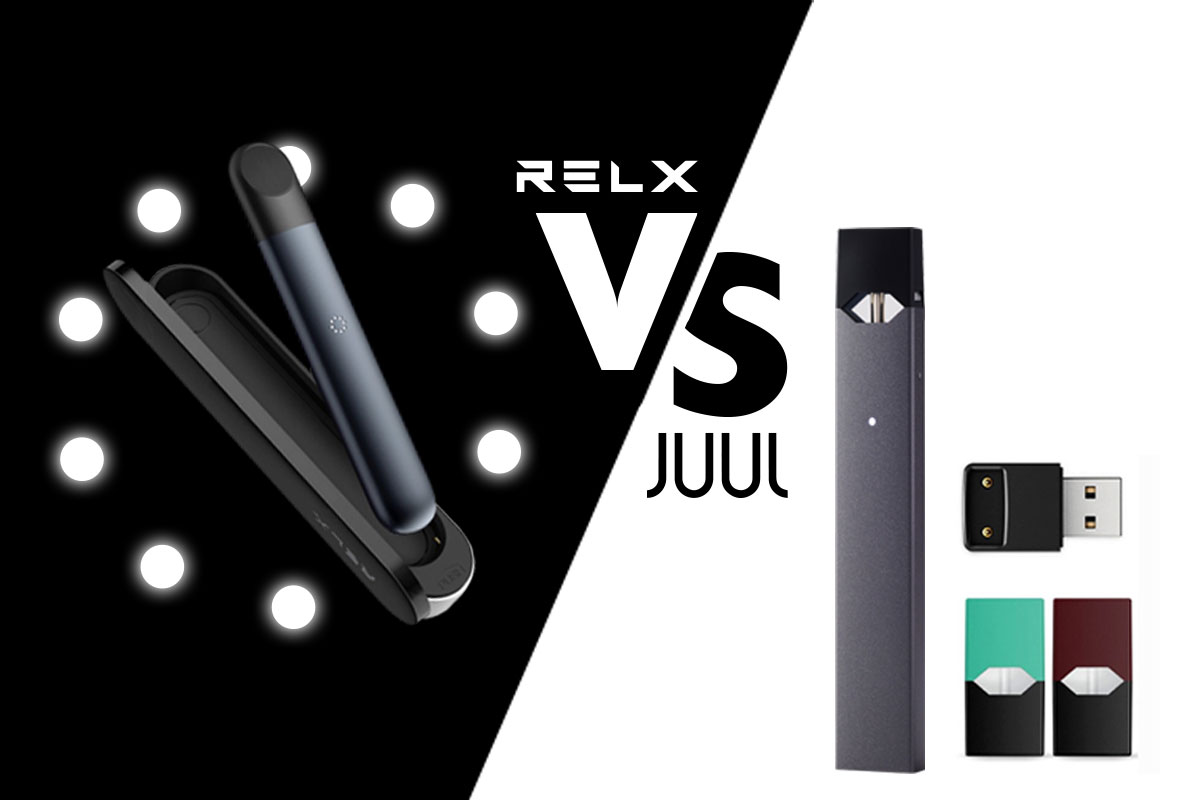 If you are trying to decide which vape device is better, you can benefit from this simple comparison between RELX and JUUL vapes.
Range of Flavors
Interestingly, both JUUL and RELX offer eight different flavours to choose from. With JUUL, you can try primary flavours like Classic Tobacco, Mint, and Menthol. Even though the number of flavours is the same, RELX certainly has a more exotic and rich range of flavours to choose from. The RELX Ludou flavour has become one of the top-selling e-liquids all over the world.
Battery Life
While JUUL only has a 200 mAh battery, RELX has an impressive 350 mAh battery. Since the RELX pods have a larger capacity, they need a more robust battery to support a comfortable vaping experience.
Even if you use your RELX vape throughout the day, the battery will last up to 24 hours. For light vapers, the RELX battery can last up to two full days. In contrast, the JUUL battery will run out much quicker.
Ease of Use
Charging the RELX battery is also much more manageable than JUUL. You can recharge your RELX Vape Pod Kit using any Android USB cable. If you are an Android user, you can also use your regular phone charging cable to recharge the RELX device. It only takes an hour to charge the RELX Vape Kit to 100%.
On the other hand, you can only recharge your JUUL with a specific charging dock that comes with your kit. This dock is small and can be misplaced easily.
Design
For the modern vaper, having an innovative and sophisticated vape device is a top priority. If you intend to carry your vape everywhere, it should also look attractive enough to draw attention in a crowd.
In this regard, RELX beats JUUL by a mile. The RELX Classic is available in many eye-catching colours like navy blue and jet black. Customers can choose the colour that best suits their personality.
---
Final Words
Now that you know everything about the RELX range of vape products, it is safe to say that the brand is becoming the latest trend in Pakistan. Customers can choose from their exotic range of pod kits and pair them with the RELX device of their liking. RELX always keeps the customer as their main priority by catering to new vapers and experienced ones.
From their sophisticated vape equipment to long-lasting battery life, RELX is taking over the throne for the best vape kit in the market.
Read more: RELX Quality Is More Than Standard