Nitecore Intellicharger for Vape Batteries New I2 2-slot Charger
Check out the Nitecore Intellicharger infographic to help you better understanding how the product works!
Product Introduction
Nitecore New I2 battery charger is a universal, smart-charger compatible with almost all types of rechargeable batteries. It is a new version of I2 with new features. You can charge your batteries safely and faster.
The Super fast charger, is ideal for vape batteries, if you choose to externally charge the batteries. Intelligent chip system allows for the charger to stop, once the batteries run full. A mech mod user's dream.
Parameters
Input
AC 100~240V 50/60Hz 0.25mA(max) 8W
DC 9~12V
Output
4.35V±1%/4.2V±1%/ 3.7V±1%/1.48V±1%
500mA×2/1000mA ×1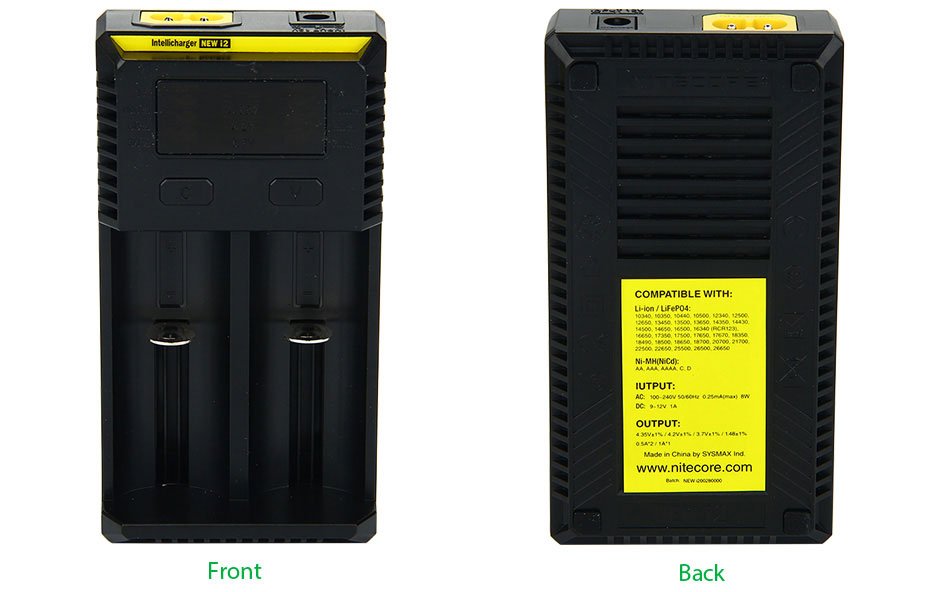 Compatible with
Li-ion/IMR/LiFePO4:
10340, 10350, 10440, 10500, 12340, 12500, 12650, 13450,
13500, 13650, 14350, 14430, 14500, 14650, 16500, 16340(RCR123),
16650, 17350, 17500, 17650, 17670, 18350, 18490, 18500,18650,
18700, 20700, 21700, 22500, 22650, 25500, 26500, 26650
Ni-MH(NiCd):
AA, AAA, AAAA, C, D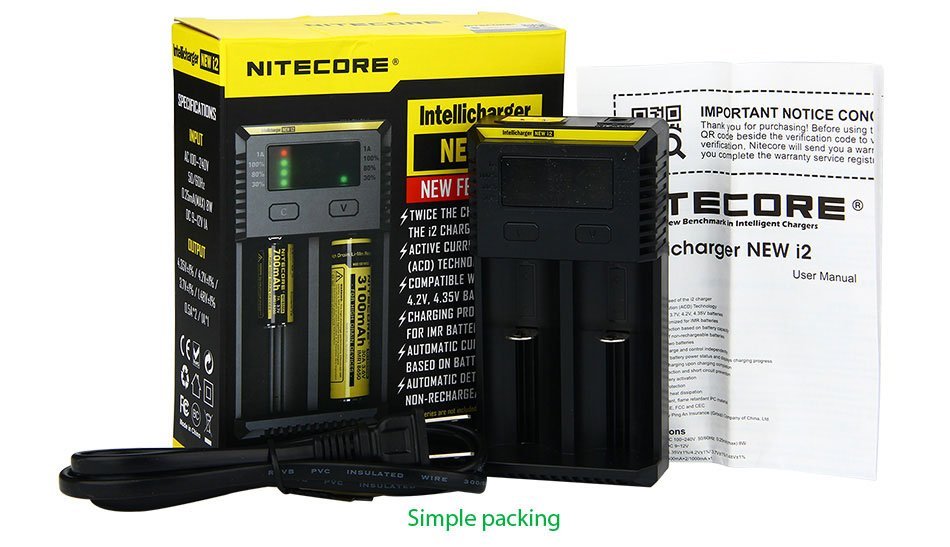 Capable of charging 2 batteries simultaneously
100% charging acceleration
Active current distribution technology
Expanded compatibility to support 3.7V and 4.35V batteries
IMR battery restoration
Automatic detection of non-rechargeable batteries
Automatic current selection based on battery capacity
Charging program optimized for IMR batteries
Reverse polarity prevention
Overtime charging protection
Reliability from top quality materials
Full copper concise design

Quick Links :
Batteries
Vapes
E-Liquids
Nic Salts
Tanks
Accessories 
Special Sale