Vandy Vape Berserker V2 24mm MTL RTA Tank in Pakistan
Vandy Vape Berserker V2 24mm MTL RTA Tank nspired from the Berserker MTL V2 RDA, one of the best mouth to lung RDA's to give huge amounts of flavor. The Berserker V2 RTA is a 24mm rebuildable tank atomizer and utilizes an 3ml tank section for your favorite E-liquid along with four interchangeable internal airslots sizes ranging from 0.8mm diameter, 1.0mm diameter, 1.6mm diameter, 2.0mm diameter and a D1 diameter (1mm) with two holes. This allows users to set it and forget it, making airflow adjustment as easy as sliding in an adapter. Each airflow control piece fits snugly via a friction fit tab and should not be easily misplaced or lost. The raised build deck accommodates small single coil builds that are typically used for mouth-to-lung vaping styles. Along with the small build deck, two lead ports are strategically placed so users can keep their coils from shorting or slipping. Each lead features a flat head screw for users to tighten down their leads and a set philips screws are included for user preference. On the building deck are two large wicking ports to allow the cotton to stay saturated. The tank section of the RTA holds a total of 3ml's of e-liquid and can be filled via top mounted fill ports. In order to fill, the RTA requires an easy quarter turn top cap to be removed. As an added measure to prevent leaking Vandy Vape has added two silicone flaps that keep the juice in the tank section. Lastly, the Berserker V2 RTA also has a external adjustable airflow for fine tuning. Overall the new Berserker V2 MTL RTA by Vandy Vape creates a high end flavorful experience and simple building functionality, which in turn makes it a versatile and well rounded mouth-to-lung rebuildable tank atomizer. Now available online in Pakistan at Vapestation.
Check out the Berserker V2 MTL RTA Tank infographic to help you better understanding how the product works!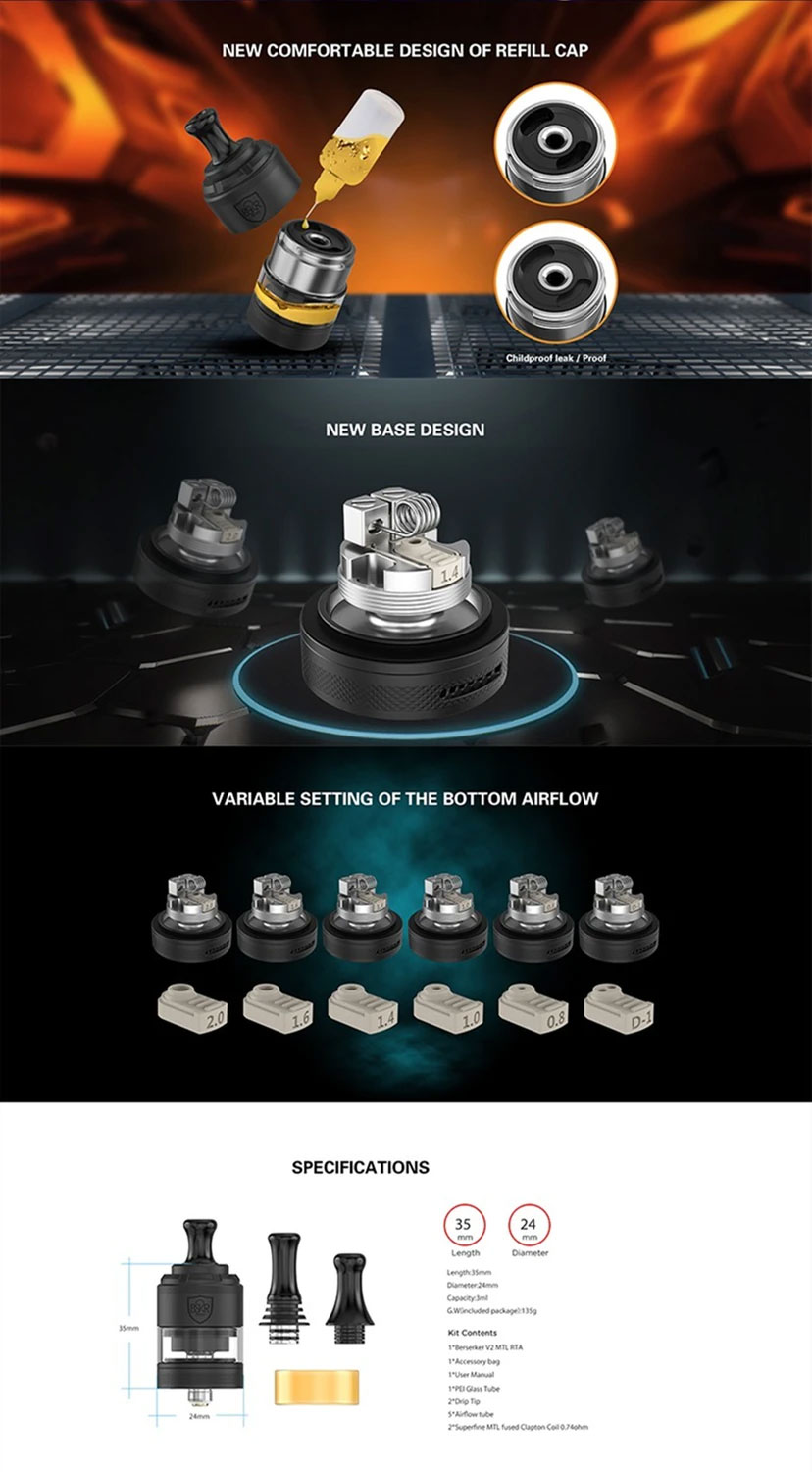 Main Features:
1. 24mm in diameter and 3ml e-juice capacity
2. Adopt slot airflow
3. New comfortable design of refill cap
4. Compatible with two tubes and three drip tips
5. Support variable setting of the bottom airflow: 2.0, 1.6, 1.4, 1.0, 0.8 and D-1
Specifications:
Brand: Vandy Vape
Product Name: BSKR V2 MTL RTA
Length: 35mm
Diameter:
E-juice capacit: 3ml
Fill Type: Top filling
Package Contents:
1*Berserker V2 MTL RTA
1*Accessory Bag
1*User Manual
1*PEI Tube
2*Drip Tip
5*Airflow tube
2*Superfine MTL Fused Clapton Coil 0.74ohm
Quick Links :
Vapes
E-Liquids
Nic Salts
Tanks
Accessories 
Special Sale