Caliburn KOKO Prime by Uwell 15W Pod System
The price of Uwell Caliburn KOKO Prime in Pakistan Rs. 6,499/-. Prime is an upgraded version of the original Caliburn KOKO, with a series of updates and optimizations in terms of material, performance, and flavour.
Equipped with the same compact size as the original Caliburn KOKO, rectangular design, no buttons on the body, and made of lightweight and durable PC+ABS materials.
Features
Users can also choose to replace the exterior decorative panels for a personalized experience. The Pod kit has a built-in 690 mAh battery with a larger capacity and uses a faster and more convenient Type-C port, which can be fully charged in less than an hour with a 1.6A charging current. Caliburn KOKO Prime also has a three-colour LED indicator.
You can easily know the working condition and battery levels with the indicator light. Its air switch design allows you to directly vape by inhaling without needing to hold any buttons.
Uwell Caliburn KOKO Prime Pods
Uwell Caliburn KOKO Prime pod kit utilizes a refillable pod cartridge system that pod cartridge has a 2ml capacity and uses a top filling system which is best for reducing leaks. Designed for salt nicotine e-liquids, you'll enjoy smooth and consistent draws.
The device is also compatible with Caliburn G pods and coils, and introduces a new 1.0ohm FeCrAl coil, making it ideal for smokers of all experience levels. A plug and play design make replacing and installing coils a hassle-free process.
KOKO Prime Pro-Focs Pod Technology
Exclusive patented Pro-Focs flavour testing technology also brings flavour to new heights. With ingenious airway design, you can get two different vape experiences when the pod is installed in different directions.
Users can alternate their inhale by rotating the pod's, whether they prefer a loose inhale or a tighter, more restricted draw.
Check out the KOKO Prime infographic Description to help you better understand how the product works!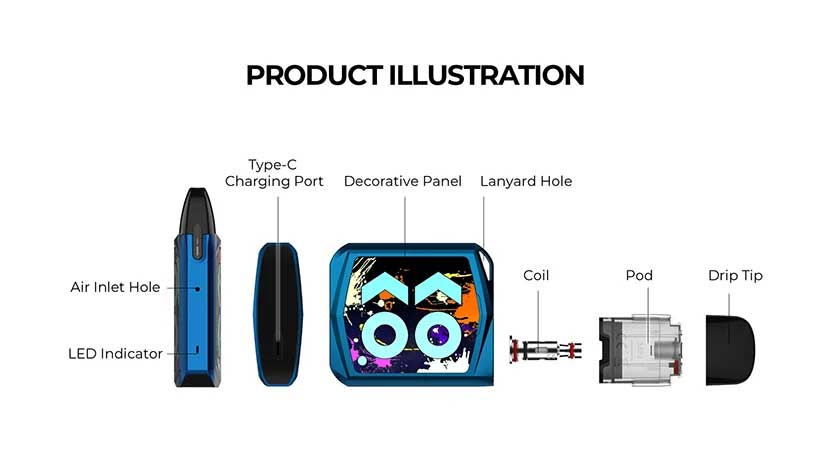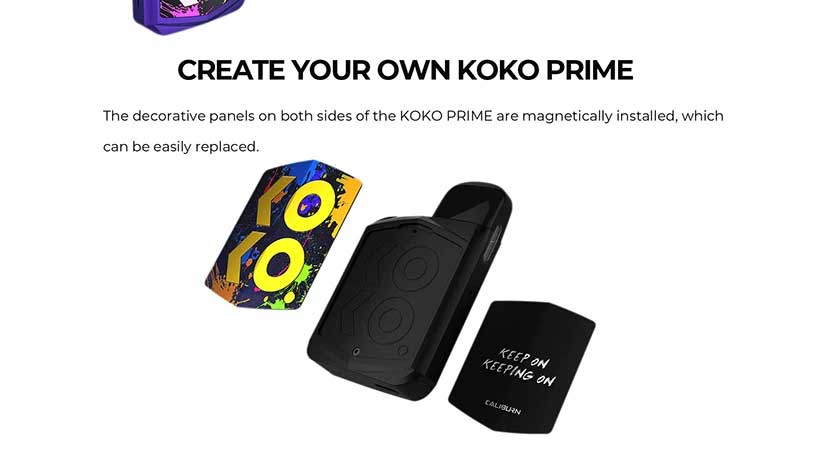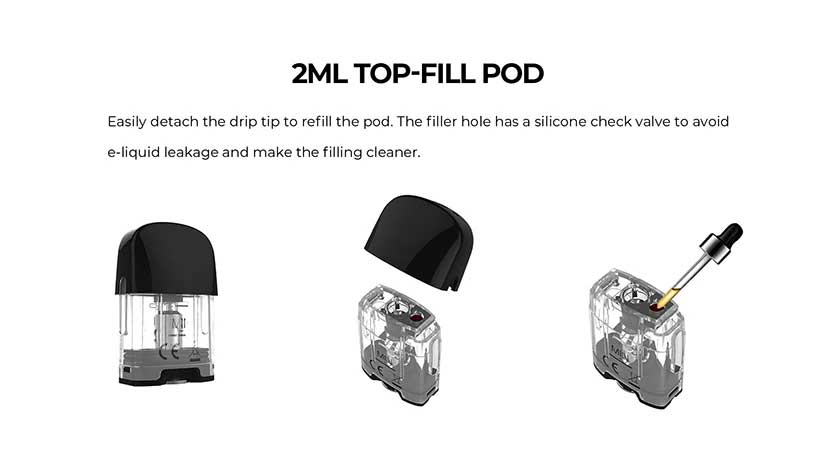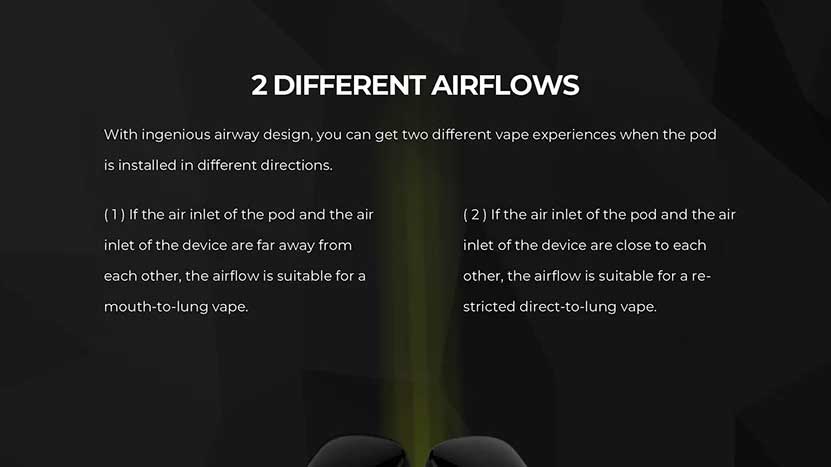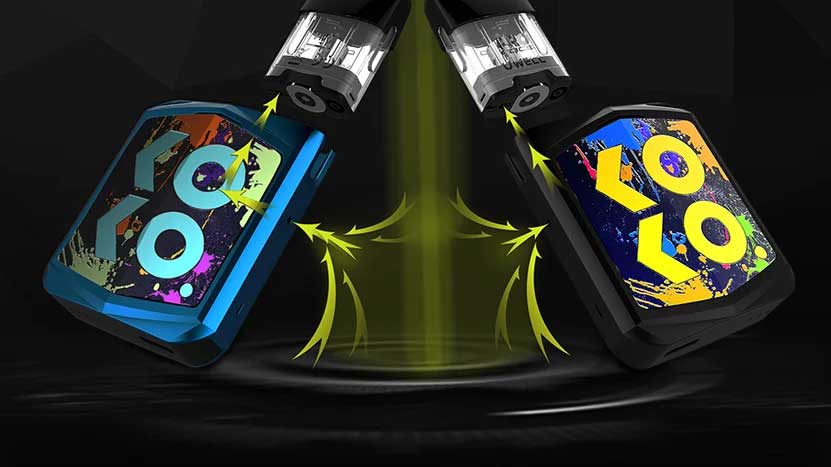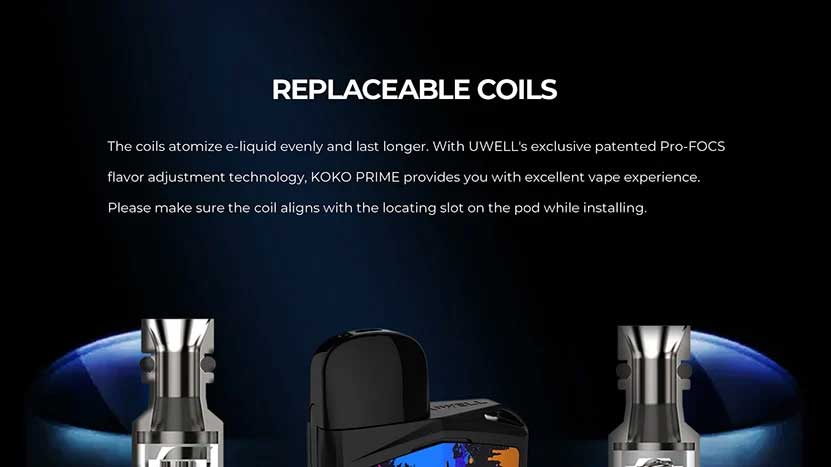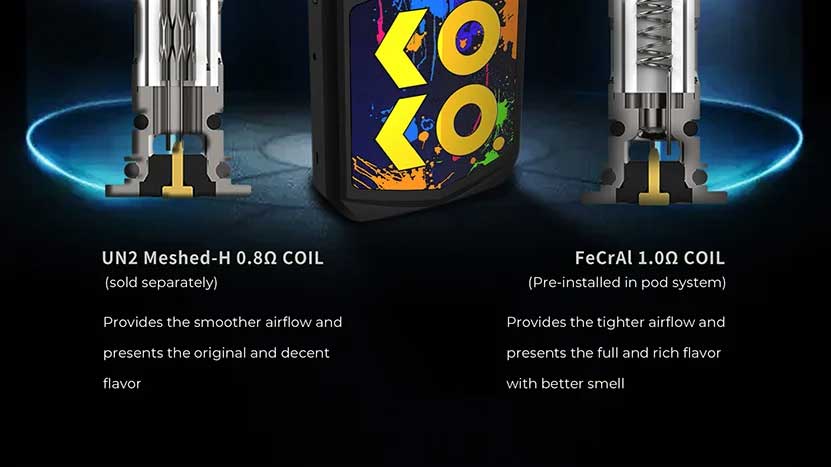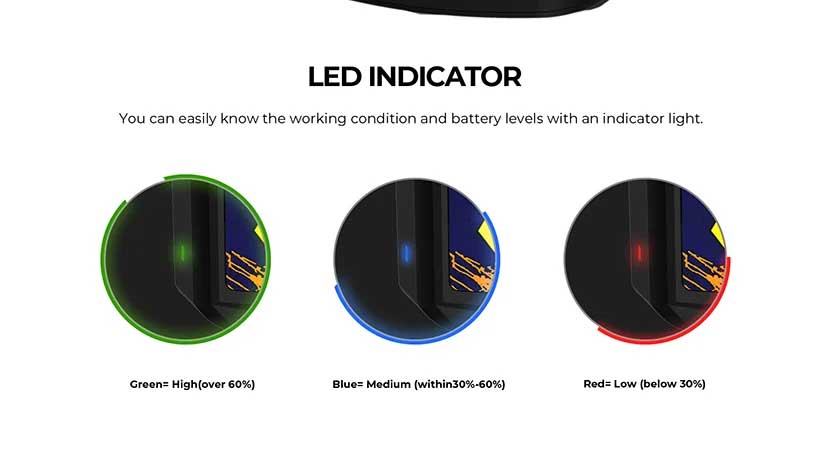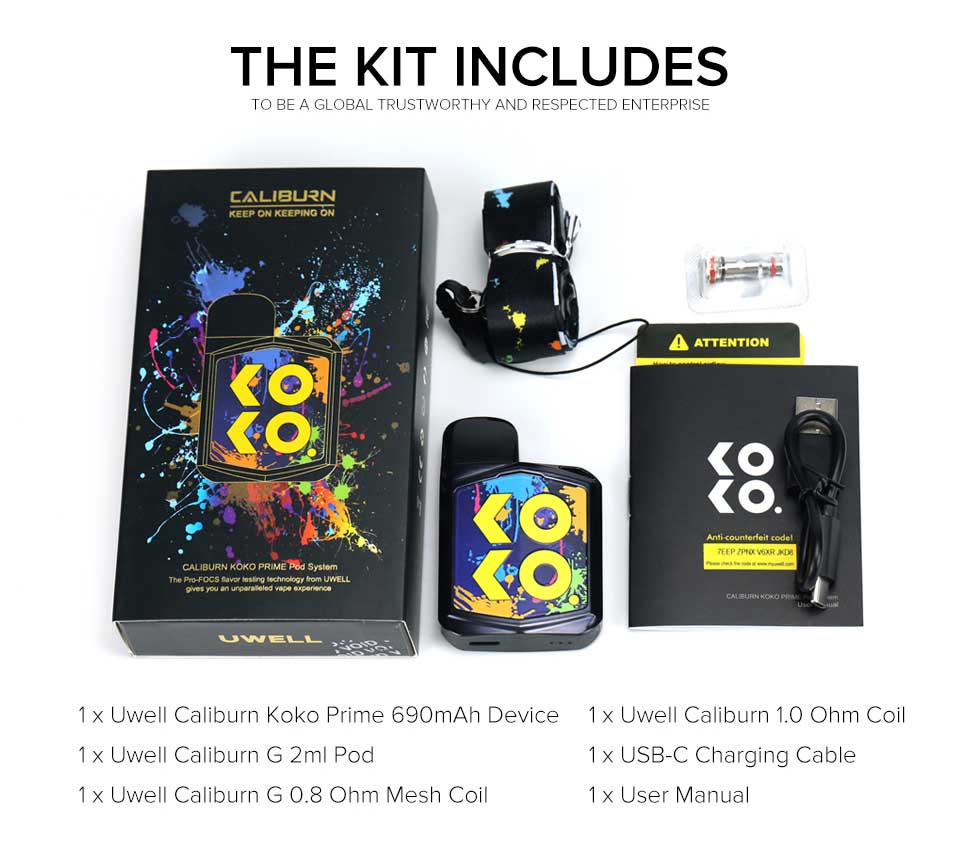 Uwell CALIBURN KOKO PRIME 15W Pod System Features:
Dimensions – 68mm by 45.6mm by 16mm

Integrated 690mAh Battery

Max. Wattage Output: 15W

Zinc-Alloy Chassis Construction

LED Indicator Light

Magnetic Pod Connection

2 Airflow Systems

Draw-Activated Firing Mechanism

Lanyard Attachment Point

2mL Pod Capacity

Top Fill System – Silicone Check Valve

Uwell Caliburn G Coil Series

0.8ohm UN2 Meshed-H Coil

1.0ohm FeCrAl Coil

Press-Fit Coil Installation

Pro-FOCS Flavor Testing Technology

Open-Circuit Indication

Short-Circuit Protection

Low Power Indication

Over-Time Indication

USB Type-C Cable

Available in Black, Blue, Grey, Purple
Includes:
1 Pod Kit Device
1 1.0ohm Replacement Pod
1 MicroUSB Cable
1 User Manual
1 Warranty Card
Make sure to properly prime each coil and pod before use.