Freemax Twister 30W Kit Price in Pakistan
Freemax Twister 30W Kit 1400mAH is available in Pakistan at a price of Rs 7,499/-. You can order it from our website or visit our outlet store in Karachi.
It is one of the top priorities for people who have a profound idea about vaping products and their features, flavours, and durability. It gives you that retro and vintage look and can perfectly complement your personality. 
Freemax Twister 30W Kit Specs and Reviews:
Freemax Twister 30W Kit 1400mAh is a lightweight, portable and easy to carry vaping kit perfectly made to satisfy the daily cravings of users.
It features a rechargeable integrated 1440 mAh battery which can last long. It has a 1.5A fast-charging system which will help the battery get fully charged in 80 minutes. The Twister 30W Kit features LED lights embedded in the fire button to indicate various working statuses, and the built-in chipset can emit a maximum output of 30W.
It contains Fireluke 22 Tank with 3.5ml maximum e-liquid capacity. Its tank is designed to prevent children from touching it accidentally.
It also features a leak-proof mechanism which supports replacing the coil even with e-liquid in the tank and won't leave any mess on your hands.
It contains COILTECH 4.0 SS904L mesh and tea fibre cotton formula to give you the perfect essence of flavours.
Wattage Output Range:
It has a 7.5-30W Wattage Output Range, which you can set according to your preference. Higher wattages burn out and reduce the battery life.
Voltage Output:
It has a constant Voltage Output of 1.9-7.5V, which is considered ideal for vaping. It simply works like the higher the voltage you set, the higher the heat. A lower voltage setting makes the pod release subtle and rich flavours.
Freemax Twister 30W Kit Protection
It protects against excessive currents and stops the vaping device from working when the current reaches beyond the limit. It also provides Open circuit and Short circuit protection. It protects your battery from getting overcharged and takes care of your safety concerns.
Specs of Its Fireluke 22 Tank:
The fireluke tank contains a 22mm Diameter which is a full-sized tank and can carry a huge amount of flavoured juice and also provides protection from leaking. It also has a Replacement Glass Capacity of 2ml.
It includes three mesh coils. Single DTL Mesh Coil of 0.5ohm, Single MTL Mesh Coil of 1.0ohm and single MTL Mesh Coil of 1.5ohm that gives you maximum flavour and vapour production
It also Includes:
One FreeMax Twister 30W Mod Device
One Fireluke 22 Tank
One 0.5ohm DTL Mesh Coil
One 1.5ohm MTL Mesh Coil
One 510 DTL Drip Tip
One 510 MTL Drip Tip
One Warning Card
One Warranty Card
One User Manual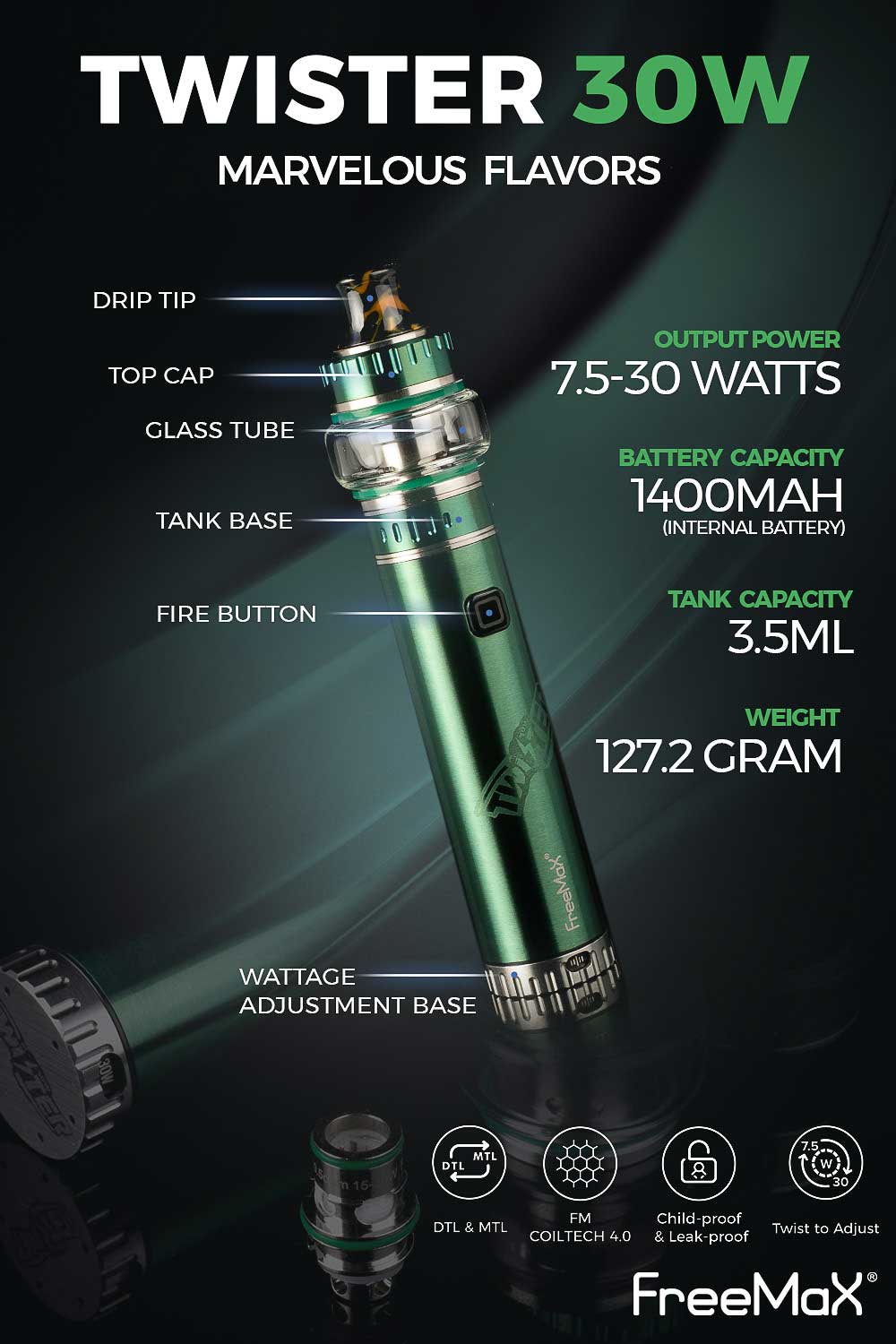 Quick Links :
Vapes
E-Liquids
Nic Salts
Tanks
Accessories 
Special Sale