SMOK RPM 40 Pod Mod Kit 1500mAh
SMOK RPM 40 Pod Mod Kit is the first of its kind, introducing a real pod mod vaping system that integrates a 1500mAh rechargeable battery, advanced intelligence IQ-R Chipset, and can hold upwards of 4mL of your favorite eJuice or nicotine salts in specialized pods for a new and pleasureable vaping experience. Constructed from durable zinc-alloy, the chassis of the SMOK RPM40 pod system is crafted from lightweight materials to create a vaping pod system that will not weigh you down, instead, presenting a neat handheld vaping pod system in a squared cuboid shape. The intelligent chipset within provides an ultra-rapid heating time, cutting the firing speed to an ultra-low 0.0015s. In addition, the SMOK RPM 40 Pod System is geared for alternative oils and aromatherapy, providing a myriad of coil options for vaporizing the loaded contents with ease and efficiency. Furthermore, the SMOK RPM40 Pod System features refillable pods with replaceable coils, allowing for up to 4.5mL of stored eJuice or nicotine salts, depending on which pod is used.
SMOK RPM 40 Pod Mod Kit 1500mAh Best price in Pakistan
Checkout SMOK RPM 40 pod kit, for nic salts and freebase e liquids. An ideal 2 in 1, all purpose device, with a unique appearance at base rates in Pakistan. Our competitive prices ensure, customers get the best value for money. The device also allows the use of separately purchase rebuildable pod, allowing you to choose the kind of build you desire. Available  for Free delivery all over Pakistan. Check out other Pod systems at best rates in Pakistan.
Also check out the most comparable and similar competitive product VOOPOO Vinci 40w Pod Kit 1500 Mah
Check out the SMOK RPM40 infographic to help you better understanding how the product works!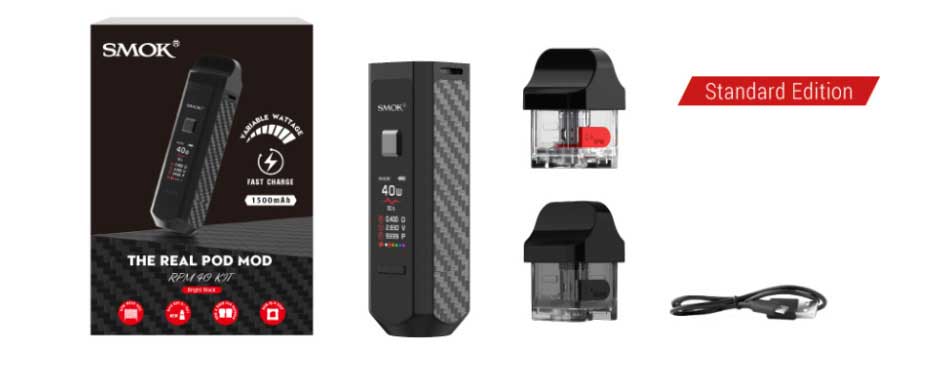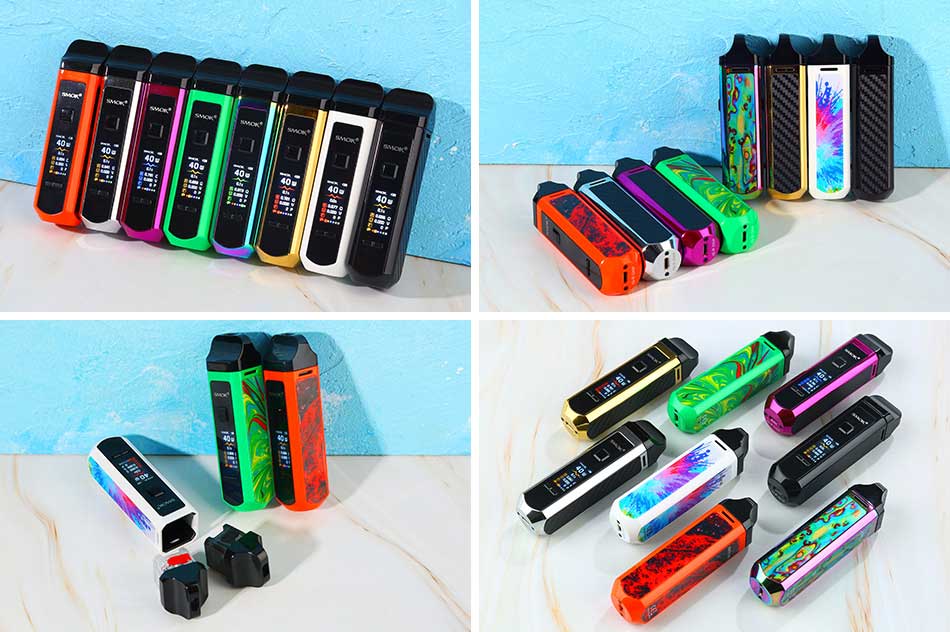 SMOK RPM40 40W Pod Mod Kit Features:
IQ-R Chipset
Dimensions – 99mm by 25mm by 25mm
Integrated 1500mAh Rechargeable Battery
Wattage Output Range: 1-40W
Voltage Output Range: 0.5 – 4.1V
Resistance Range: 0.2-2.5ohm
Firing Speed – 0.0015s
Zinc-Alloy Chassis Construction
Intuitive Firing Button
Two Adjustment Buttons
0.96″" TFT Display Screen
Refillable Pod – Replaceable Cartridge
4.3mL RPM Coil Pod Capacity
4.5mL Nord Coil Pod Capacity
Side Fill System – Silicone Stoppered
SMOK RPM & Nord Coil Series
0.4ohm RPM Mesh Coil
0.6ohm Nord DC Coil
RPM RBA – Coming Soon!
RPM & Nord Pod Options – Compatible with RPM or Nord Coils, RESPECTIVELY
Bottom Coil Installation Method
Low Voltage Protection
Short-Circuit Protection
8S Cut-Off Protection
High-Temperature Protection
MicroUSB Port
Available in Bright Black, Prism Chrome, Purple Red, Prism Gold, Prism Rainbow, White, Orange, and Green
Includes:
1 RPM40 Device
1 RPM Standard Pod
1 RPM Nord Pod
1 0.4ohm RPM Mesh Coil
1 0.6ohm Nord DC Coil
1 MicroUSB Charging Cable
1 User Manual