Aspire Cobble AIO Pod System Price in Pakistan
Aspire Cobble AIO pod System is available in Pakistan at a price of Rs. 4,499/-. You can order it from our website or visit our outlet stores in Karachi.
Aspire Cobble AIO Pod System Specs:
Let's explore some of the key specs of this kit:
It has an Integrated 700mAh Rechargeable Battery to support your vape.
It has a Bottom Fill System with a rubber stopper.
It has a draw-activated firing system, making it great for those on the go.
It has a Coil Resistance of 1.4ohm.
It features a LED light which lights up when you use the vape.
It features a 1.4ohm BVC NiChrome Coil, 1.8mL pod cartridge, and a slew of protections for superior dependability.
Pro tip: After filling up the pod, wait for 10 minutes and start vaping. 
Easy To Use:
It is a very Easy to Use device. Its System is excellent for those that are on the go. You can fill the pod with a simple bottom filling method. 
Pod Details:
It has a Pod Capacity of 1.8ml and gets refilled by the bottom fill system. 
Design:
The smooth logo and matt surface look elegant. It is comfortable to hold and feels good in the hand. It is a slim set-up that's simple to use. It is made up of from Zinc-Alloy Chassis. It is available in 5 different shades: Dark Marble, Carbon Fiber, Mountain Mist, Zebra Stripe, and Wood Grain which you can choose according to your preference.
spire Cobble AIO Battery:
It features an Integrated 700mAh Battery that supports your vape for 6-7. It can fully charge the device within 90 minutes. It has a low battery protection light on your device. 
Device Protection:
This device is safer to use as it provides Short-Circuit and Overcharge Protection. It protects against excessive currents and stops the vaping device from working when the current reaches beyond the limit. Additionally, it takes care of Over-Current and Over Temperature Protection, saves your battery and takes care of your safety concerns.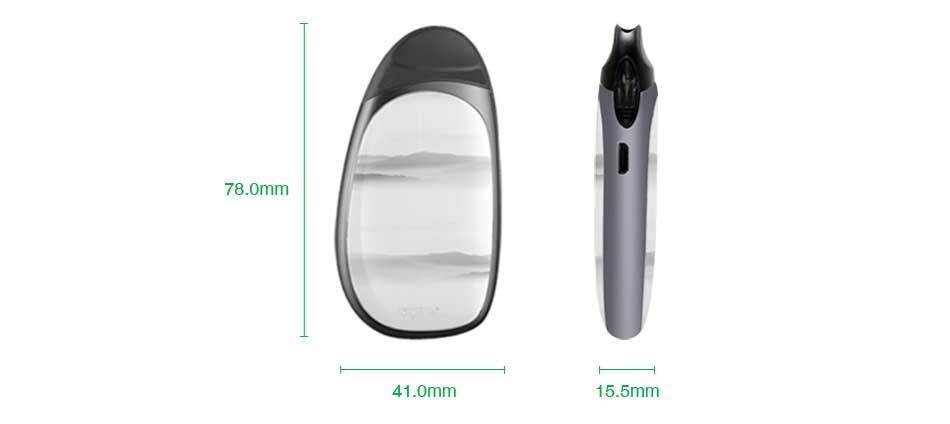 Aspire Cobble AIO Pod System Features:

Dimensions – 78mm by 41mm by 15.5mm
Integrated 700mAh Rechargeable Battery
Coil Resistance: 1.4ohm
Coil Material: NiChrome
Refillable 1.8mL Pod Juice Capacity
Bottom Fill System – Rubber Stopper
Draw-Activated Firing Mechanism
LED Battery Indicator Light
Automatic Cut-Off
Short-Circuit Protection
Low Voltage Protection
Overcharge Protection
Overheat Protection
Overcharge Protection
MicroUSB Port
Available in Dark Marble, Carbon Fiber, Mountain Mist, Wood Grain, Zebra Stripe
Includes:

1 Cobble AIO Device – Full Kit
1 Micro USB Cable
1 Warranty Card
1 User Manual
Quick Links :
Vapes
E-Liquids
Nic Salts
Tanks
Accessories 
Special Sale