Vaporesso Revenger TC Kit with NRG Tank 220W
Check out the Revenger infographic to help you better understanding how the product works!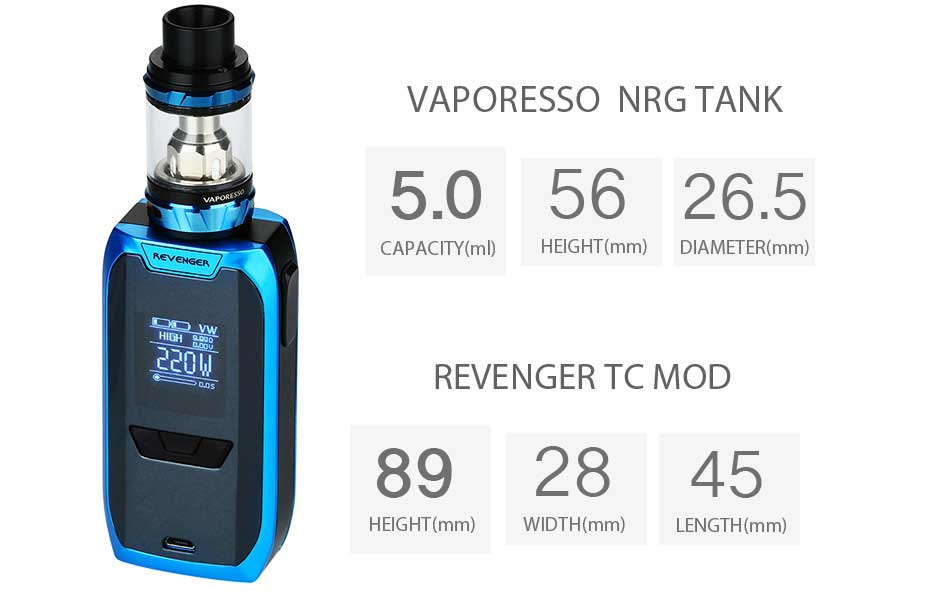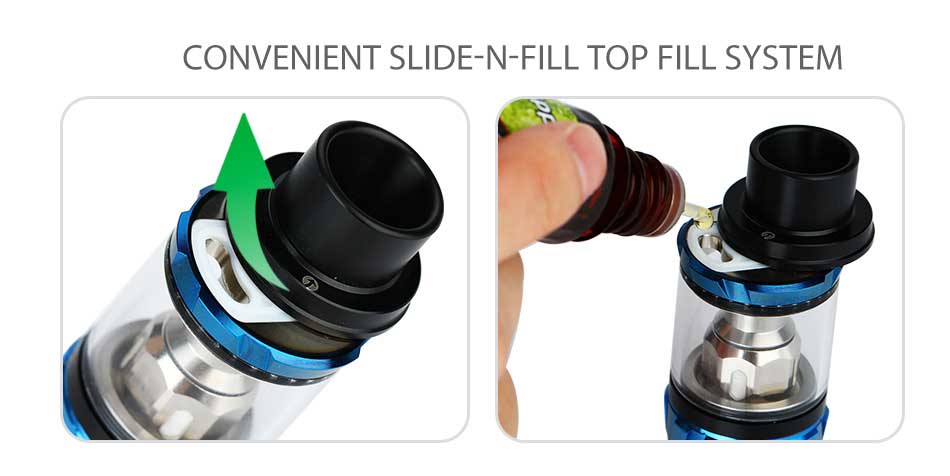 The Vaporesso Revenger 220W TC Starter Kit s the new flagship platform from Vaporesso, deploying the latest vaulted OMNI 2.0 Board with comprehensive output settings and forward-thinking designs to pair with the versatile NRG Sub-Ohm Tank. The Revenger 220W Box Mod has been constructed to integrates all of Vaporesso's most cutting-edge features, adopting an environmentally In-Mould Labeling (IML) injection on the durable aluminum alloy shell. The chassis implements a polished and streamlined design elements, with ergonomic contour and subtle modern accenting to create a phenomenal showcase piece. Powered by Vaporesso's most powerful chipset, the new OMNI Board 2.0 has an output range of 5 to 220W and multitude of output modes, such as Customized Curve of Wattage (CCW) and Customized Curve of Temperature (CCT) modes providing ample range of versatility. In CCW mode, users are able to customize wattage output second to second and ramp up control every half second, while CCT follows suit with customizable temperatures during use to allow users greater control. It also features Bypass Mode, Smart Variable Wattage Mode, and TCR Adjustments for additional standard methods of power. The integrated 0.96 Inch OLED display offers efficient use and adjustment, with a full aray of essential data alongside Real Time Clock setting. Included with each kit is the new Vaporesso NRG Sub-Ohm Tank, the latest flagship Sub-Ohm platform featuring 5mL juice capacity, Slide-n-Fill top-fill design, Delrin drip tip, dual bottom airflow control, and the introduction GT Cores. The GT Cores offers a wide range of coil options with traditional cotton and signature cCell Ceramic in each structure. Included in the set is a 0.15ohm GT 8 Core with a maximum wattage of 110W and a 0.15ohm GT 4 Core with a range of 30 to 60W. A fully sophisticated output technology with the integration of the powerful OMNI Board 2.0 and innovative exterior designs to pair with a high-performance tank and versatile coil structures, the Vaporesso Revenger 220W TC Starter Kit firmly asserts itself at the top of the competitive high-powered vape kits available in the market.
Vaporesso Revenger 220W TC Box Mod Features:

Dimensions: 89mm by 45mm by 28mm
Dual High-Amp 18650 Batteries – Not Included
Wattage Output Range: 5-220W
Temperature Control Range: 200-600F
Min Atomizer Resistance: 0.05ohm
Innovative OMNI Board 2.0 Chipset
Support Nickel, Titanium, and Stainless Steel Heating Elements
Temperature Coefficient of Resistance Adjustments (TCR)
Customized Curvature of Temperature (CCT)
Customized Curvature of Wattage (CCW)
Smart VW Mode
Bypass Mode
Real Time Clock Setting
Real Charging Time
Equalizing Charge System
Intuitive 0.96 Inch OLED Display
Durable Aluminum Alloy Construction
In-Mould Labeling (IML) Injection – High-Resistant
All Metal Oversized Firing Button
MicroUSB Port
510 Connection
Vaporesso NRG Sub-Ohm Tank:

26.5mm Diameter
5mL Juice Capacity
Superior Stainlesss Steel Construction
Pyrex Glass Reinforcement
GT Cores – Features cCell Ceramic & Traditional Cotton
0.3ohm GT cCell Core – rated for 25-40W
0.4ohm GT 2 Core – rated for 45-80W
0.15ohm GT 4 Core – rated for 30-60W
0.2ohm GT 6 Core – rated for 50-130W
0.15ohm GT 8 Core – rated for 60-110W
14mm Delrin Widebore Drip Tip
Slide-n-Fill Design – Convenient Top-Fill
Heating Insulation Layer on Base
510 Connection
Includes:

1 Revenger 220W Mod
1 NRG Sub-Ohm Tank
1 0.15ohm GT 8 Coil Head
1 0.15ohm GT 4 Coil Head
1 Replacement Glass Tube
1 510 Drip Tip Adapter
1 MicroUSB Cable
Instructional Manual
Quick Links :
Vapes
E-Liquids
Nic Salts
Tanks
Accessories 
Special Sale