DOVPO Topside 90W Top Fill TC Squonk MOD
Check out the DOVPO Topside infographic to help you better understanding how the product works!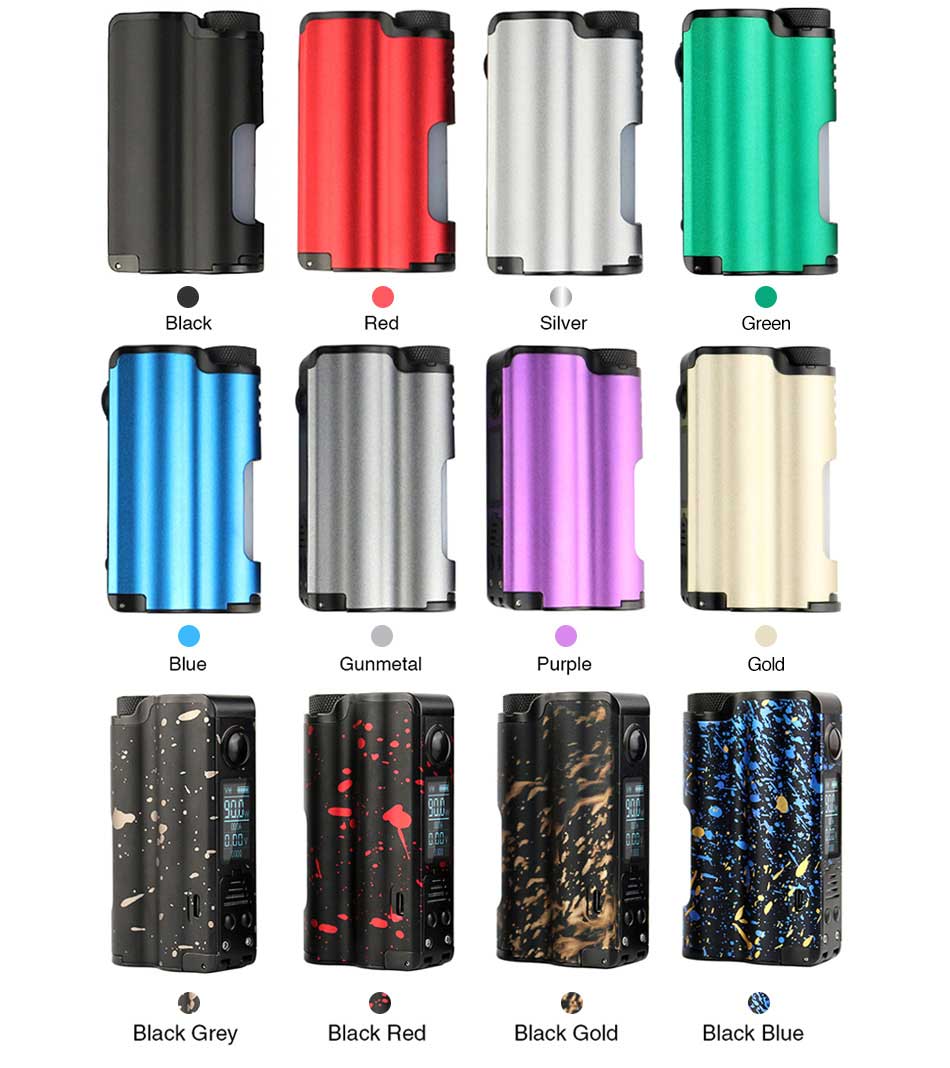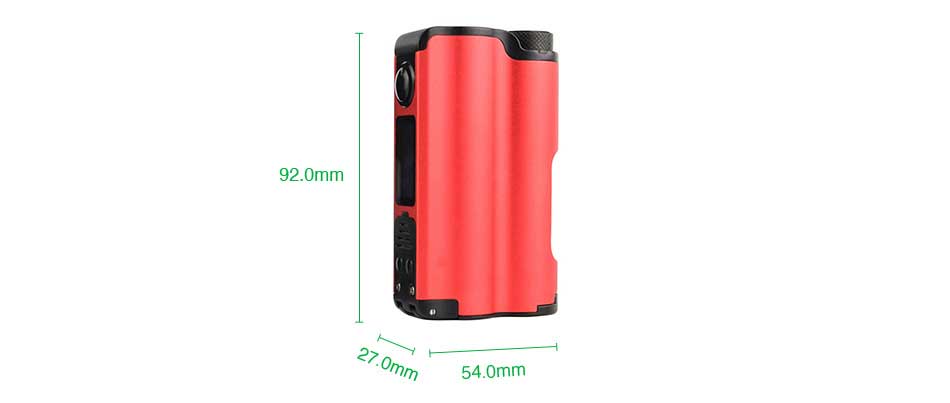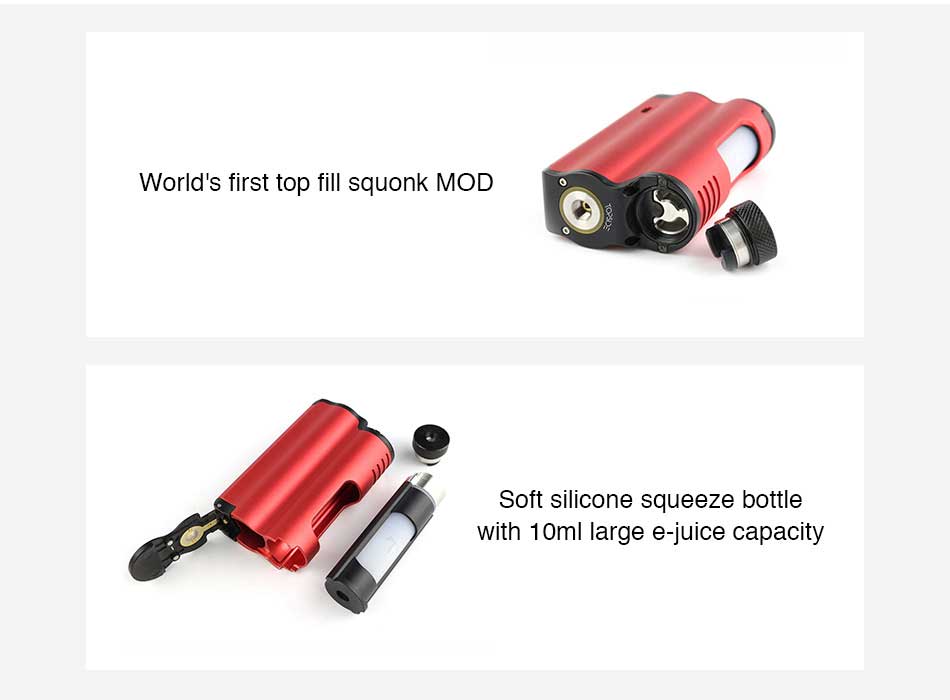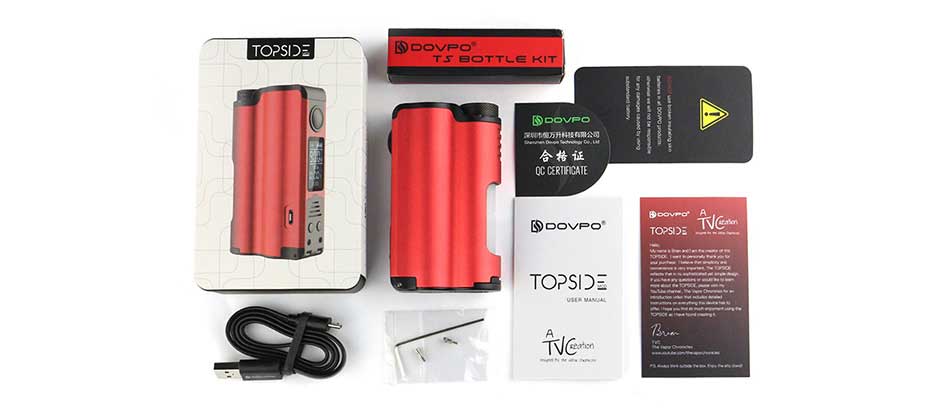 The DOVPO Topside 90W Squonk Mod is made in collaboration with The Vapor Chronicles, deploying the first top-fill squonk mod  design with 10mL max capacity, single 21700/20700/18650 platform, and an intelligent chipset with BYPASS and optional Temperature Control. The DOVPO Topside 90W is created from Zinc Alloy and Aluminum Alloy to make it moderately impact-resistant in an ergonomic shape, with parts that have contact with eLiquid are made from food-grade Stainless Steel and silicone. The Topside has a single battery bay for a high-amp 21700 battery (sold separately) while leaving space for a 10mL squonk bottle adjacent for today's popular eJuice. Within the unit, the squonk bottle can be filled from the top, after unscrewing a knurled and threaded top cap. The squonking action on the Topside Box mod is found opposite of the firing button and display face and is made from food-grade silicone for a truly unique design. The leak-resistant 510 base is useful that it will not allow juice within the internals. Furthermore, the 510 base is gold-plated and spring-loaded for the best possible conductivity.
DOVPO Topside 90W Squonk Bod Mod Features:

Dimensions – 92mm by 54mm by 27mm
Collaboration with The Vapor Chronicles – TVCreation
Single High-Amp 21700 or 20700 Battery – Not Included
Optional Single 18650 Battery – Adapter Included
10mL Silicone Squonk Bottle
Wattage Output Range: 5-90W
Voltage Output Range: 1.0-8.5V
Resistance Range: 0.08-3.5ohm
Temperature Control Functionality (Firmware Upgrades Require)
Supports Ni200, Titanium, Stainless Steel Compatibility
BYPASS Mode
Stainless Steel, Zinc, & Aluminum Alloy Construction
Intuitive 0.96″ OLED Display Screen
Circle Firing Button
Two Adjustment Buttons
Unique Top-Fill Method – Convenient Squonk Bottle Refill
Bottom-Loaded Hinged Battery Cover
MicroUSB Port
Leak-Resistant 510 Base
Spring-Loaded 510 Connection
Available in Red, Black, Silver, Gunmetal, Blue, Purple, Green, Gold
Special Edition – Black / Grey Splatter, Black / Red Splatter, Black / Gold Splatter, Black / Blue / Gold Splatter
Includes:
1 Topside 90W Squonk Mod
2 10mL Squonk Bottle
1 MicroUSB Cable
1 18650 Battery Adapter
1 Instructional Manual
Quick Links :
Vapes
E-Liquids
Nic Salts
Tanks
Accessories 
Special Sale