RELX Infinity Pod Device Kit – The Super Smooth Pod!
RELX Infinity Pod Device Kit is an innovative pod device. Powered by a 380mAh internal battery and chargeable via Type-C charging cable or via the Relx Infinity Wireless Charging Case.
The Infinity device uses the new PRO Pods which are the next generation pods from RELX that are even more stable than the old classic pods and have even better leakage protection and also a more flavourful vape than ever. This device will have you hooked with its super smooth performance!
Product specifications:
Leak-Resistant Maze
Dual charging system
Ergonomic Mouthpiece Design
Slim Fit Charging Case
Symmetrical Pods
SmartPace Vibrate Alert
Smoothness, Engineered with Precision
Over 100 R&D scientists from RELX Lab, through 76 sensory tests and adjustments, quantified smoothness through 5 performance indicators.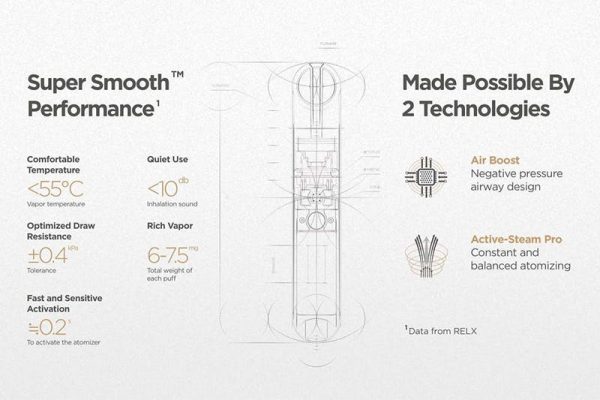 RED DOT WINNER 2020:
About the Red Dot Award: Product Design
Established by prestigious German design association design Zenturm Nordrhein Wastfalen in 1955, the Red Dot Award appraises the best products created every year out of applications from over 60 countries. It is also known as one of the top 4 design awards worldwide. 
Mouthpiece Shaped to Fit Your Lips
we undertook rigorous consumer testing to eliminate air leakage and ensure a comfortable feeling when inhaling.
Finally, an ergonomic design shaped by what users want
Need more Juice?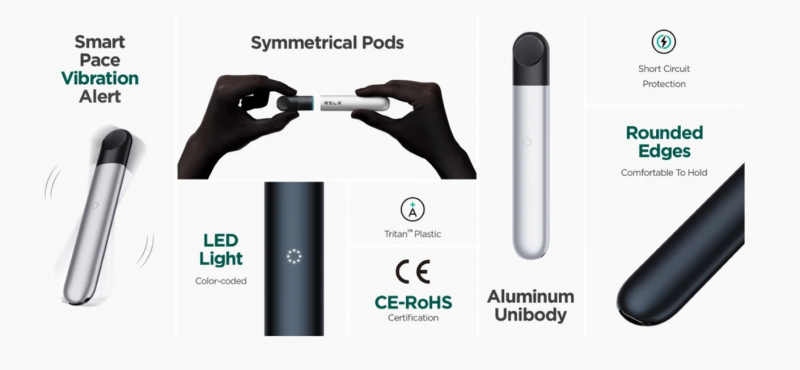 Inside the Box:
1 x RELX Infinity Device
1 x Fast Charging Type-C USB Cable
1 x User Manual
Quick Links: