Vandy Vape Phobia RDA Tank (USED)
The Vandy Vape Phobia RDA delivers a quality-machining 24mm rebuildable dripper with four terminal posts for vertical installation. The Vandy Vape is known for its design elements.
Vandy Vape Phobia RDA has a:
Postless-like design

Unique dual airflow design
 The strong Stainless Steel shell is highly durable, and the Phobia 24mm RDA utilizes gold-plated M4 Hex Screws, which added durability. A sturdy Vandy Vape Phobia RDA Tank is now available online in Pakistan. Price PKR:4,499/- Made by Vandy Vape in the RDA series. It is unique and easy to use because it has airflow adjustability and a detachable design.
Vandy Vape Phobia RDA Tank Review:
Vandy Vape Phobia RDA has a unique base with the simple and vertical installation of the coils. 
Two types of airflow adjustabilities are present
Original Bottom Airflow Adjustability

Side Airflow Adjustability

All-around Airflow Adjustability
Airflow comes in from the bottom on both sides. Replaceable drip tip and tube is present on the top.
Phobia RDA Design and Features
The cap is domed inside with a nice and beautiful bill deck
Black RDA with goldplated screws are present
The tank has a dual coil RDA
The juice well isn't too deep, but it is fairly wide
RDA is about 24 millimetres in diameter
30 mm in height with cap
The cap with removable drip tip and juice well is 5 mm deep.
Innovative bottom/side airflow RDA.
Good flavour and excellent design.
All across the board, very smooth airflow with no turbulence.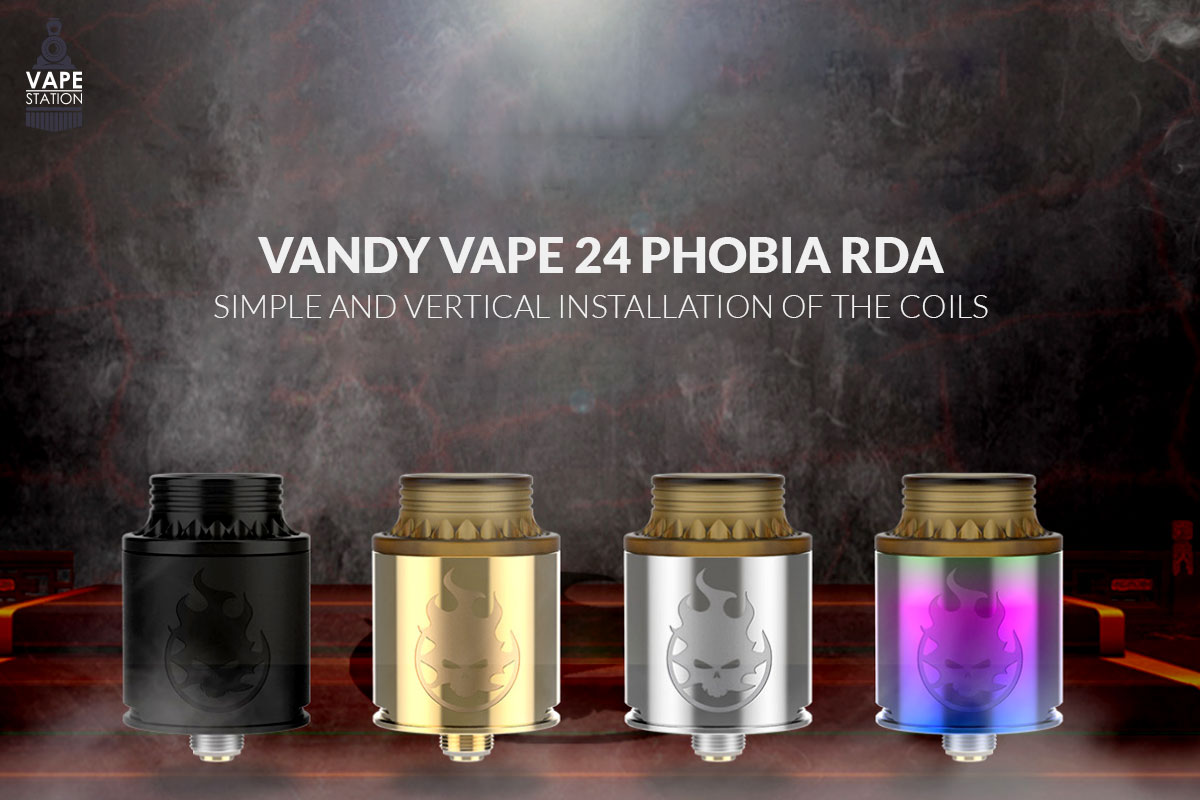 Coil leads are mounted vertically onto the base and side-secured for easy installation in the build deck portions, with four open terminals. Airflow enters the structure through dual bottom air slots, then redirects to a two-direction airflow from the bottom and side to produce cyclonic vapour.
The PHOBIA RDA uses a custom 810 ULTEM Chuff Caps. Also included in each kit is a squonk 510 pin to be used with squonk devices for added versatility.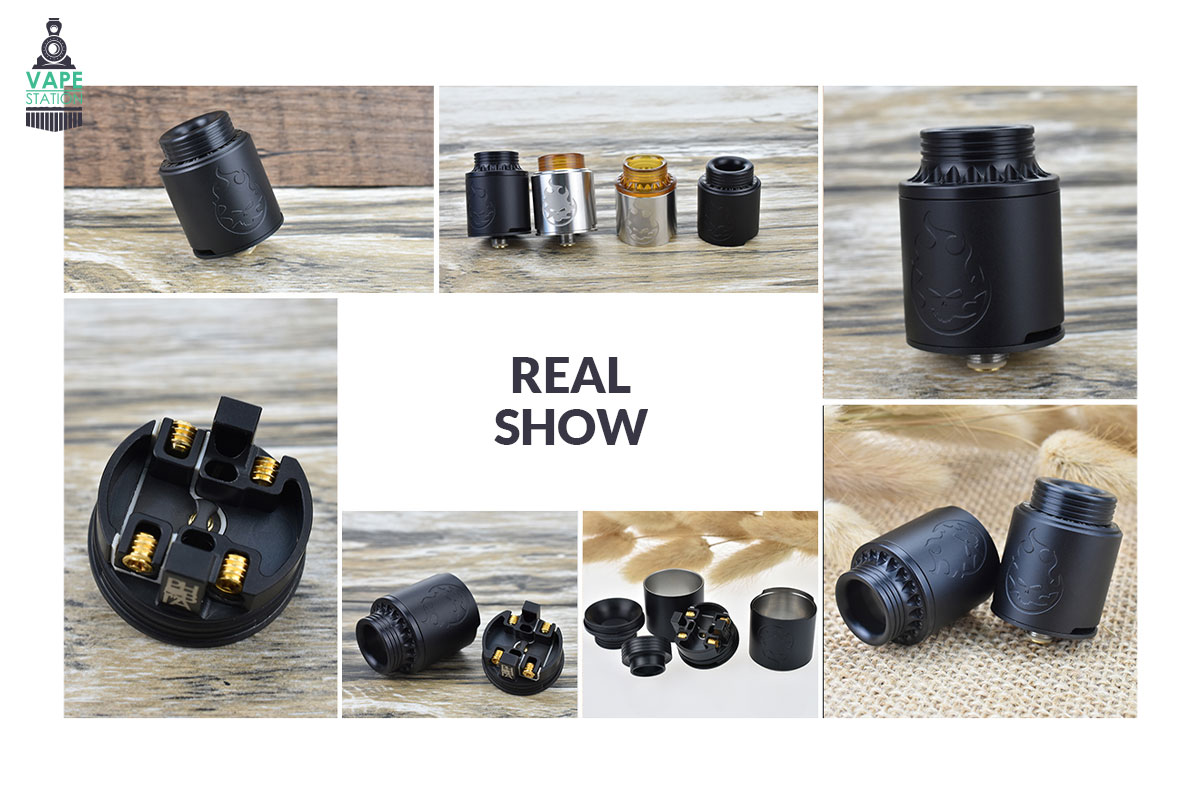 PRODUCT SPECIFICATIONS
Unique base.
Simple and vertical installation of the coils.
Original bottom and side airflow
Option to use 810 drip tips and custom 24 mm Chuff Caps
24mm Diameter
Deep Juice Well
Superior 303 Stainless Steel Construction
Replaceable Wall Sleeve Design
Spacious Build Deck
Side-Secured via M4 Hex Screws
Single or Dual Coil Configurations
Direct-to-Coil Chamber Effect
810 ULTEM Chuff Cap
810 6mm Wide ULTEM Drip Tip
810 Drip Tip Adapter
Squonk-Ready 510 Pin
Gold-Plated 510 Connection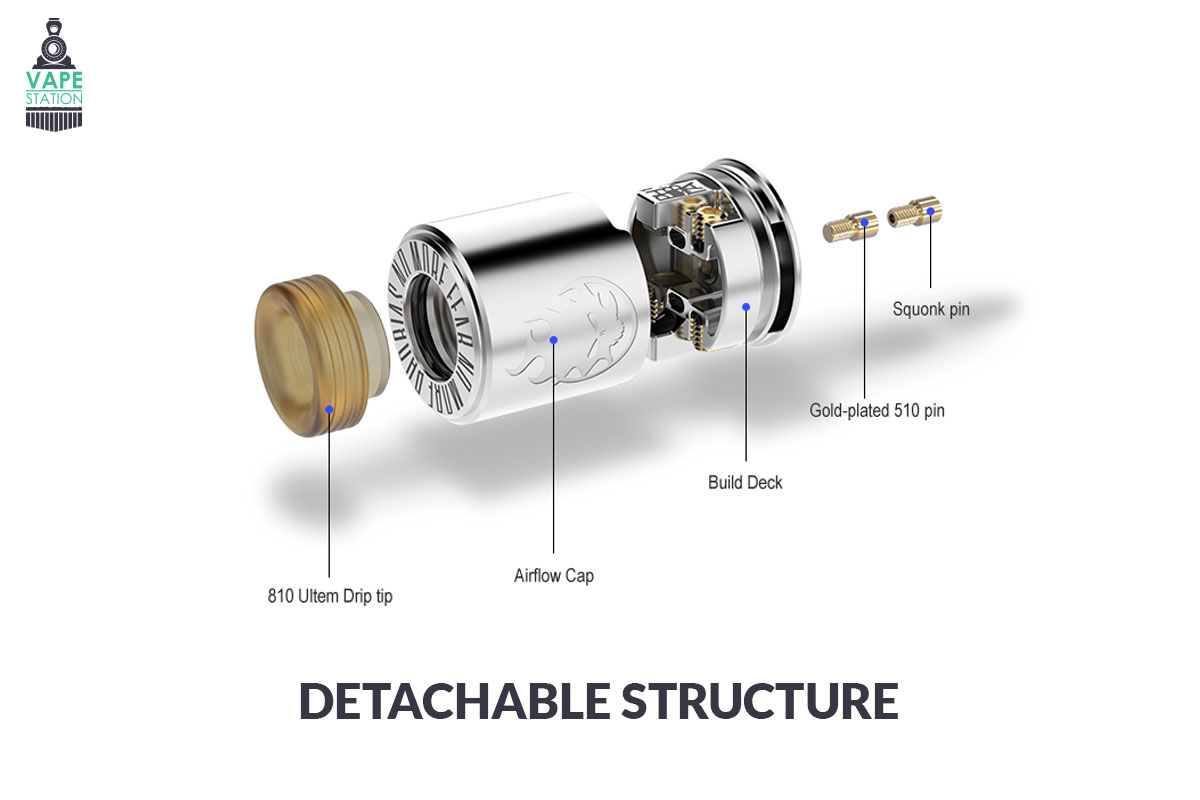 Includes:
1 x Phobia RDA
1 x Drip Tip
1 x Airflow Cap
1 x User Manual
1 x Accessory bag
Quick Links :
Vapes
E-Liquids
Nic Salts
Tanks
Accessories 
Special Sale