VANDY VAPE WIDOWMAKER 25MM RTA
The newly designed VANDY VAPE WIDOWMAKER 25MM RTA is now available online in Pakistan. Price PKR:5,799/- Made by VANDY VAPE. This tank has a large capacity rebuildable tank atomizer. It is equipped with an interchangeable mid airflow sleeve to create luscious clouds of vapour for those that love rebuildables—fitted with a postless build deck. The Vandy Vape Widowmaker RTA possesses an easy-to-build on deck, featuring four major closed terminals on the build deck floor.
The tank maintained dual coil capabilities and a large 25mm postless build deck.
Vandy Vape Widowmaker Review:
Vandy vape widowmaker has a bubble tank that gives you six mL's liquid capacity. Two exotic oils with all the spec and material are present. The device is not too tall. It is 25 millimetres in diameter but 51 millimetres tall without the drip tip. 
This liquid tank has three kinds of adjustability
Excellent Liquid Flow Adjustability

Side Airflow Adjustability

Bottom Airflow Adjustability 
A beautifully designed machine makes it super-versatile. 
Different nuances from the semi-liquid came at different wattages. It doesn't get too hot even after using it at higher wattages.
Performance
The tank is flexible in terms of airflow. It gives a flavorful and insane amount of airflow. Liquid dumped so close to the chamber and saturated very well. Overall it's just a juicy and dense vapour versatile solid construction on the outside. Threads are all buttery smooth. Widowmaker is available in a wide variety of colours.
The Vandy Vape Widowmaker can utilize two coils simultaneously, doubling the amount of vapour output possible. Holding up to 6mL of eJuice within the confines of the borosilicate glass tank, the Widowmaker RTA can be refilled in a quarter-turn top-fill system that reveals a single big fill port.
The knurled bottom airflow control ring also supports a set of bigger airflow holes. On the other hand, the mid airflow sleeve can be interchanged between three airflow designs and quickly swapped out to find the best possible airflow configuration.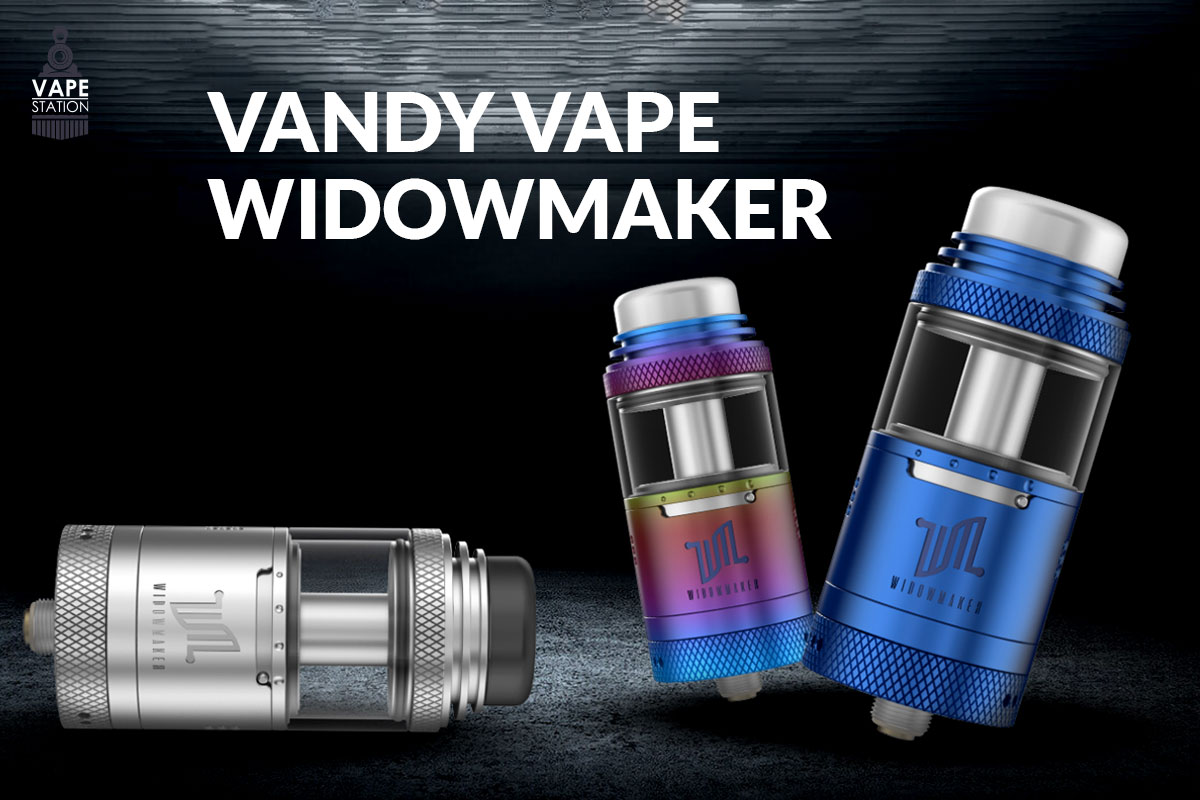 Vandy Vape Widowmaker 25mm RTA Features:
25mm diameter and 5mm Deep Juice Wells
Superior 304 Stainless Steel Tank Construction with 2mL Bubble Glass Capacity
Postless Build Deck – 4 Deck Terminals and 6mL Glass Capacity inside
Detachable structure and side secured via Hex Screws
Conical Top Cap – Concentrates Flavor
Customizable Airflow Control System
3 Interchangeable Airflow Mid Cap
Round Hole Mid Airflow Sleeve
Multi-Hole Mid Airflow Sleeve
Oval Mid Airflow Sleeve
Dual Sided 7-Multihole Bottom Adjustable Airflow Control Ring
Detachable Structure And Design
This unique tank is composed of several parts to give outstanding performance. On the top, we have a removable drip tip. A glass tank has a 510 drip tip adapter. It has a perfect tank in terms of size, weight and performance.
Includes:
1 x Vandy Vape Widowmaker 25mm RTA
1 x Bubble Glass
1 x Spare Parts Bag
1 x Instruction Manual
1 x Coil Lead Guide
1 x Adjustable Airflow Cap
2 x 0.35ohm Triple Fused Clapton Coil
Quick Links :
Vapes
E-Liquids
Nic Salts
Tanks
Accessories 
Special Sale