VOOPOO Drag Nano 2 Price in Pakistan Review & Specs:
VOOPOO Drag Nano 2 Price in Pakistan is  ₨. 7,499/-. The Pod System is a compact and portable device designed specifically for MTL (mouth-to-lung) vaping. It boasts an integrated 800mAh battery that provides a long-lasting vaping experience constructed with durable zinc alloy. Included with the device are two pods that feature integrated coils, with options for 0.8ohm and 1.2ohm resistances. The Drag Nano 2 is compatible with VINCI Pods, allowing for more coil options and better flavor and vapor production.
Customizable Power Levels:
The Pod System has a unique feature that lets you adjust the power output to fit your vaping style. It has three power levels, making it suitable for beginners and experienced vapers. This device is designed to be small and easy to carry around, perfect for vaping on the go. It won't leak, so you don't have to worry about making a mess.
Pod Features:
Classic Design:
The VOOPOO Drag Nano 2 comes in a stylish package with a bold and matte appearance. It has a slim design that is easy to use and offers various customization options. The device is made with a Zinc-Alloy Chassis, ensuring durability.
Pod Details:
The Pod has a 2ml pod capacity and features a convenient top-fill system for easy refilling.
Battery:
Equipped with a powerful integrated 800mAh battery, providing long-lasting vape sessions throughout the day. With a quick 90-minute full charge, you can enjoy uninterrupted vaping. The device features an LED battery life indicator, keeping you informed of your remaining battery level.
Voltage:
The VOOPOO Drag Nano 2 operates at a constant voltage output range of 3.2-4.2V, which is optimal for a satisfying vaping experience. This voltage settings allow the pod to produce subtle and flavorful vapor.
Watts:
The pod offers a wattage output range of 20W, making it suitable for a variety of vaping preferences. The wattage adjustment feature allows users to customize their vaping experience based on their chosen nicotine strength and flavor.
Color:
It is available in 8 mesmerizing colors: Tea Green, Orange, Carbon Fiber, Sparkle Champagne, Classic Red, Classic Black, Gull Grey, and Powder Blue.
DIY Smart Match System:
The VOOPOO Drag Nano 2 features a user-friendly DIY Smart Match System, giving you the freedom to choose your desired flavors for a personalized vaping experience.
Power Mode and Bypass Mode:
Its provide two modes Power Mode and Bypass Mode. Power Mode allows you to adjust the power output for a customized vaping experience, while Bypass Mode operates based on the battery's direct voltage without any adjustments.
Draw-Activated:
The VOOPOO Drag Nano 2 is designed with a draw-activated system, which means you can start vaping just by taking a puff without pressing any buttons. This feature makes it extremely convenient, especially for users who are frequently on the move. Simply inhale and the device will automatically activate, allowing you to enjoy your vape effortlessly.
Resistance Range:
The VOOPOO Drag Nano 2 makes it simple to change coils with its press-fit installation system. No tools are needed. It supports a wide range of coil resistances from 0.1 to 3.0 ohms, so you have plenty of options to find the perfect coil for your vaping preference.
Adjustable Airflow:
The VOOPOO Drag Nano 2 has an adjustable airflow dial that lets you control the amount of air that flows through the device while vaping. By adjusting the airflow, you can customize the draw to be more restricted or more open, based on your personal preference.
Leak-Resistant:
The pod is designed to prevent any liquid from leaking out, ensuring a mess-free vaping experience. You can enjoy your favorite flavors without having to worry about any leakage issues.
VOOPOO Drag Nano 2 Includes:
VINCI Pod Device

1*Drag nano 2 replacement pod (0.8 Ω)
1*Drag nano 2 replacement pod (1.2 Ω)
1*Drag nano 2 device

1*Type-C Cable

1*User Manual

1*lanyard
VOOPOO Drag Nano 2 Key Specs:
The VOOPOO Drag Nano 2 Pod Kit is compact and beginner-friendly. Let's explore some of the key specs of this kit
It is perfect for beginners.
It has a DIY Smart Match System, allowing you to choose your flavors.
It's ideal for the DTL(Direct To Lung) Vaping Experience.
It has two  featured on the device: power mode and Bypass mode.
It has a Draw-activated Ignition, making it great for those on the go.
It has a Press-Fit Coil Installation and Resistance Range of 0.1-3.0 ohm.
 It has an adjustable airflow dial which makes you to control the flow of smoke.
It has a Leak-Resistant feature that prevents leakage.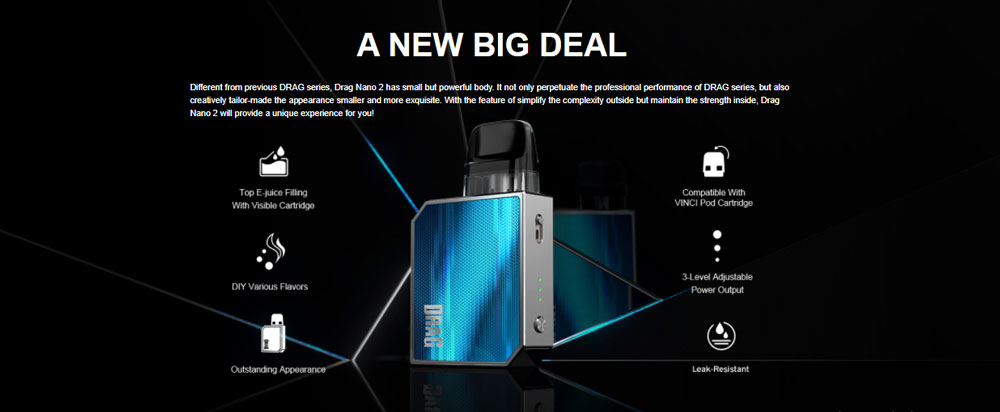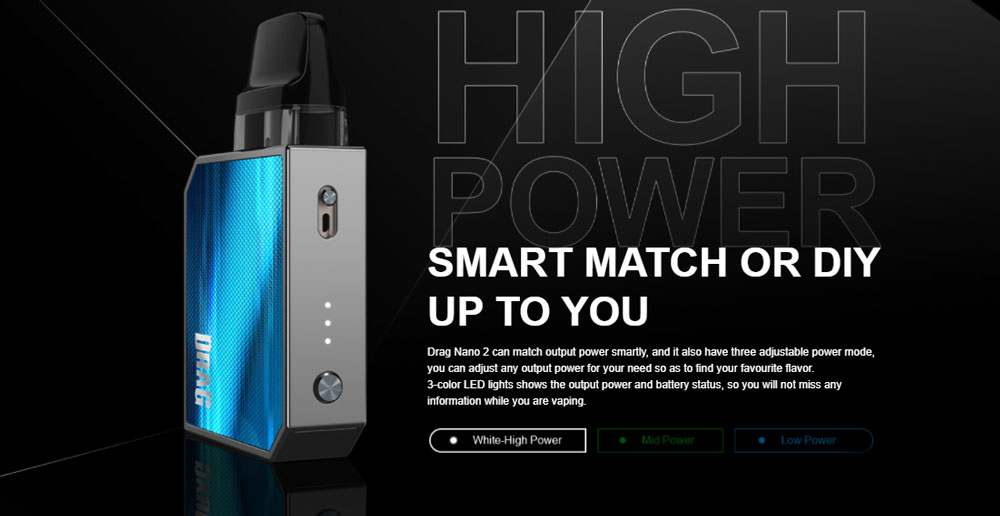 Quick Links :
Vapes
E-Liquids
Nic Salts
Tanks
Accessories 
Special Sale