Vaporesso Zero 2 11W Pod Price in Pakistan Review & Specs:

Discover Vaporesso ZERO 2 Pod System, featuring an integrated 800mAh battery, 3mL Pod Capacity, and comes with a 1.0ohm Mesh or 1.3ohm CCELL Pod. Equipped with the AXON Chipset, the ZERO 2 Pod System is a great successor to the Vaporesso RENOVA Zero Pod System, updating the chassis for a sleek visually striking form factor. Portable and lightweight, the chassis is constructed from durable zinc alloy and provides ample protection to the internal 800mAh battery inside. In addition, the ZERO 2 Pod System operates off a draw-activated firing mechanism, allowing for easy and simple usage for those on the go.
Vaporesso Zero 2 11W Pod has a minimalist and user-friendly design. It is convenient and portable.
Let's explore some of the key specs of this kit.
It features a Type-C Charging Port with a refillable pod holding 3mL Juice.
It features SSS Leak-Resistant Technology.
It has a battery of 800mAh, which can be recharged in 45 minutes. 
It has a Coil resistance of 1.0ohm-1.3ohm.
It features Dynamic Tidal Light which displays the battery.

Note: Install and Prime Coil Before Use.
Pro tip: After filling the pod, wait 10 minutes and start vaping.
It has a fire button, which offers both manual and auto-activation. Its sensor helps you draw the smoke without pressing the button.
Battery:
It features an Integrated 800mAh Rechargeable Battery that supports your vape for a longer time. Vaporesso Zero 2 provides Overheating Protection to your device and prevents it from burning. 
Pod Details:
To prevent leaking, the pod gets refilled by Press to Fill Mechanism, the simplest method to fill a pod.
Vaporesso Zero 2 Design
The design is futuristic and breaks norms in every proper way – polishing a piece of unique beauty in your palm. Its radiant cosmos element design creates a stunning appearance. It is available in different shades such as Carbon Fiber, Black, Black Blue, Black Red, Black Green, and Black Purple, which you can choose according to your preference.
Its structure is very aesthetic, which helps users grab it effectively.
Includes:
• 1 x Battery
• 1 x 1.0Ω MESH POD (2ml)
• 1 x 1.3Ω CCELL POD (2ml)
• 1 × E-Liquid Filling Bottle (10ml)
• 1 x Type-C Cable
• 1 x User Manual
• 1 x Warranty Card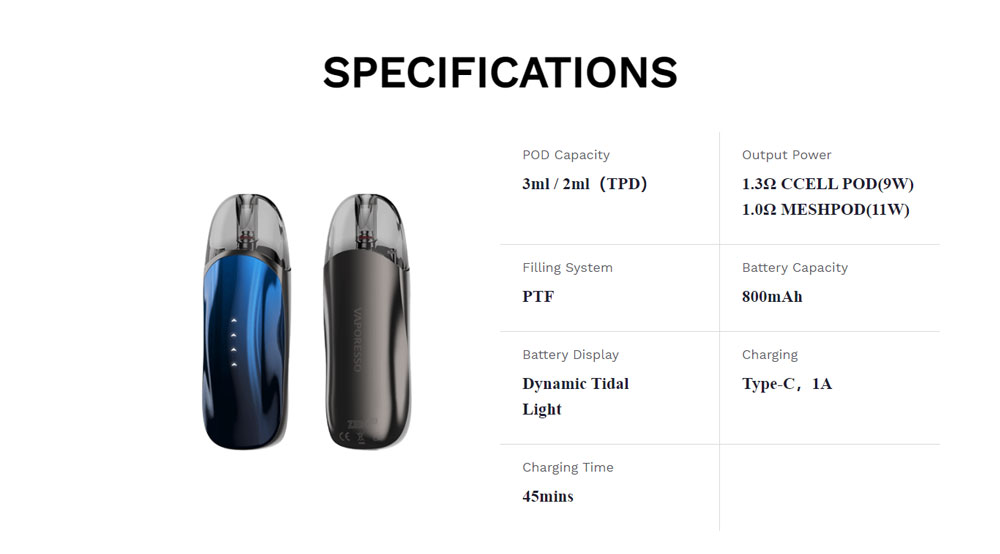 Quick Links :
Vapes
E-Liquids
Nic Salts
Tanks
Accessories 
Special Sale