VOOPOO MOJO 88W with UFORCE TC Starter Kit 2600mAh
Check out the VOOPOO Mojo infographic to help you better understanding how the product works!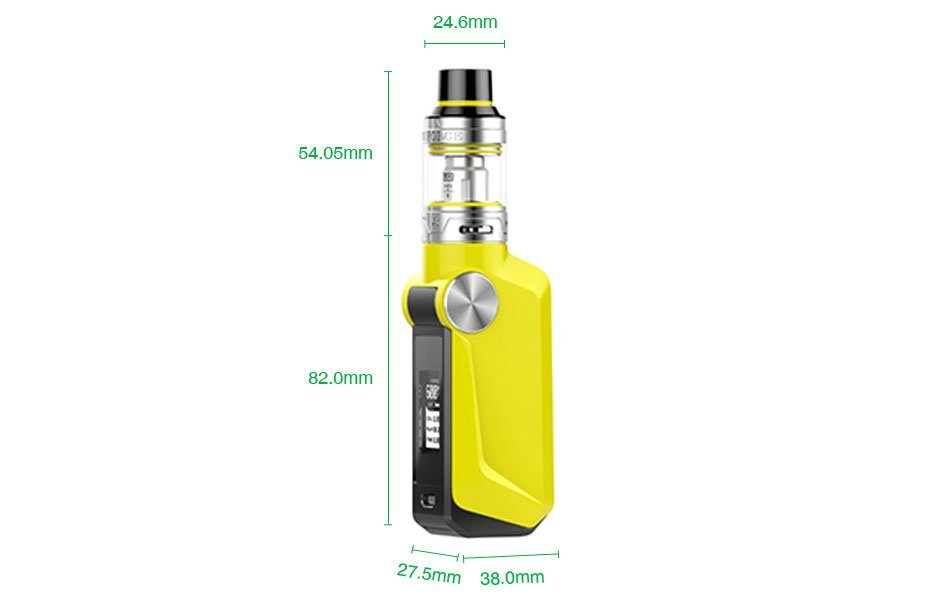 The VOOPOO MOJO 88W TC Starter Kit delivers the perfect combination of versatile functionality and simplified designs with minimalistic lines powered by the advanced GENE Chipset. The first built-in battery device following the spectacular DRAG and TOO Mod, VOOPOO introduces the MOJO 88W for the modern lifestyle with simple design elements and stealthy operational buttons. The integrated battery has a maximum capacity of 2600mAh, capable of 2A max charging rate along with a suite of safety protections. Powered by the GENE Chip, the MOJO Box Mod is equipped with 88W of maximum power and comprehensive temperature control suite. Furthermore, the VOOPOO MOJO has an instant fire speed of approximately 10 milliseconds when pressing the tactile fire button. The VOOPOO UFORCE Sub-Ohm Tank presents a superior quality chassis design with a 3.5mL juice capacity, sliding top-fill method, triple bottom airflow, and a new coil structure. The chimney section is shorter than the standard Sub-Ohm Tank, allowing for rapid airflow channeling to maximize flavor reproduction while retaining a tremendous cloud production. The OCC coil design features an atomizer resistance of 0.4ohm with a recommended wattage range of 55W to 65W.
Quick Links :
Vapes
E-Liquids
Nic Salts
Tanks
Accessories 
Special Sale
VOOPOO MOJO 88W TC Box Mod Features:

Integrated 2600mAh Rechargeable Battery
Wattage Output Range: 5-88W
Output Voltage Range: 0-8.5V
Min Atomizer Resistance: 0.05ohm
Temperature Range: 200-600F
Highly Advanced US GENE Fun Chip
CNC Precision Milled
High-Quality Zinc Alloy Construction
Simplified Minimalist Design
Sharp Lines and Sleek Design
Intuitive OLED Display
Stealth Trigger-Like Firing Mechanism
Dual Adjustment Buttons – Hidden Circular Key
Short Circuit Protection
Over-Temperature Protection
Overtime Protection
Output Over-Current Protection
Overcharge Protection
Over Discharge Protection
Low Battery Warning
MicroUSB Port – Firmware Upgrades
510 Connection
Available Colors – Black, Yellow, Gray, Red, White, Orange, Blue

VOOPOO UFORCE Sub-Ohm Tank Features:

24.6mm Tank Diamenter
3.5mL Maximum Juice Capacity
Superior Stainless Steel Construction
Pyrex Glass Reinforcement
UFORCE OCC Coil Technology
0.4ohm U2 UForce Dual Coils – rated for 40-80W
Short Chimney – Flavor-Focused
Quick Vent Channel Design – Rapid Heat Discharge
Sliding Top-Fill Method
Precision Triple Auxiliary Bottom Airflow Control
14mm Delrin Widebore Drip Tip – Vibrant Colorways
24K Gold-Plated 510 Connection
Includes:

1 VOOPOO MOJO 88W Box Mod
1 VOOPOO UFORCE Tank
2 0.4ohm U2 UForce Coils
1 Spare Parts & Glass
1 MicroUSB Cable
Gene Chip Card
Instructional Manual