VGOD SaltNic – Iced Berry Bomb 30ml ( 25 , 50 mg)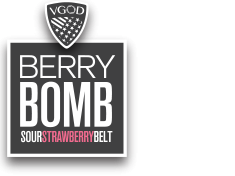 Sour Strawberry Belt Iced by VGOD SaltNic | Bomb Line
No matter how impressive is your vaping practice and what kind of flavors it involves, as there are always new ones you have never vaped before and you must.
Here is a mentholated berry bomb nicotine salt saturated with sweet strawberry flavor and menthol coolness. As you take a deep inhale, you feel the touch of sweet to sour-tart strawberry wave on your throat entrance. Your lungs are getting full of this sour belt blast and mind gets long-waited satisfaction. As soon as the flavoring pumped out in a slow motion on the exhale, you sense that minty bite giving you a feeling of coolness in your mount.
Impress your taste buds with this nicotine salt sour belt coming in 30ml unicorn bottle.
Don't miss the chance to pump out those awesome clouds you crave.
Primary Flavors: Strawberry, Menthol
Bottle Size: 30ml
Nicotine Strengths: 25mg and 50mg
VG/PG: 50%VG / 50%PG
Quick Links :
Vapes
E-Liquids
Nic Salts
Tanks
Accessories 
Special Sale