VGOD SaltNic – Iced Mango Bomb 30ml ( 25 , 50 mg)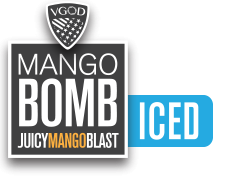 Juicy Mango Blast Iced by VGOD SaltNic | Bomb Line
Rapidly developing vape industry offers premium and extraordinary flavors, among which Mango Bomb Iced nicotine salt is remarkable.
Mango-powered flavoring with a slight touch of scattered menthol coolness takes control over your sensuality as you inhale. Slowly becoming more intense, every draw you take in gives you a blast of juicy mangoes that soak each taste bud followed by a refreshing minty release on exhale that will have you coming back for more.
Pick up a bottle or two of this well-designed combination, available in 30ml unicorn bottle.
For massive clouds, hit this eye-catching premium e-liquid today!
Primary Flavors: Mango, Menthol
Bottle Sizes: 30ml
Nicotine Strengths: 25mg and 50mg
VG/PG: 50%VG / 50%PG
Quick Links :
Vapes
E-Liquids
Nic Salts
Tanks
Accessories 
Special Sale