VGOD SaltNic – Cubano Silver 30ml ( 25 , 50 mg)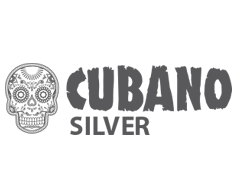 Cubano Silver SaltNic provides you with that delightful flavor that's enhanced by creamy vanilla custard, honey, and sticky brown sugar.
Each inhale tastes exactly like a nuanced Cuban cigar. Then, sweet honey lands on the tongue. With every exhale, smooth vanilla custard and caramelized brown sugar make your mouth water.
This salt based nicotine from VGOD comes in a 30ml unicorn bottle.
If you crave the smooth and rich taste of Cuban tobacco, there's an e-juice that will satisfy you like crazy. Every hit is decadent beyond belief.
Primary Flavors: Vanilla Custard, Honey, Cubano Cigar, Tobacco
Bottle Size: 30ml
Nicotine Strengths: 25mg, 50mg
VG/PG: 50%VG / 50%PG
The VGOD e-Juice Line has some of the best tobacco flavors we have ever tasted.
Quick Links :
Vapes
E-Liquids
Nic Salts
Tanks
Accessories 
Special Sale