VGOD SaltNic – Berry Bomb 30ml ( 25 , 50 mg)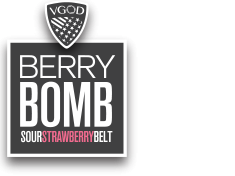 VGOD SaltNic Berry Bomb is a sophisticated profile of candy flavorings that you will admire. The transition from sour to a slightly sweet to tartness is crafted so ideally that you will only smile and enjoy.
The complexity of patterns delivered to you throughout the vape session speaks out of the blasting texture of this incredible e-juice you are going to indulge.
Candy treat with strawberry hints will be your companion whenever you hit the vapor. And, that's gonna be very often, as this flavor has a magnificent appeal kept for all your senses.
Uncover hidden savory taste this nicotine salt packed in 30ml unicorn bottle with a 50/50 VG/PG base, that's just perfect for multi-pattern cloud production and deep satisfaction.
Primary Flavors: Strawberry, Candy
Bottle Sizes: 30ml
Nicotine Strengths: 25mg and 50mg
VG/PG: 50%VG / 50%PG
Recommended for use with: Pod System Devices
Not recommend for use with RDAs or sub-ohm tank devices.
Each flavor from VGOD® is made with high-quality ingredients, ensuring outrageously satisfying taste that you'll never put down.
Quick Links :
Vapes
E-Liquids
Nic Salts
Tanks
Accessories 
Special Sale