VooPoo Argus Pod System Kit Price in Pakistan Review & Specs:
The Voopoo Argus Pod Kit 20W price in Pakistan is  Rs. 6999/-. The Voopoo Argus Pod Kit 20W is a great choice if you're looking for a quality vape. It's got a classic design with a soft touch its classic look is enhanced by a mix of leather and zinc alloy materials. It's easy to use, even for beginners. It comes with a 2ml Argus pod and an 800mAh battery. You can adjust the power up to 20W for the perfect vape. The unique ITO technology and 4-hole air intake give you a clean and flavorful vape.
Draw Activated:
This kit is draw-activated, which means you just need to inhale to start vaping. It's easy to fill from the side, and the design helps prevent leaks. If you prefer less nicotine and Mouth-to-Lung (MTL) vaping, this kit is a good fit as it works well with less than 50mg of nicotine.
VOOPOO Argus Pod Features

:
Battery Capacity:
Equipped with a 2ml Argus pod and an 800mAh battery, it is easy to use and ideal for new vapers.
VOOPOO Argus Pod Safety Features:
Safety is important, and this kit has six built-in protections. You can also automatically adjust power settings thanks to the GENE.AI chip. It's got a small screen where you can see your settings and control the power.
Classic Design:
A blend of leather and zinc alloy gives it a traditional yet comfortable touch.
GENE.AI Power Adjustment:
This smart chip adjusts the power automatically to match your vaping style. It ensures you get the best vaping experience every time.
ITO Atomization Technology:
This innovative technology enhances the flavor of your vape. It uses a special process to heat the e-liquid, bringing out its purest taste. Plus, it helps the device work more efficiently.
0.69-inch OLED Screen:
This compact display provides essential information like battery life, wattage output, puff counter, and resistance. It's bright and easy to read, which makes managing your vaping experience simple and straightforward.
Power Output (wattage):
Depending on the exact model, the power output can range widely, providing a customizable vaping experience. The wattage can be easily adjusted via buttons near the OLED screen to make it simple.
Type-C Charging: 
The kit may support type-c charging, allowing for quick and efficient device charging.
Leak-Proof Design:
Thanks to a patented multi-layered protection system, the Argus pod cartridges prevent e-liquid from spilling out, keeping your vaping experience clean and mess-free.
Side Fill System:
The pod has a special hole on the side to add more vape juice, you just open this hole pour in the juice. No need to take apart the device. Close the hole, and you're ready to vape again.
 

2ml TPD-Compliant Pod Built-In Coil:
The pod can hold up to 2ml of vape juice. The coil, which turns the vape juice into vapor, is already inside the pod. You don't need to install it yourself.
Adjustable Airflow:
The VooPoo Argus Pod System allows you to enjoy a customized vaping experience with its adjustable airflow feature. Think of it as a window: you can open it wider to let in more air for bigger vapor clouds, or close it a bit for a stronger, more intense vape.
Color:
The VooPoo Argus Pod System Kit comes in six color options like carbon fiber, black, grey, brown, red and sky blue.
User-Friendly Build:
This device is brimming with features that make it easy and convenient to use. It comes with a 0.69 inch OLED screen that clearly showcases a variety of real-time information, such as how much battery life is remaining, how many times you've used the device, the electrical resistance of the coil, and the power output, among others.
VOOPOO Argus Pod Contents:
1* Argus Pod Device
1* Argus Pod Cartridge 0.7ohm (side filling)
1* Argus Pod Cartridge 1.2ohm (side filling)
1* User Manual
1* Type-C Cable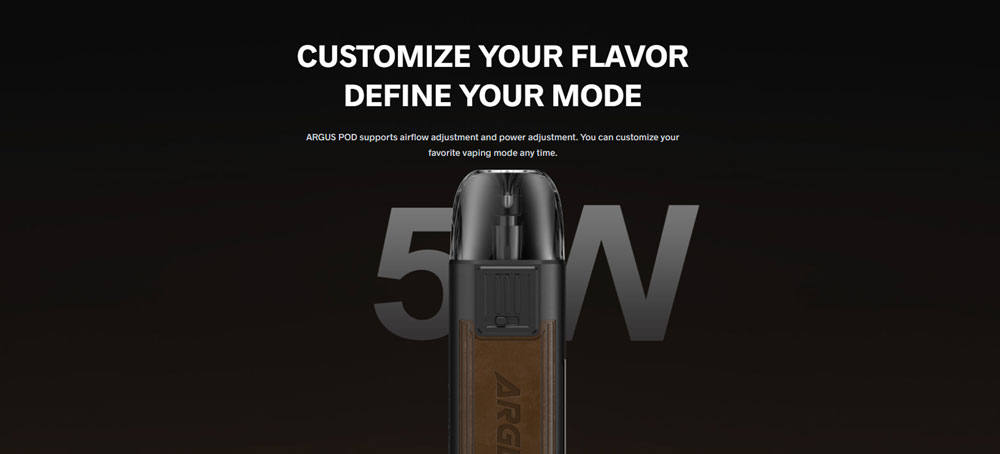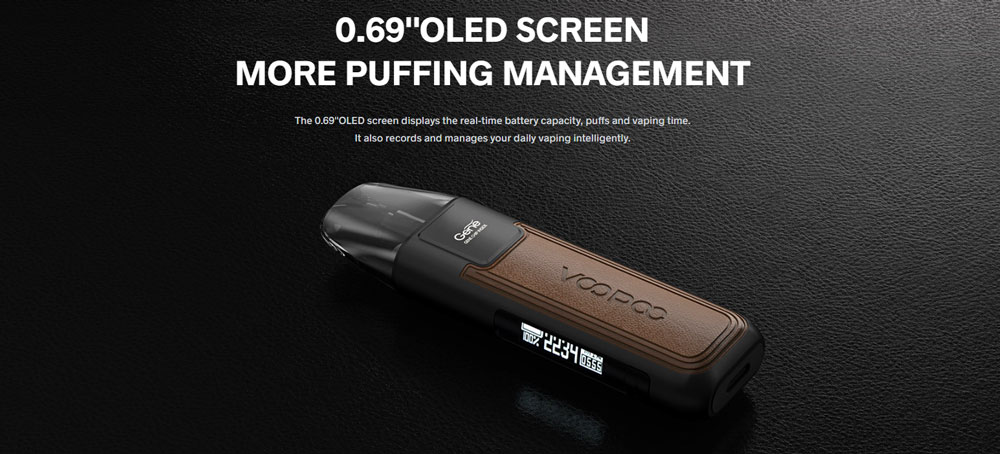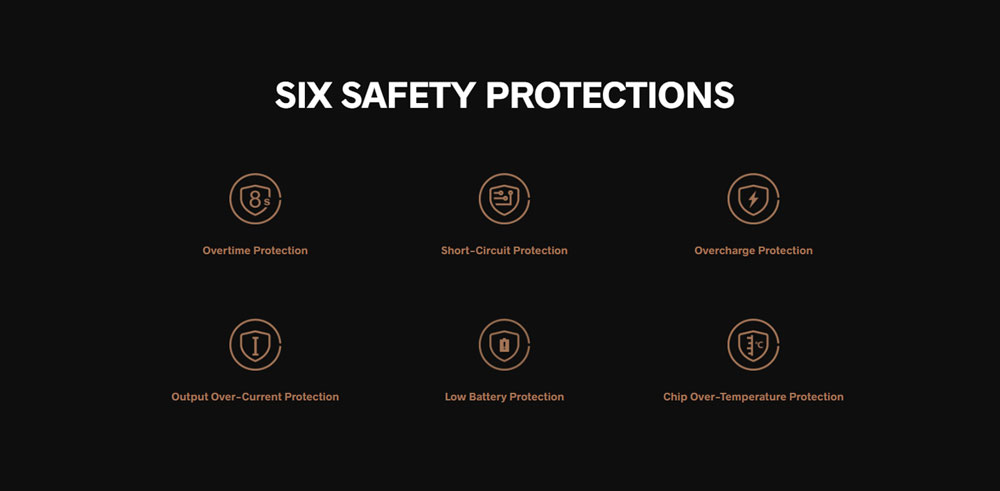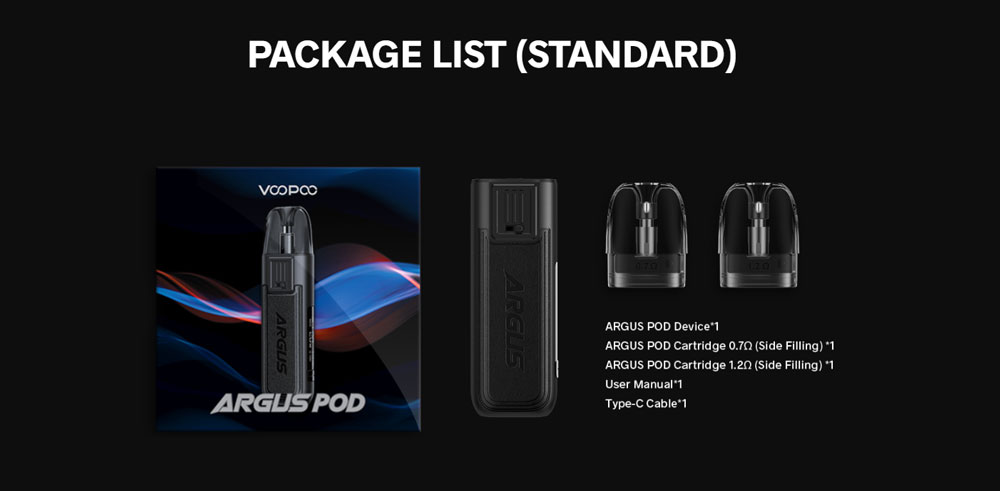 Quick Links :
Vapes
E-Liquids
Nic Salts
Tanks
Accessories 
Special Sale