VOOPOO DRAG MAX Price in Pakistan
VOOPOO DRAG MAX is available in Pakistan at a price of Rs. 10,499/-. You can order it from our website or visit our outlet stores in Karachi.
VOOPOO DRAG MAX Specs:
Let's explore some of the key specs of this kit:
It features a Type C USB Port with a refillable pod capable of holding 4ml of juice.
 It has a Top Fill System and DTL Vaping

It's a vape to suit every style, so you won't have to buy a new kit even if your taste changes.

It features a display screen and two adjustment buttons.
It has an intuitive firing button, which makes it great for those on the go.
It has a Press-Fit Coil Installation and Resistance Range of 0.25-0.6ohm.
It is an impressive and handsome pod system suitable for MTL, DTL, or RDL and meets almost all requirements. 
It has a Magnetic Pod Connection, which prevents Leakage.
Pro tip: After filling up the pod, wait for 10 minutes and start vaping. 
Easy To Use:
It is a very Easy to Use device. Its System is excellent for those that are on the go. You can fill the pod with a simple top filling method. 
VOOPOO DRAG MAX Details:
It has a Pod Capacity of 4ml and gets refilled by the Top Fill System. 
Design:
The smooth logo and matt surface look exquisite, and it is comfortable to hold and feels good in the hand. It is a slim set-up that's simple to use and offers plenty of options for customization. It is made up from Zinc-Alloy Chassis. It is available in 5 different shades: Green, Silver, Red, Black, and Blue, which you can choose according to your preference.
Battery:
It features an Integrated 1800mAh Battery that supports your vape for a whole day. It can fully charge the device within 90 minutes. It has an LED battery life indicator light on your device.
Watts
It has a 5-65W Wattage Output Range, perfect for any vape. The Wattage adjustment allows the user to select the output they desire, depending on the nicotine strength and flavour they choose to use. Higher wattages burn out and reduce the battery life.
Package Contents:
1 Pod Mod

0.25ohm UN2 Meshed-H Coil

0.6ohm UN2 Meshed-H Coil

Pack of O-Rings

User Manual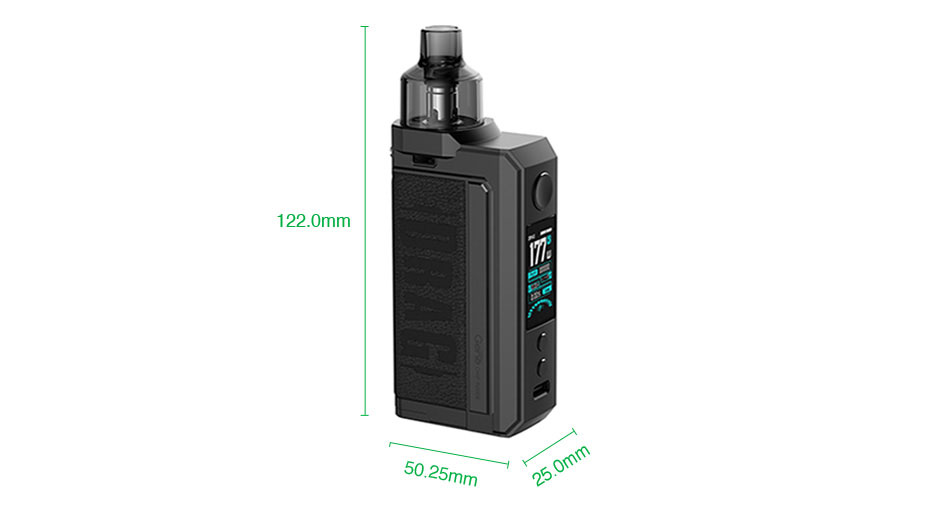 VOOPOO DRAG MAX 177W Pod Mod Kit Features:

GENE.FAN 2.0 Chipset
Dimensions – 122mm by 50.25mm by 25mm
Dual High-Amp 18650 Batteries – Not Included
Wattage Output Range: 5-177W
Voltage Output Range: 6.4-8.4V
Resistance Range: 0.1-3.0ohm
SMART Mode
BYPASS Mode
Firing Speed – 0.001s
Zinc-Alloy Chassis Construction
Intuitive Firing Button
1.08″ TFT Color Display
Two Adjustment Buttons
4.5mL Capacity
Bottom Fill System – Press To Fill
VOOPOO PnP Coil Series
0.2ohm PnP-VM5 Coil
0.15ohm PnP-VM6 Coil
Press Fit Coil Installation
Magnetic Pod Connection
Overtime Protection
Short-Circuit Protection
Overcharge Protection
Output Over Current Protection
Overdischarge Protection
Overtemperature Protection
Battery Reversal Protection
Type-C Charging Port
Available in Classic, Vintage Brown, Galaxy Blue, Vintage Grey, Marsala
Quick Links :
Vapes
E-Liquids
Nic Salts
Tanks
Accessories 
Special Sale