UWELL CALIBURN GK2 18W Pod Kit System Price in Pakistan Review & Specs

:
UWELL CALIBURN GK2 18W POD SYSTEM KIT price in Pakistan starts at Rs. 6,799/-. GK2 Pod Kit is an advanced version of the popular Caliburn Koko series, incorporating features from the G2 and Koko Prime models. With a 690mAh battery and an 18W output, this starter kit offers a reliable and satisfying vaping experience. The GK2 isn't merely an electronic cigarette. It's a draw-activated device that provides discreet vaping and mimics the feel of a traditional cigarette and making your transition smoother. One standout feature of the Caliburn GK2 is its light-changing technology, which adds a unique touch to the device. The kit vibrates in various states, enhancing the overall vaping experience.
Draw Activated, Discreet Vaping
Setting up the GK2 is a breeze, as it utilizes inhale activation. Simply fill the pod with your preferred e-liquid and ensure the battery is charged. Once everything is ready, all you need to do is inhale the mouthpiece to activate the device. This combination of inhale activation and discreet vapour production makes the GK2 feel like smoking a traditional cigarette. For a personalized vaping experience, you can adjust the airflow by opening or closing it, allowing you to achieve a tighter or looser inhale according to your preference.
Key Features:
Design: 
The UWELL CALIBURN GK2 boasts a steampunk-inspired design, melding futuristic function with a hint of classic flair. Its glass body, offering a sneak peek of the device's internals, adds a touch of sophistication. The device comes in a range of multicolored shades that further enhances its visual appeal, illuminated to capture attention even in low light.
Versatile Coil Compatibility:
The GK2 has a pod that can hold 2ml of e-liquid. It has room for two different coils, one is 1.2 ohms and the other is 0.8 ohms. If you have Caliburn G series coils, you can use those too..
E-Liquid Window:
Worried about running out of e-liquid? The GK2 has a transparent e-liquid window, making it easy to monitor your e-liquid level at any time.
Pod Capacity: 
The Caliburn GK2's pod cartridge has a 2ml capacity, a typical size for most pod systems. It may be simply filled with your chosen e-liquid because it is refillable.
Battery Capacity: 
The device is powered by an integrated 690mAh battery, which can provide a decent amount of vaping time, depending on your usage. It supports USB Type-C charging, allowing for quick and convenient charging.
Power Output (wattage):
With a maximum power output of 18 watts, the GK2 offers a delightful vaping experience with reliable performance.
Airflow Control:
Enjoy a personalized mouth-to-lung experience with the GK2's adjustable airflow design. Customize the airflow to your preference, whether you enjoy a tight or airy draw.
Safety Features:
Safety comes first with the GK2. It features short-circuit protection, low power indication, over-time indication, and open-circuit indication to ensure a safe vaping experience.
Color:
The GK2 18W Pod System Kit is available in various colors like ocean flame, ribbon red, matte black, fantasy pink and aurora green.
Charging:
Locate the USB Type-C charging port on the GK2 device. It is usually located at the bottom or side of the device. Connect the USB Type-C charging cable (included in the kit) to the device's charging port. Plug the other end of the USB cable into a USB power source such as a computer, wall adapter, or power bank.
Kit Content:
1 x Uwell Caliburn GK2 Pod Kit
1 x Uwell Caliburn GK2 Pod
1 x 0.8 Ω Caliburn G Meshed Coil
1 x 1.2 Ω Caliburn G Meshed Coil
1 x USB Type-C Cable
1 x User Manual
UWELL CALIBURN GK2 benefits:
Below are some benefits of using this device.
The GK2, weighing only 45.2g, is incredibly lightweight and portable. easy to carry, perfect for on-the-go vaping. This ultra-portable pod vape kit can conveniently fit in a pocket or bag.
The GK2 is designed with simplicity in mind, featuring a one-button operation for those new to vaping or those who desire a hassle-free vape experience.
The GK2 pod kit maintains UWELL's tradition of high-quality coils, ensuring you enjoy an exceptional vape experience with each draw.
The GK2 allows you to personalize your vape experience with its refillable pods. You're free to choose your preferred e-liquids, making your vaping journey distinctly yours..
Specs
MTL Pod Kit
690mAh Battery
Fixed Power Output
Inhale Activated
2ml Refillable Pods
CALIBURN G2 1.2Ω , G0.8Ω , G 1.0ΩMesh Coil
USB C-Charging
Materials PA, PC+ABS, Silicate Glass
Dimensions 72.2 mm × 46.6 mm × 16.3 mm
Available in 5 different colors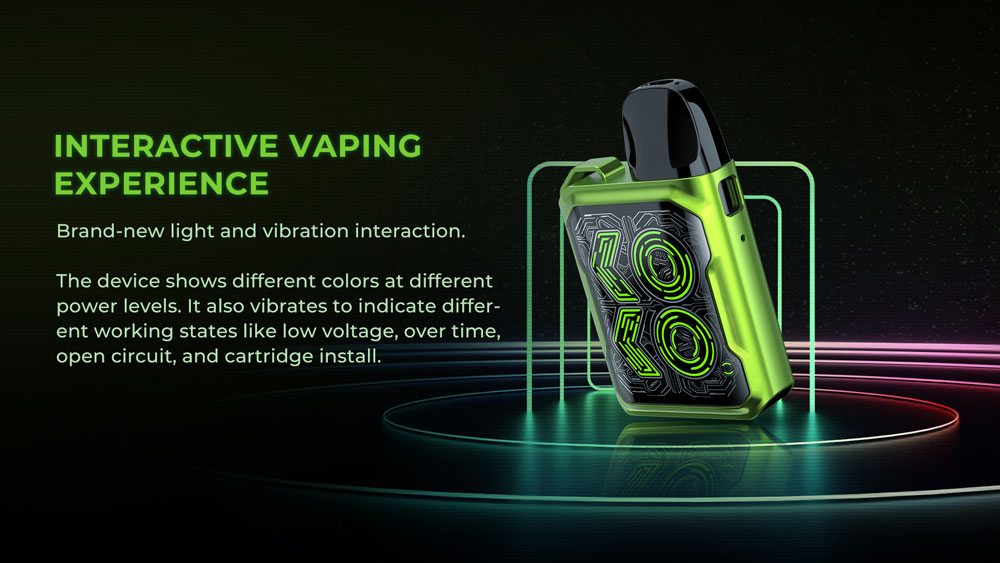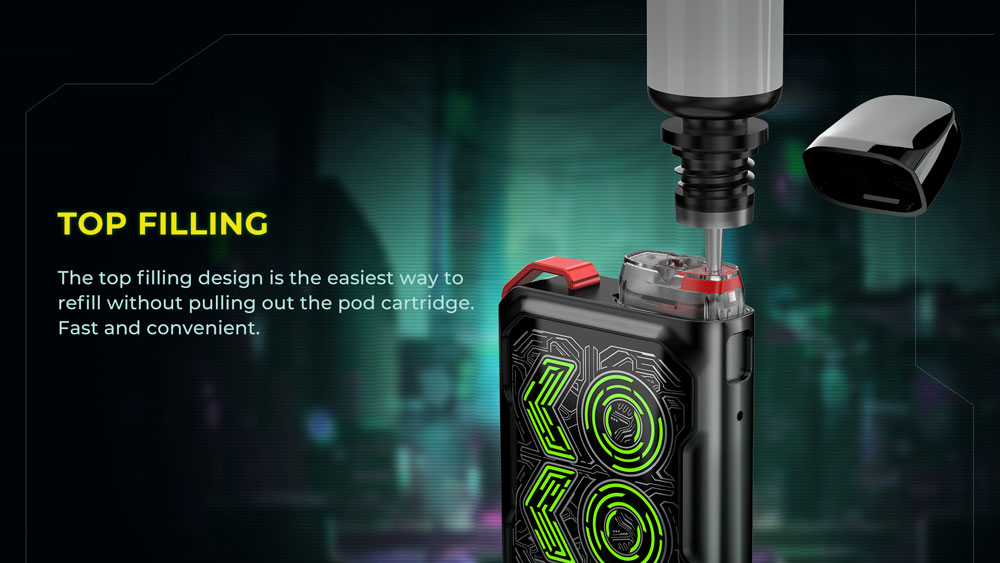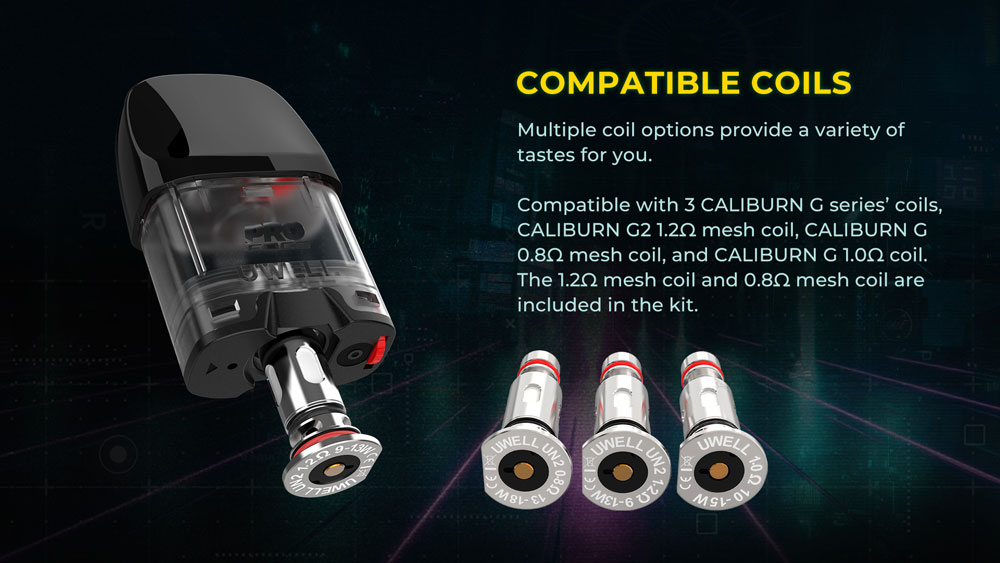 Quick Links :
Vapes
E-Liquids
Nic Salts
Tanks
Accessories 
Special Sale