Uwell Caliburn X Pod Kit Price in Pakistan Review & Specs:
The Uwell Caliburn X Pod Vape Kit, features an impressive integrated 850mAh battery, with a 5-20W output range, and is compatible with both the G and G2 Coils. Constructed from durable aluminum alloy, the chassis of the Caliburn X Pod System offers a strong and resilient material against light falls and drops. Although we recommend not to bounce this off the walls!
The pod system operates from both draw-activation and button-activation with convenient adjustable airflow, and utilizes the Caliburn G Coils, including the new 1.2Ω Meshed-H Caliburn G2 coil option, and features Type-C fast charging capabilities.
Specifications:
Weight: 46g
Output Power: 5w – 20w
Materials: PCTG, AL 6063
Dimensions: 107.4 mm x 27.5 mm x 15.6 mm
Battery Capacity: 850 mAh
Coil Compatibility: Uwell Caliburn G
Adjustable airflow control:
The device has a built-in, convenient, and adjustable airflow control, located on the side, allowing the user to open and close their airflow, without the need to remove the pod.
In-built features:
The Uwell Caliburn X Pod Mod device has a large OLED display screen, allowing the user to easily view the remaining battery life, output power, coil resistance, and puff count. The mouth-to-lung vaping device offers the user a draw-activated vaping function, or the ability to press the fire button for precise user control.
Stamping forming of aluminum alloy:
The Uwell Caliburn X Pod Mod Kit is formed from aluminum alloy, making the device durable and smooth, giving a comfortable grip.
Caliburn G Coil compatibility:
The Caliburn X Pod Mod Kit utilizes the Caliburn G coil range, offering the following push-fit coil options, ideal for mouth-to-lung vaping:
FeCrAl UN2 Meshed-H 0.8Ω
FeCrAl UN2 1.0Ω
FeCrAl UN2 Meshed-H 1.2Ω
What's in the box?
1 x Caliburn X battery device
1 x Caliburn X pod
1 x FeCrAl UN2 Meshed-H 0.8Ω Caliburn G coil (pre-installed)
1 x FeCrAl UN2 Meshed-H 1.2Ω Caliburn G spare coil
1 x Type-C USB charging cable
1 x User Manual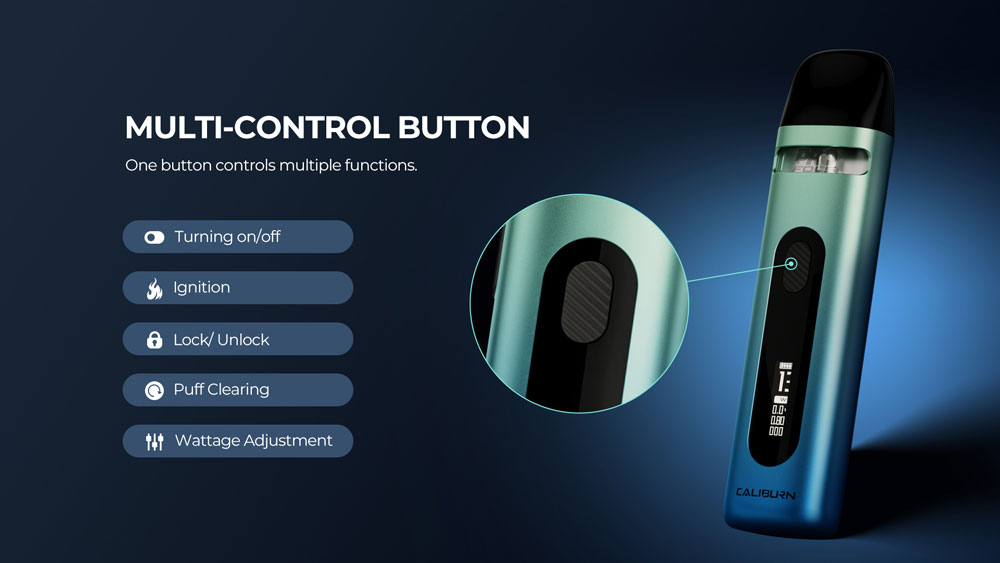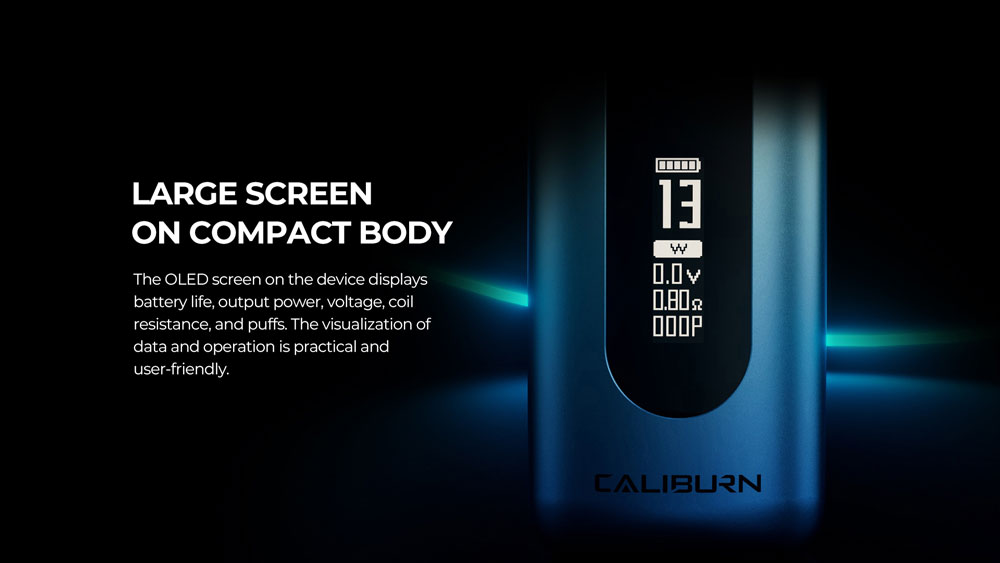 Quick Links :
Vapes
E-Liquids
Nic Salts
Tanks
Accessories 
Special Sale