Artery PAL SE Pod Price in Pakistan
Artery PAL SE Pod is available in Pakistan at a price of Rs 4,999/-. You can order it from our website or visit our outlet stores in Karachi.
Artery PAL SE Pod review & specs:
It has beautiful and light packaging with eye-catching aesthetics. It is convenient and portable.
Let's explore some of the key specs of this kit. 
It features a Type C USB Port with a refillable pod holding 2mL Juice.
It features LED Battery Life Indicator that tells you about your battery health.
It features a Draw-Activated Firing Mechanism that makes it easier for users to vape.
It has an Integrated 1.0ohm Coil and 1.4ohm Coil for a better vape sensation with a magnetic Pod Connection. 
It features Top-Fill Method to get its pod refilled.
It is constructed from Zinc Alloy Chassis.
Pro tip: After filling up the pod, wait for 10 minutes and start vaping.
It has a fire button, which offers both manual and auto-activation. Its sensor helps you draw the smoke without pressing the button.
Battery:
It features an Integrated 700mAh Rechargeable Battery that supports your vape for a longer time. It provides Overheating Protection to your device and prevents it from burning. 
Artery Pal SE Pod Details:
To prevent leaking, the top Filling Mechanism refills the pod, one of the simplest methods to fill a pod.
Design:
It is available in 6 different shades: Black Carbon Leather, Black and Red Leather, Brown Leather, Black Leather, Black Carbon Fiber and Royal White. You can choose according to your preference.
Its structure is very aesthetic, which helps users grab it effectively.
Includes:
1 PAL SE Device
1 PAL SE Pod
1 Type-C USB Cable
1 Lanyard
1 Rubber Ring
1 User Manual
1 Warranty Card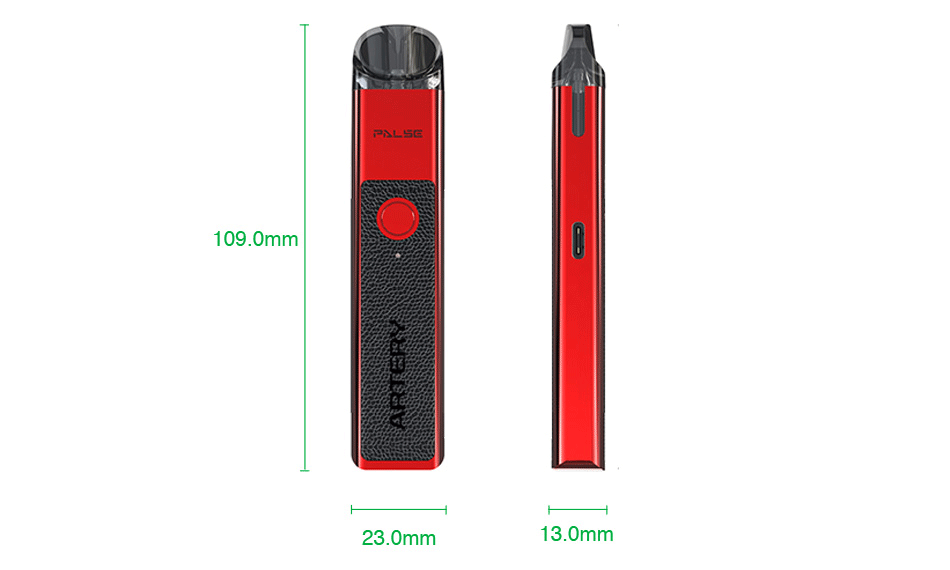 Artery PAL SE Features:
Dimensions – 105mm by 23mm by 13mm
Integrated 700mAh Rechargeable Battery
Max. Wattage Output: 20W
Voltage Output Range: 3.2-4.2V
Resistance Range: 0.6-2.0ohm
Zinc-Alloy Chassis Construction
Intuitive Firing Button
Draw-Activated Firing Mechanism
LED Battery Life Indicator Light
2mL Refillable Pod Capacity – 2 Options
Ergonomic Mouthpiece
Top Fill System – Dual Port
Integrated 1.0ohm Coil – rated for 14W
Integrated 1.4ohm Coil – rated for 10W
Magnetic Pod Connection
Overcharge Protection
Overheat Protection
8 Seconds Cut-Off
Short-Circuit Protection
Type-C USB Port
Available in Brown Leather, Black Leather, Black Carbon Fiber, Royal White
Includes:
1 PAL SE Device
1 PAL SE Pod
1 Type-C USB Cable
1 Lanyard
1 Rubber Ring
1 User Manual
1 Warranty Card
Make sure to properly prime each coils and pods before use.
Quick Links :
Vapes
E-Liquids
Nic Salts
Tanks
Accessories 
Special Sale