Geekvape Aegis Luxury Edition Bonus 40W Pod Mod Kit Price in Pakistan
Geekvape Aegis Luxury Edition Bonus 40W Pod Mod Kit is available in Pakistan at a price of Rs 6,999/-. You can order it from our website or visit our outlet stores in Karachi.
It has exquisite packaging, which gives it a bold and matte look and makes it look aesthetic. It is almost 91 ml in size, making it handy and portable.
Geekvape Aegis Luxury Edition Bonus 40W Pod Mod Kit specs:
Let's explore some of the key specs of this kit. 
It features type C USB charging with a refillable pod capable of holding 3.7ml of juice. 
It offers a top airflow control system with a leakproof feature as the holes are at the top. It has two airflow channels that ensure MTL and RDL airflow, respectively.
It has a pod at the top, which you must open first. It will have a pre-installed 0.4-ohm coil under the kit. You can use a pry tool to open the coil in a new device. The available coils are mesh coils that ensure the best flavour deliverance. It will have a total of five coils in the kit.
It has a firing button, and a Wattage up and down controller is visible on display. The device gets closed with five presses.
Pro tip: After filling up the pod, wait for 10 minutes and start vaping.
It has a fire button, which offers both manual and auto-activation. It has a sensor that helps you draw the smoke without pressing the button.
Geekvape Aegis Luxury Edition Bonus 40W Battery:
It features a built-in 1500mAh battery with a three-tiered wattage output system. It provides Overheating Protection to your device and prevents it from burning. It has a Type-C USB Port, which supports Type C USB Charging.
Pod Details:
It has a 3.5ml Refillable Pod Capacity which gets refilled by the Side Fill System, which is Silicone Stoppered.
It features five mesh Coils for a better MTL Vaping experience with Press-Fit Coil Installation. 
Watts
It has an up to 5-40W Wattage Output Range, ideal for any vape. The Wattage adjustment allows the user to select the output they desire depending on the nicotine strength and flavour they choose to use. Higher wattages burn out and reduce the battery life.
Volts
It has a constant Voltage Output of 3.3V, which is considered ideal for vaping. It simply works like the higher the voltage you set, the higher the heat. A lower voltage setting makes the pod release subtle and rich flavours.
Geekvape Aegis Luxury Edition Bonus 40W Design:
It is available in 8 different shades, which you can choose according to your preference. It is constructed from Zinc-Alloy, Leather and Silicone.
 It has a leather sheet embedded in its body that prevents scratches and shocks and gives it a leather grip.
It also has a type C USB Charging port at the device's base.
It also Includes:
1 x Pod Mod Kit 
5 x Geekvape B Series Coil
1 x Drip Tip
1 x Coil Tool
1 x User Manual
1 x Boost Pendant
1 x Lanyard
1 x Key Ring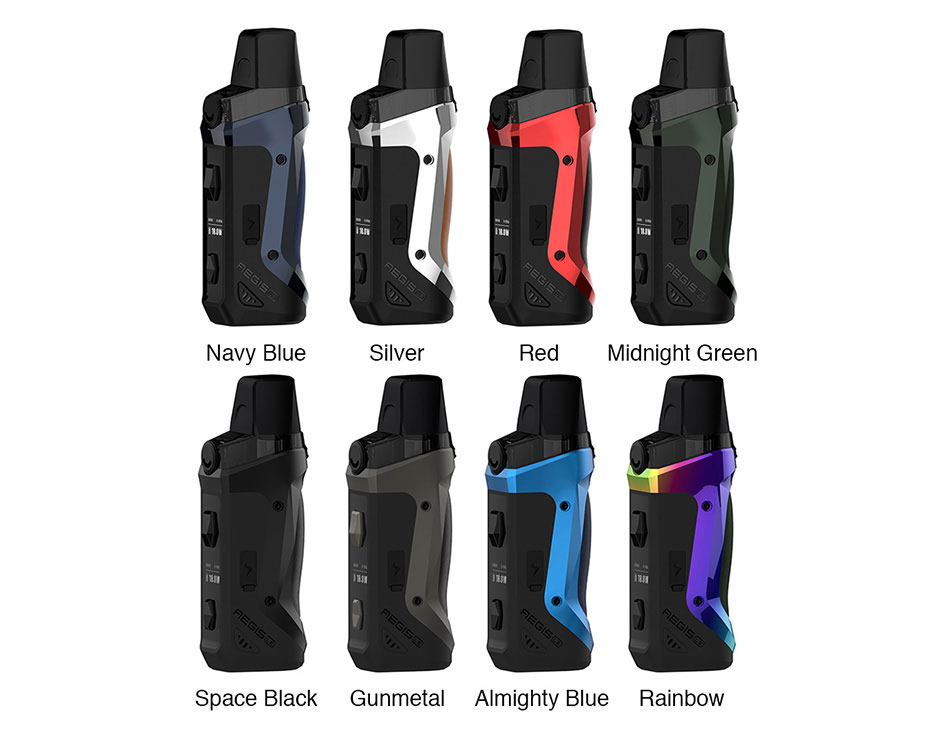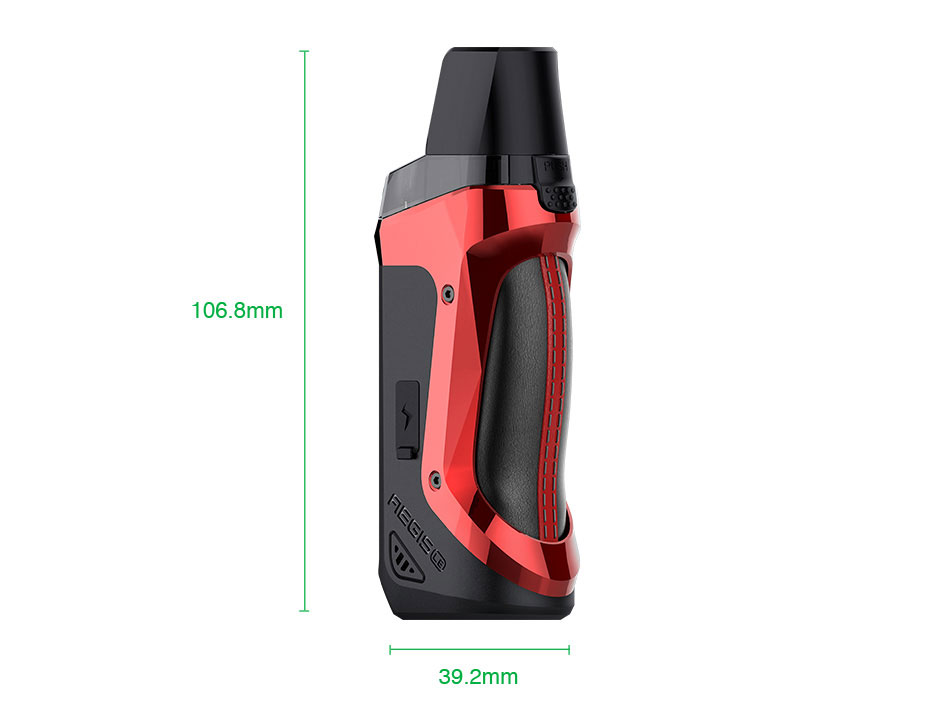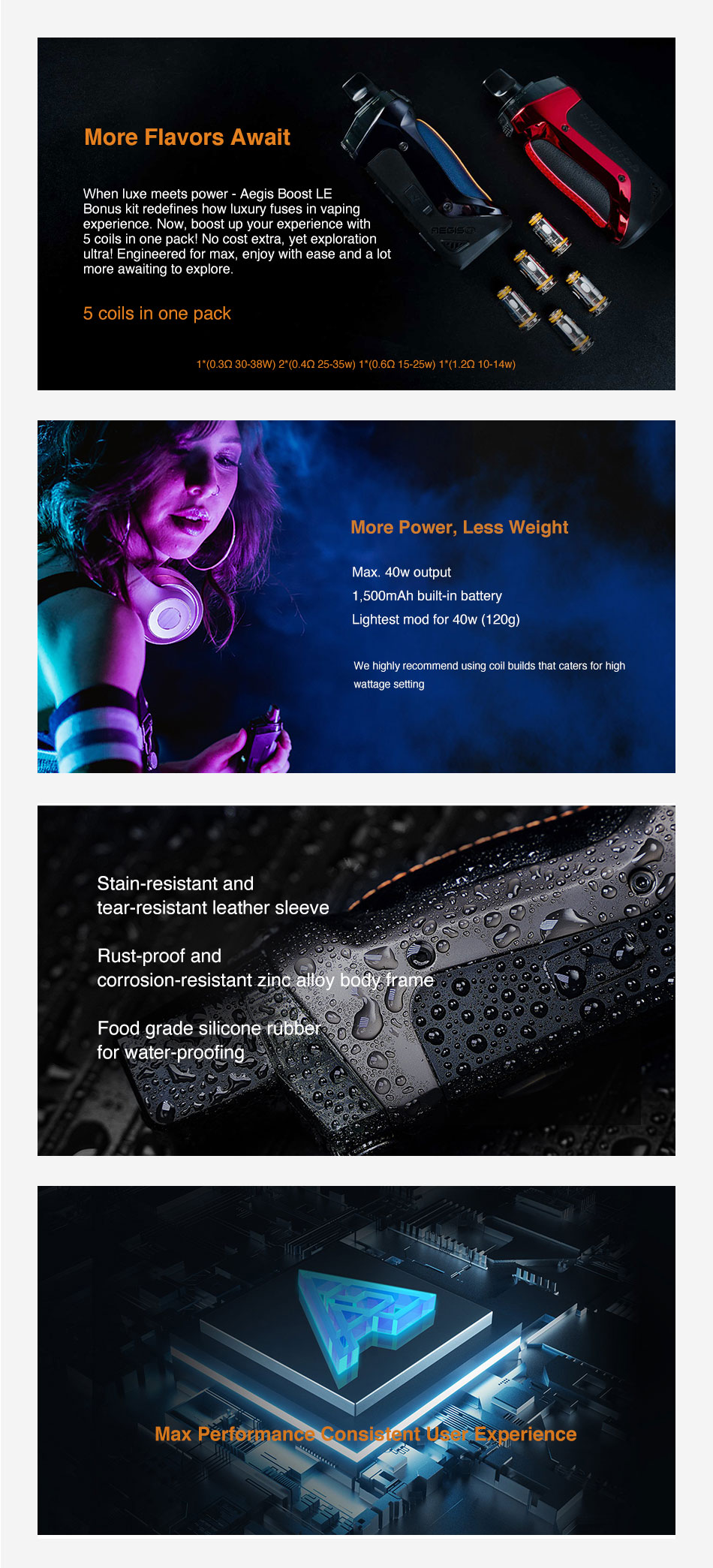 Quick Links :
Vapes
E-Liquids
Nic Salts
Tanks
Accessories 
Special Sale