UWELL Amulet 10W Watch Pod System Vape in Pakistan
Check out the Uwell Amulet infographic to help you better understanding how the product works!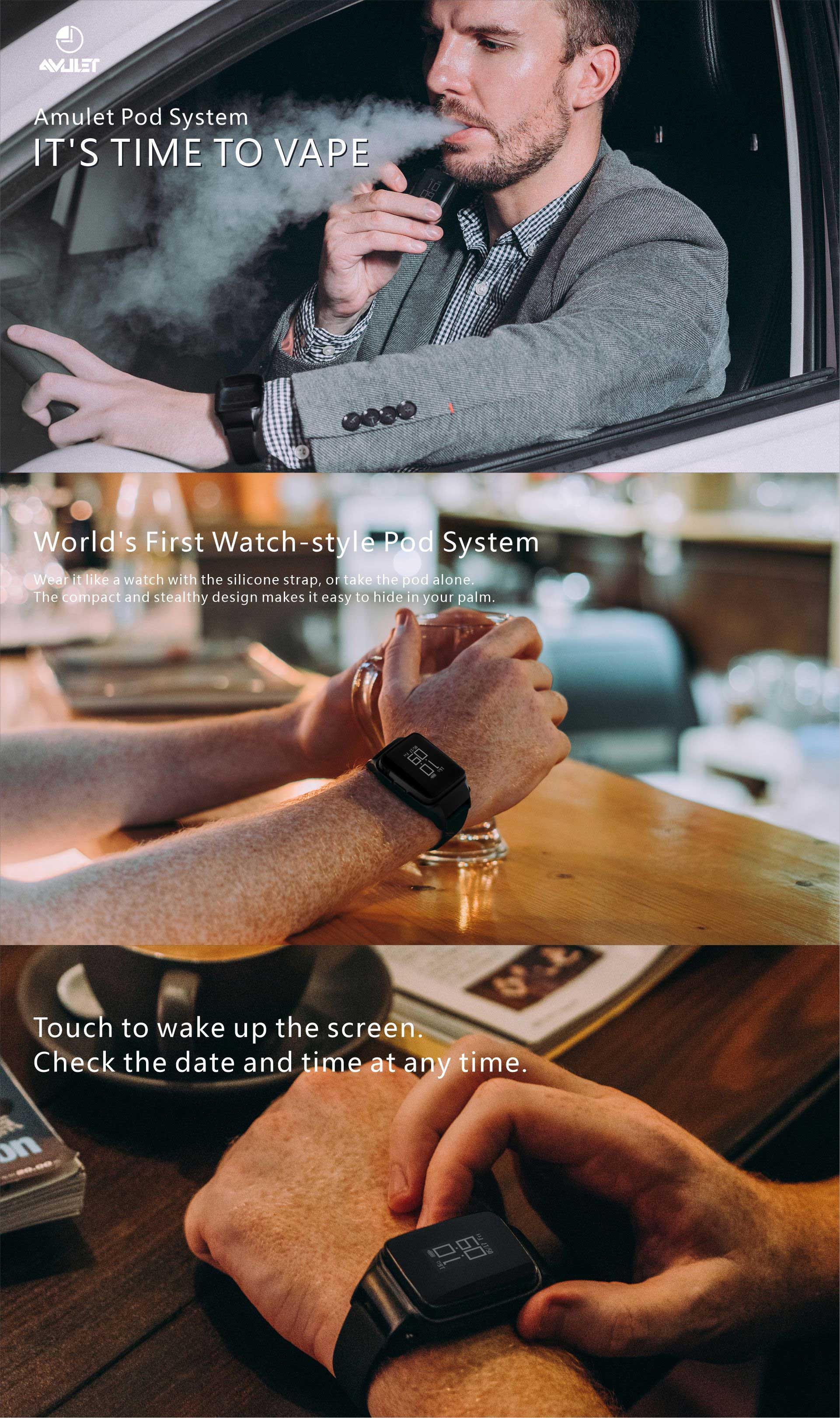 Discover the Uwell AMULET 10W Pod System, presenting the world's first watch-inspired vape kit integrating a 370mAh rechargeable battery, 2mL refillable pods with draw-activated mechanism, and the ergonomic wristband with the ability to showcase Date & Time.
Formed from durable materials, the AMULET is in possession of an integrated 370mAh rechargeable battery that can last throughout the day. Built in a watch strap fashion, the AMULET Pod System remains inconspicuous as it takes the form of a watch and strap combination.
Relying on a draw-activated firing mechanism, the AMULET is therefore, kept relatively button-free, keeping the exterior surface and layout clean and clear from cluttering buttons. Moreover, this pod system is equipped with a responsive touch screen, the AMULET 10W Pod System can accept the 2mL eLiquid pod in a snap-in style connection while relaying information like day and time to the user from the display screen.
Uwell AMULET 10W Watch Pod System Features:
Dimensions – 47.7mmm by 37.58mm by 17.2mm
Integrated 370mAh Rechargeable Battery
Max Wattage Output: 10W
Coil Resistance: 1.6ohm
PCTG, Silicone, and Poly Carbonate Chassis Construction
Draw-Activated Firing Mechanism
OLED Display Touch Screen
Touch Button
Release Switch
Watch Strap Carrying Case
2mL Pod Capacity
Integrated 1.6ohm Coil
Bottom Fill System – Silicone Plug
Snap-In Pod Connection
Over Vape Indication
Open-Circuit Protection
Short-Circuit Protection
Low Power Indication
Over Temperature Protection
MicroUSB Port
Available in
Includes:
Uwell AMULET 10W Watch Pod System Detailed Review  – by our Expert!
Uwell Amulet Pod System – Wrist Watch style.
An innovative pod system, introduced by the makers of very well know Caliburn. Therefore, we have no doubt on the fact that this device is sure to impress, with outclass flavor and  impressive draw.
Good stuff:
Completely new design – like never seen before (for a vape of course).
Very elegant looking minimalist design as a wrist watch. One can easily carry it to casual & informal gatherings.
Very good flavour and throat hit (equally as good as its big bro Caliburn).
Easy to carry around, since you just wear it.
Can be carried in pocket without the watch case, just like any other pod system.
Stealthy!
Decent 370 mAH battery.
Can be used as a Watch (it shows time as well fellas).
Designed to be worn on both hands – (screen rotation).
Touch display
Bad Stuff.
Well, can't think of many. Other than these:
370 mAh battery, might come out as not too much for some users, but hey, this is new tech, which means the device is much more power efficient, than other pod systems.
A little too pricey as a pod system for some users, but because it's a watch it compensates for the price.
You can't put on your favorite watch, if you put this on. Wouldn't one look stupid wearing 2 watches at a time?