Uwell Caliburn G2 18W MTL Pod System Kit 750mAh Price in Pakistan:
Uwell Caliburn G2 Pod Price in Pakistan is Rs. 5,999/-. The G2 Pod is a reliable and user-friendly pod system designed for satisfying vaping experiences.
Uwell Caliburn G2  Pod Kit Key Features:
Sleek Design:
The G2 device features a sleek and elegant design that is both comfortable to hold and visually appealing. It has a slim and lightweight construction, making it easy to carry and use. The device is constructed from durable aluminum-alloy, ensuring its durability and longevity.
Uwell Caliburn G2 Pod Pod Capacity:
The pod has a decent e-liquid capacity of 2ml, allowing you to enjoy your favorite flavors without frequent refills. The transparent design of the pod makes it easy to monitor your e-liquid level.
Airflow:
The pod system features an adjustable airflow design, allowing you to customize the draw to your preference. Whether you prefer a tighter or looser draw, the adjustable airflow ensures a tailored vaping experience.
Coil Compatibility:
The Uwell Caliburn G2 Pod is designed to work with UN2 Meshed-H 0.9ohm coils. These coils are known for their excellent flavor and vapor production. They are also easy to replace, making it simple to maintain your device and enjoy a hassle-free vaping experience.
Easy Refilling:
Refilling the Uwell Caliburn G2 Pod is effortless with its convenient top-fill system. Just remove the mouthpiece, access the filling port, and easily fill the pod with your favorite e-liquid. It's a simple and hassle-free process.
Pod Capacity:
The  G2 Pod has a 2ml refillable pod capacity, allowing you to enjoy your e-liquid for an extended period. The pod features a convenient top fill system, making refilling a quick and easy task.
Watts:
The  G2 operates at a wattage output range of 18W, providing a balanced and versatile vaping experience. You can adjust the wattage to your desired level, depending on the nicotine strength and flavor you prefer.
Color:
It is available in 6 different colors: Gradient, Shading Grey, Carbon Black, Cobalt Green, Pyrrole Scarlet, and Ultramarine Blue.
Battery:
The G2 has a built-in 750mAh battery that offers all-day vaping support. It features an LED battery life indicator on the device, allowing you to easily check the remaining battery level. The device can be fully charged in just 90 minutes, ensuring a quick turnaround for uninterrupted vaping.
Uwell Caliburn G2 Pod Kit Device Protection:
The  G2 utilizes LED battery life indicator light to alert you to device issues like short-circuits, low voltage, or overdraws. These vibrations provide straightforward notifications, ensuring you are promptly aware of any potential problems while vaping.
Easy to Use:
The Uwell Caliburn G2 is straightforward and user-friendly. It is designed with simplicity in mind, making it easy for anyone to operate. Refilling the pod is as simple as using the convenient top-fill method.
Uwell Caliburn G2 Pod Kit  Package Contents:
1 Caliburn G2 Pod Kit
1 1.2ohm Meshed-H Coil
1 0.8ohm Meshed-H Coil
1 User Manual
1 Type-C Charging Cab

le
Uwell Caliburn G2 Pod Kit Key Specs:
USB-C charging port
2ml refillable pod capacity
Top Fill System
Built-in 750mAh battery with LED battery life indicator
18W wattage output range for versatile vaping
Meshed Coil Pod with a resistance of 0.8ohm
Dual firing mechanism: draw-activated or button firing
Pro-FOCS flavor technology for enhanced flavor experience
Durable aluminum-alloy chassis
Available in 6 different colors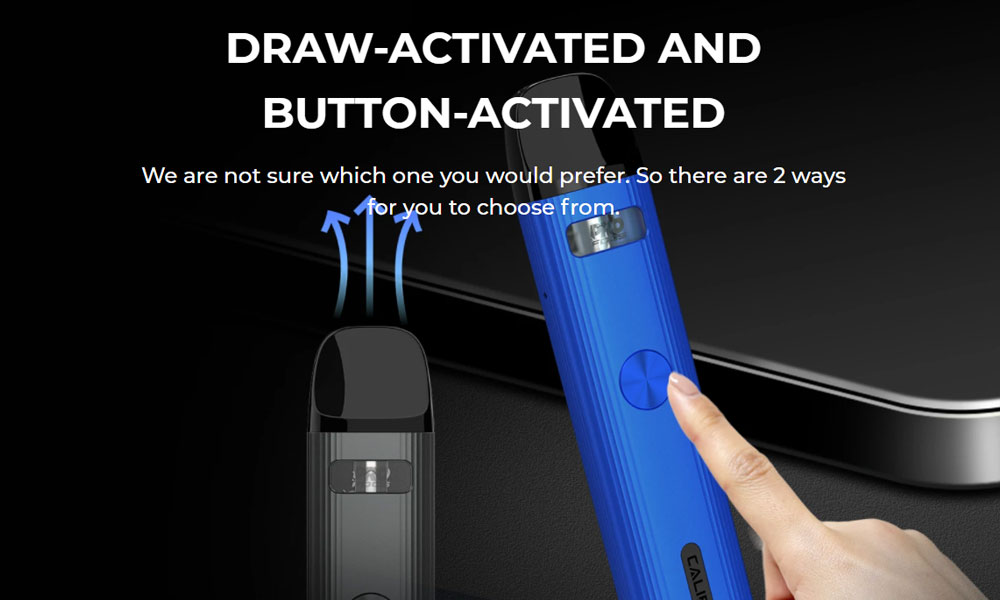 Quick Links :
Vapes
E-Liquids
Nic Salts
Tanks
Accessories 
Special Sale