KOKO Vape Uwell Caliburn 11W Pod System Price in Pakistan
Koko Vape Uwell Caliburn 11w Pod Kit is available in Pakistan at a price of Rs 5,499/-. You can order it from our website or visit our outlet stores in Karachi.
KOKO Vape Uwell Caliburn 11W Pod System Design:
It is sleek and elegant to look at and comfortable to hold. It is Slim, lightweight and easy to operate. It is available in 10 different shades: Black, Grey, Blue, Red, Light Green, Dark Green, Orange, Gold, Purple and Pink, which you can choose according to your preference. It is constructed from Aluminum-Alloy Chassis.
Pod Details:
It has a 2ml Refillable Pod Capacity, which the Top Fill System refills. 
Watts
It has an 11W Wattage Output Range, which is ideal for any vape. The Wattage adjustment allows the user to select the desired output depending on the nicotine strength and flavour they choose to use. Higher wattages burn out and reduce the battery life.
KOKO Vape Uwell Caliburn 11W Voltage:
It has a constant Voltage Output of 3.2-4.0V, considered ideal for vaping. It simply works like the higher the voltage you set, the higher the heat. A lower voltage setting makes the pod release subtle and rich flavours.
Device Protection:
This device features Short-Circuit, 10-second Cut off protection. It protects against excessive currents and stops the vaping device from working when the current reaches beyond the limit. Additionally, it takes care of Low Power Alert, saves your battery from getting charged at Low Voltage, and takes care of your safety concerns.
Koko Vape Uwell Caliburn 11w Battery:
It features an Integrated 520mAh Battery that supports your vape for 4-5 hours. It has an LED battery life indicator light on your device. It can fully charge the device within 90 minutes.
Review & Specs:
Let's explore some of the key specs of this kit:
It features a MicroUSB Port with a refillable pod capable of holding 2ml of juice.
 It has a Top Fill System, and Drip Tip Doubles as the fill port is covered.
It features a dual method firing mechanism, using either the draw-activated firing mechanism or the intuitive firing button.
It has a Resistance Range of 1.2-1.5ohm.
It has Proprietary Gold-Plated Magnetic Snap-In Connection.
It has Pro-FOCS flavour technology, which recycles drawn airflow through the atomizer core to load the airflow with condensed flavour.
Pro tip: After filling up the pod, wait for 10 minutes and start vaping. 
Easy To Use:
It is a very Easy to Use device. Its System is excellent for those that are on the go. You can fill the pod with a simple top filling method. 
Package Contents:
1 UWELL Caliburn KOKO Vape kit
2 1.2ohm Caliburn Pod
1 MicroUSB Cable
1 User Manual
1 Warranty Card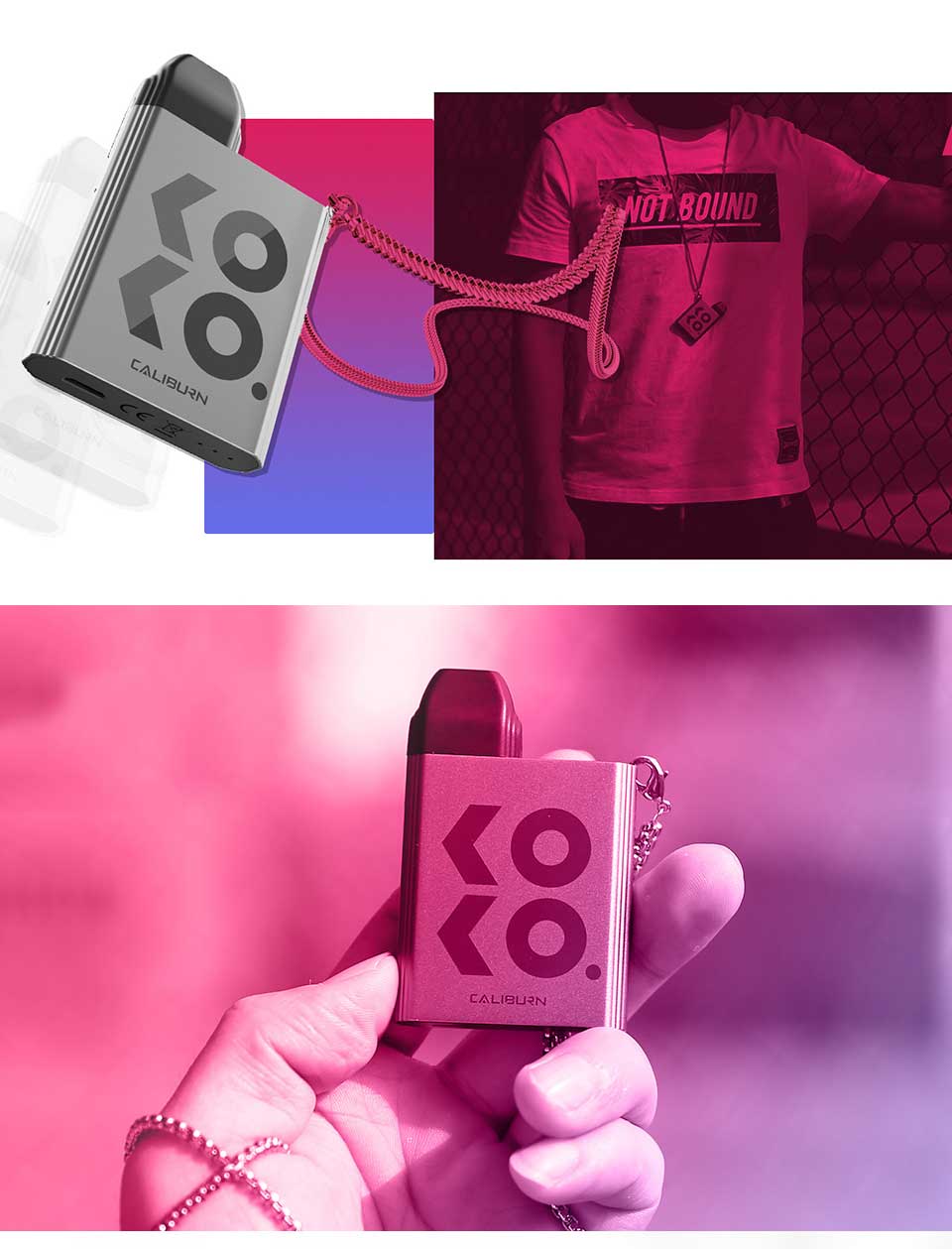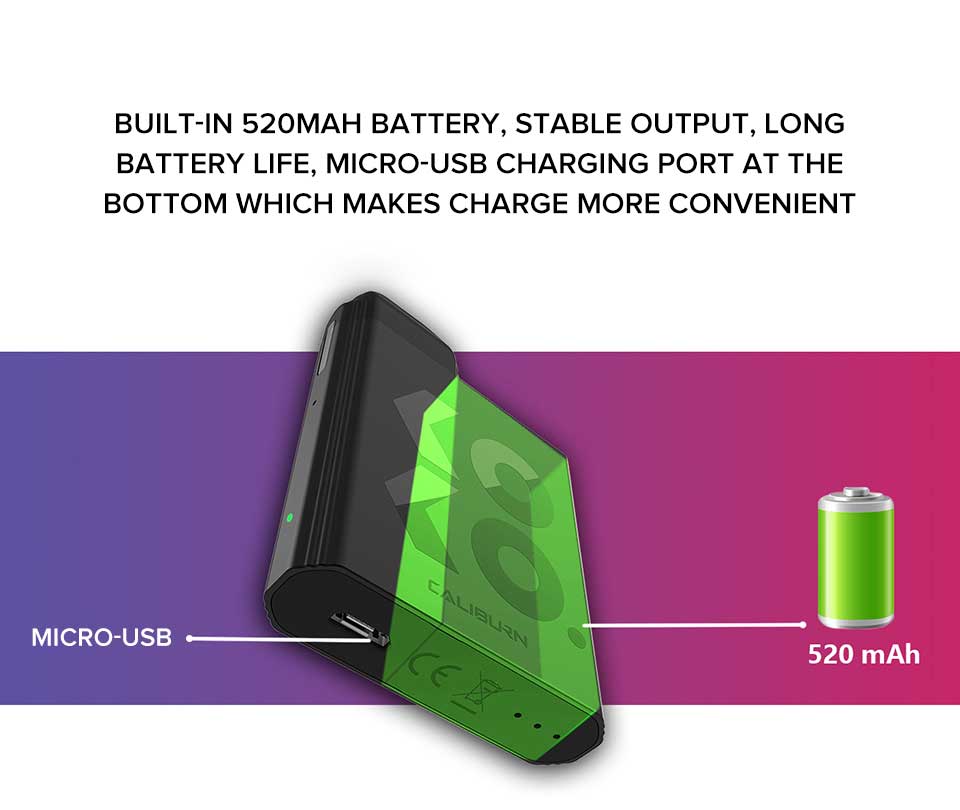 UWELL Caliburn KOKO Vape Pod System Features:
Dimensions –
Integrated 520mAh Rechargeable Battery
Wattage Output Range: 11W
Voltage Output Range: 3.2-4.0V
Direct Voltage Based Output
Resistance Range: 1.2-1.5ohm
Aluminium-Alloy Chassis Construction
LED Battery Life Indicator Light
2mL Capacity Juice Pods
1.4ohm Pod Coil Resistance
Pro-FOCS Flavor Technology
Top Fill System – Drip Tip Doubles as Fill Port Cover
3.5mm Fill Port – Dual Ports
Minimum Fill Line on Pod
Proprietary Gold-Plated Magnetic Snap-In Connection
Draw-Activated Mechanism Fault Diagnosis
Short-Circuit Protection
Low Power Alert
10 Second Cut Off Protection
MicroUSB Port
Available in Black, Grey, Blue, Red, Light Green, Dark Green, Orange, Gold, Purple, Pink