Vaporesso Luxe 2 220w Starter Kit With NRG-S Tank in Pakistan
Vaporesso LUXE II Kit is an upgrade of the original Vaporesso LUXE, combining elegant aesthetics with powerful power, enjoy an unparalleled luxury vaping experience. Vaporesso LUXE II Kit consists of Vaporesso LUXE II 220W Mod and Vaporesso NRG-S Tank, boasts a comfortable shape, and features that make up the best performance. The elegant LUXE II Box Mod is equipped with a magnetic battery door on the back, which can easily replace dual 18650 batteries. The innovation of Vaporesso LUXE II Kit is reflected in the revolutionary AXON CHIP and thoroughly upgraded UI. By upgrading the OMNI board to the latest AXON chip, Luxe II breaks the barriers for entry-level users through a friendly operating system and is powerful. The chipset has multiple modes, providing 2.5A ultra-fast charging and instant firing speed. There are four powerful mode switching: Pulse Mode – In the pulse mode, AXON will continuously give you a hit throughout, and you can get extra flavor & cloud satisfaction; Power ECO – After turning on Power ECO mode, it will optimize your device, save energy and battery power, and provide longer battery endurance; Smart TC – With smart TC mode, AXON will automatically recognize if you have attached a TC coil, giving you the optimum settings for the best flavor possible; DIY – In DIY mode you can get all the functions of OMNI Board, more options for super players. In addition, it has a large side firing button, vibration-enabled buttons for tactical feedback, which are built into the display, and the display itself consists of a pristine 2.0-inch TFT full-color screen that allows you to easily monitor the device and control it. LUXE II is equipped with an NRG-S tank, which uses mesh GT coils, driven by pulse mode, provides an impressive atomization experience with large steam, excellent flavor, and continuous throat hits. NRG-S Tank featuring an 8mL refillable capacity, At the top, is a swivel hinged top-fill system, revealing a single fill port to accept refills.
Check out the Vaporesso Luxe 2 info graphic Description to help you better understanding how the product works!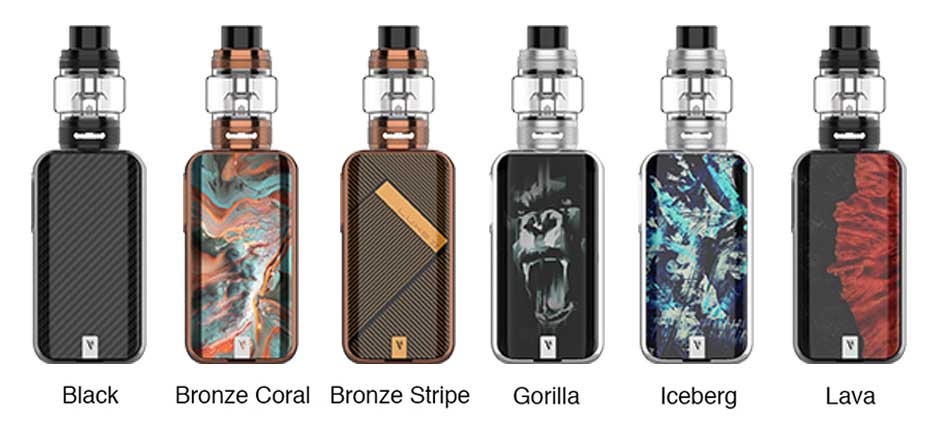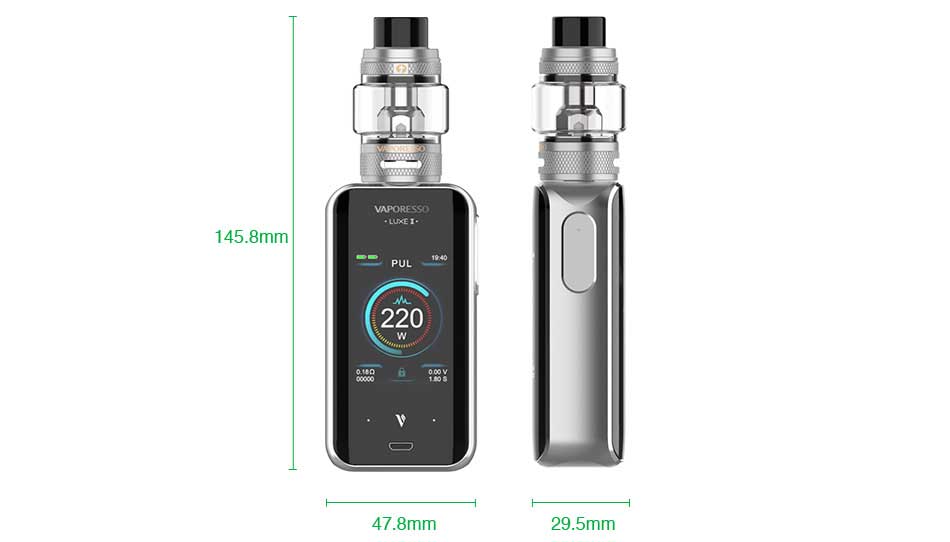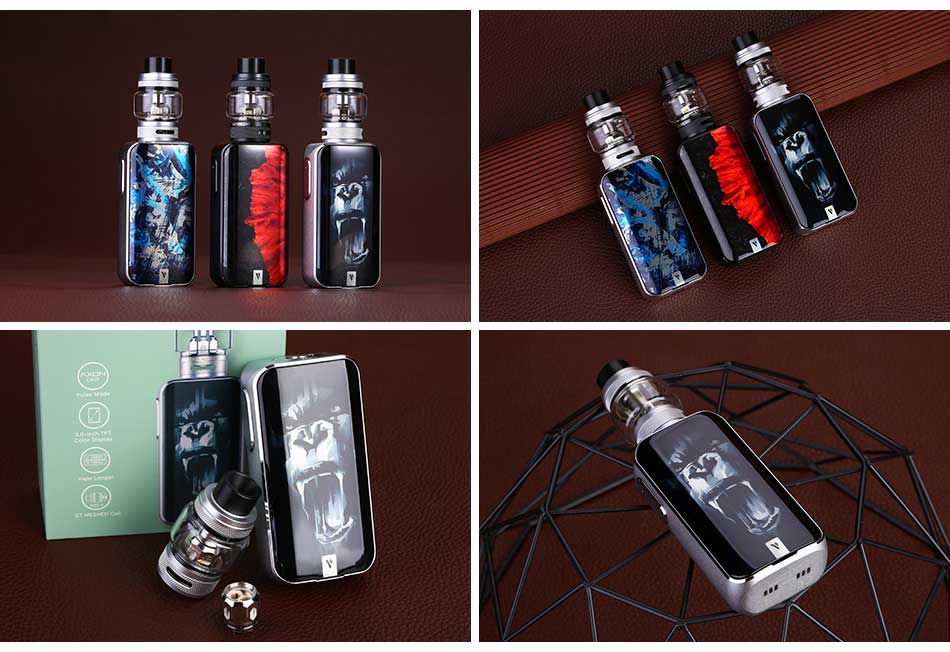 Vaporesso LUXE II 2 220W Box Mod Features:
AXON Chipset
Dimensions – 89.9mm by 47.8mm by 29.5mm
Dual High-Amp 18650 Batteries – Not Included
Wattage Output Range: 5-220W
Resistance Range: 0.03-5.0ohm
Pulse Mode
Power ECO Mode
Smart TC Mode
DIY Mode
Zinc-Alloy Chassis Construction
Intuitive Firing Button
2.0″ TFT Color Display
Two Adjustment Buttons
Tactile Vibrational Feedback
Overtime Protection
Overheat Protection
Short-Circuit Protection
USB Input Protection
No Load Protection
Low Battery Protection
Low Resistance Protection
Threaded 510 Connection
Available in Iceberg, Gorilla, Black, Lava, Bronze Coral, Bronze Stripe
Vaporesso NRG-S Sub-Ohm Tank Features:
30mm Diameter – Widest Point
8mL Tank Capacity
Optional 2mL Tank Capacity
Sliding Top Fill System
Vaporesso GT Mesh Coil Series
0.18ohm GT Mesh Coil – rated for 50-85W
0.15ohm GT4 Mesh Coil – rated for 50-75W
Threaded Coil Installation
Threaded 510 Connection
Available in Lime Green, Midnight Blue, Cherry Pink, Rose Gold, Matte Grey
Includes:
1 LUXE II 2 Mod
1 NRG-S Tank
1 0.18ohm GT Meshed Coil
1 0.15ohm GT4 Meshed Coil
1 Replacement Glass
4 O-Rings
1 User Manuals
1 Warranty Card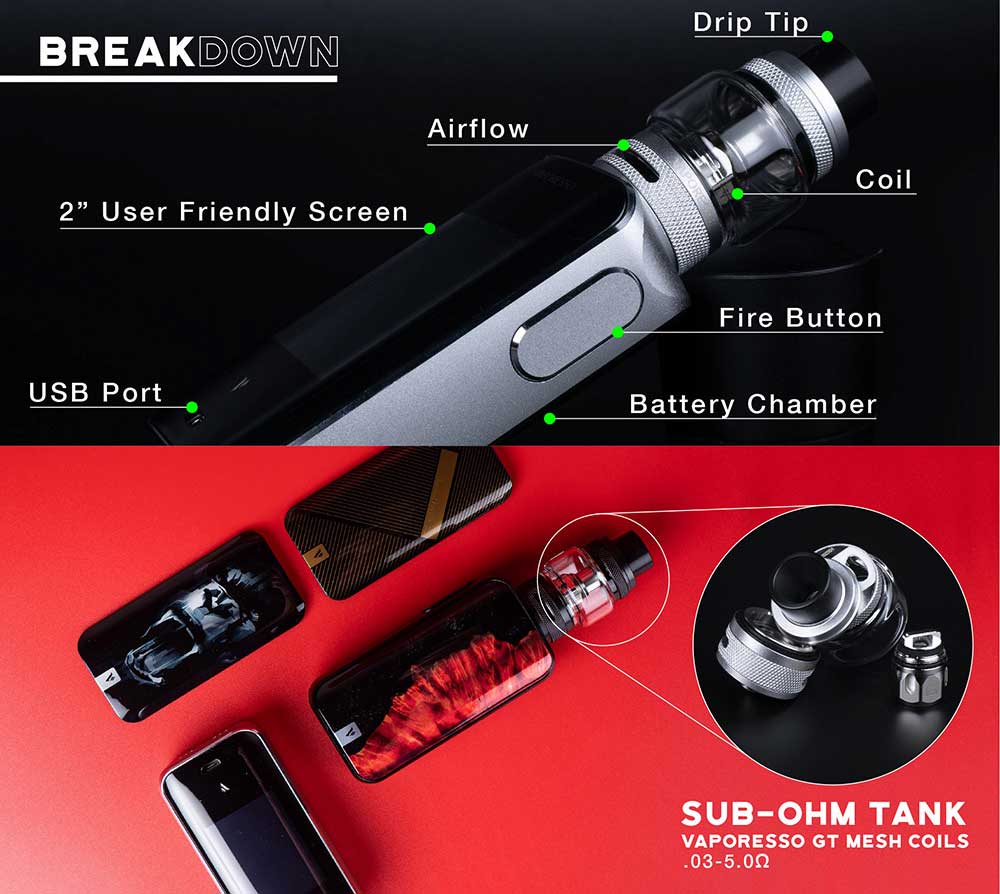 Quick Links :
Vapes
E-Liquids
Nic Salts
Tanks
Accessories 
Special Sale