VOOPOO VINCI 2 POD KIT
VINCI introduces new design advances with each iteration. This time, VOOPOO VINCI 2 POD KIT draws inspiration from neo-geometrics to combine beauty and flair. You can appreciate everything here, whether it's the enormous cloud or the flavour. The beauty of VINCI 2 is its intelligence, ease of use, and mobility!
The Portable and bright VOOPOO VINCI 2 POD KIT is now available online in Pakistan. Price PKR:6,999/- Made by VOOPOO in Vinci series, which is easier to operate and safer to use.
VOOPOO VINCI 2 POD KIT FEATURES:
Wear-proof and anti-shock with no colour fading.
Oil-proof, dust-proof, fingerprint-proof.
The colour looks pleasant and attractive.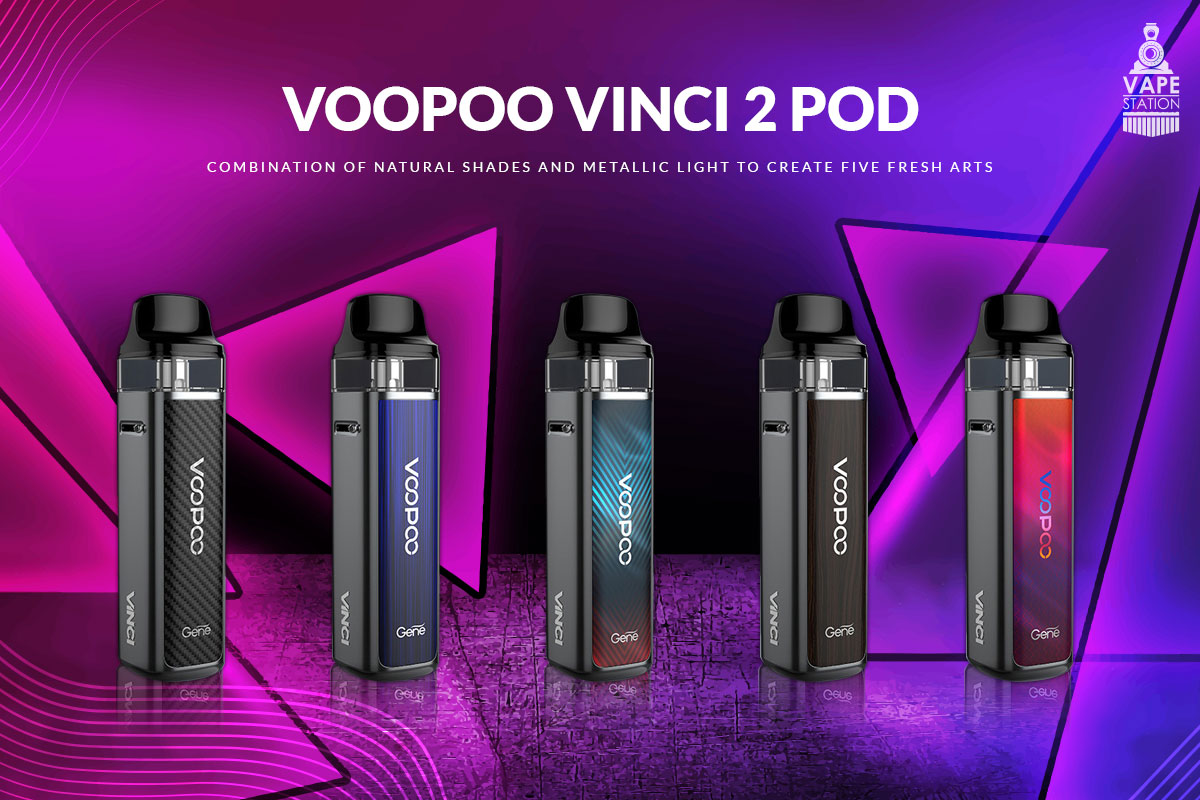 PRODUCT SPECIFICATION
MOD Parameters
Name: VINCI 2
Material: Zinc Alloy
Output Power: 5-50W
Output Voltage: 3.2~4.2V
Resistance: 0.15~3.0Ω
Battery Capacity: Built-in 1500mAh battery
Capacity: 6.5ml e-liquid capacity.
VINCI 2 uses a powerful "single grain, single coating" technique. The light is refracted and reflected between the varied textures and coatings, giving the impression of bright and transparent colours. It also incorporates 3D thermal bending technology, which improves its durability as well as its appearance.
AUTO & MANUAL MODES
Whether in Manual or Auto mode, VINCI 2 may create a massive cloud. If this is your first time using it on Auto mode, you'll love it!
* To switch modes, press the button three times.
MAKING INTELLIGENCE STRONGER
The GENE.AI 2.0 chip in the VINCI 2 provides a more intelligent and vapour-friendly experience than the previous model.
Other features include multiple UI panels, puff recordings, unique and RBA modes, and more.
MAX 50W POWER OUTPUT
With a maximum power output of 50W, VINCI 2 allows you to generate even more significant, more flavorful clouds. The power output is adjustable from 5 to 50 watts.
KEEP SMART AND PROFESSIONAL
Intelligent mode automatically recognises the inserted coils and matches them to the best power, ideal for novices. Professional players can enjoy the RBA mode with no power limit.
VISIBLE "CAPACITY"
With the visual appearance, it's easy to observe the remaining oil in the pod.

The 6.5ml size ensures a longer-lasting experience
Includes:
1 x VINCI 2 Device
1 x VINCI 2 Cartridge
1 x PnP-VM1 0.3Ω Coil
1 x PnP-TM2 0.8Ω Coil
1 x USB Cable
1 x User Manual
Quick Links :
Vapes
E-Liquids
Nic Salts
Tanks
Accessories 
Special Sale