Aspire Nautilus AIO Pod Price in Pakistan
Aspire Nautilus AIO Pod System is available in Pakistan at a price of Rs. 4,599/-. You can order it from our website or visit our outlet stores in Karachi.
Aspire Nautilus AIO Pod System Specs:
Let's explore some of the key specs of this kit:
It has a Soft-Touch Satin Finish that makes its design premium.
It has a bottom Fill System, which is silicone stoppered.
It has a Single Fire Button Operation.
It has a Bottom Ventilation Hole that provides ventilation.
It has an intuitive firing button, which makes it great for those on the go.
It has a MicroUSB Charging Port for charging purposes.
It has 4.5mL of Maximum Juice Capacity, which is more than enough.
Pro tip: After filling up the pod, wait for 10 minutes and start vaping. 
Easy To Use:
It is a very Easy to Use device. Its System is excellent for those that are on the go. You can fill the pod with a simple top filling method. 
Pod Details:
The bottom fill system has a Pod Capacity of 4.5ml and gets refilled. 
Design:
The smooth logo and matt surface look elegant. It is comfortable to hold and feels good in the hand. It is a slim set-up that's simple to use. It is made up of from Zinc-Alloy Chassis. It is available in 6 different shades: Red, silver, purple, blue, jade and Black, which you can choose according to your preference.
Aspire Nautilus AIO Battery:
It features an Integrated 8100mAh Battery that supports your vape for 6-7. It can fully charge the device within 90 minutes. It has a low battery protection light on your device. 
Watts
It has a 12W Wattage Output Range, perfect for any vape. The Wattage adjustment allows the user to select the desired output, depending on the nicotine strength and flavour they choose to use.
Device Protection:
This device is safer to use as it provides Short-Circuit and Overcharge Protection. It protects against excessive currents and stops the vaping device from working when the current reaches beyond the limit. Additionally, it takes care of Over-Current and Over Temperature Protection, saves your battery and takes care of your safety concerns.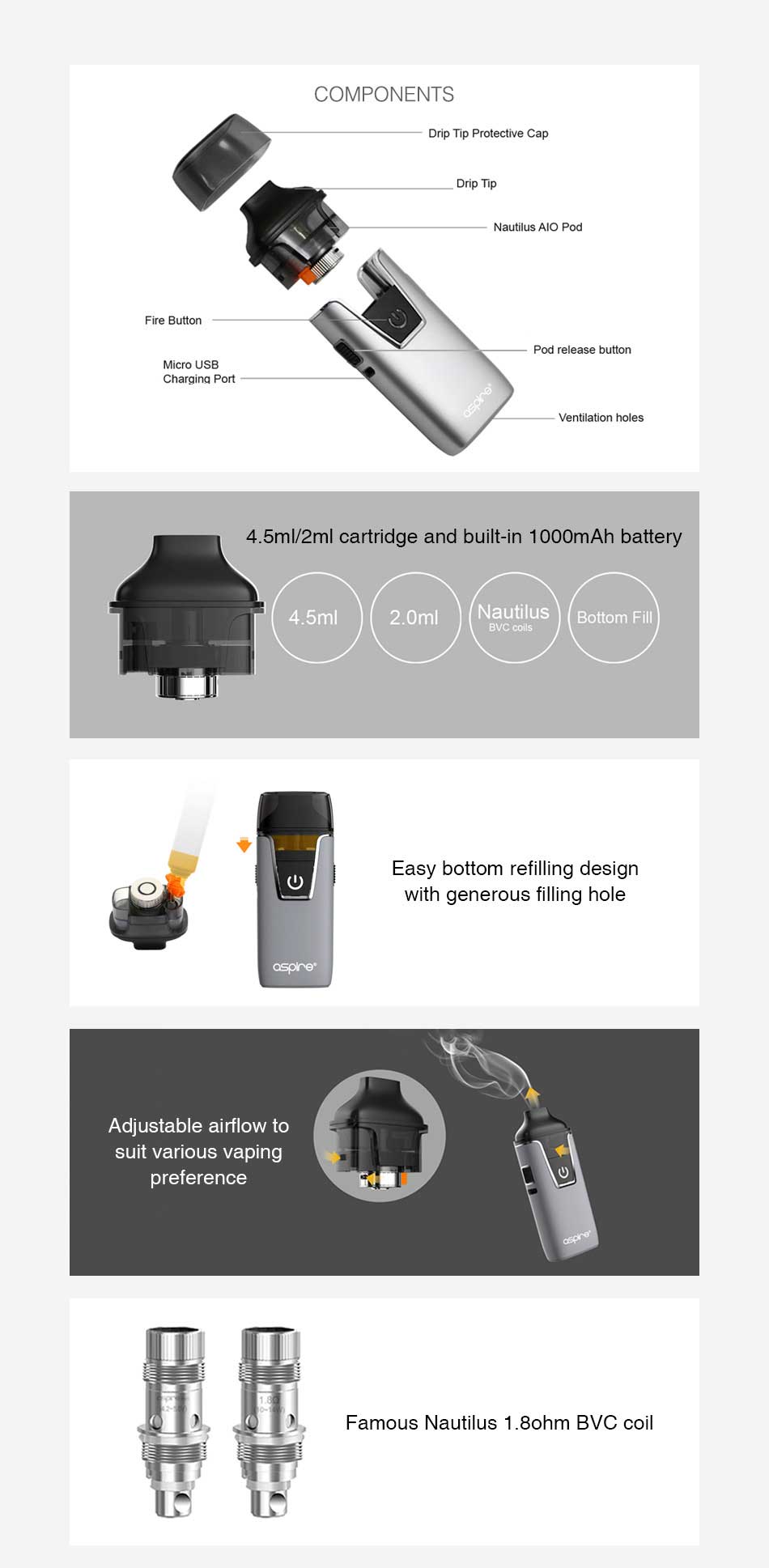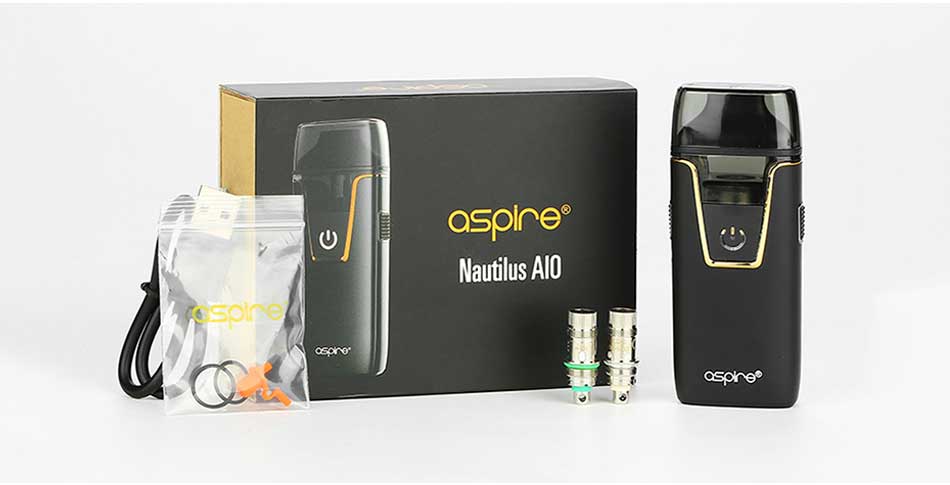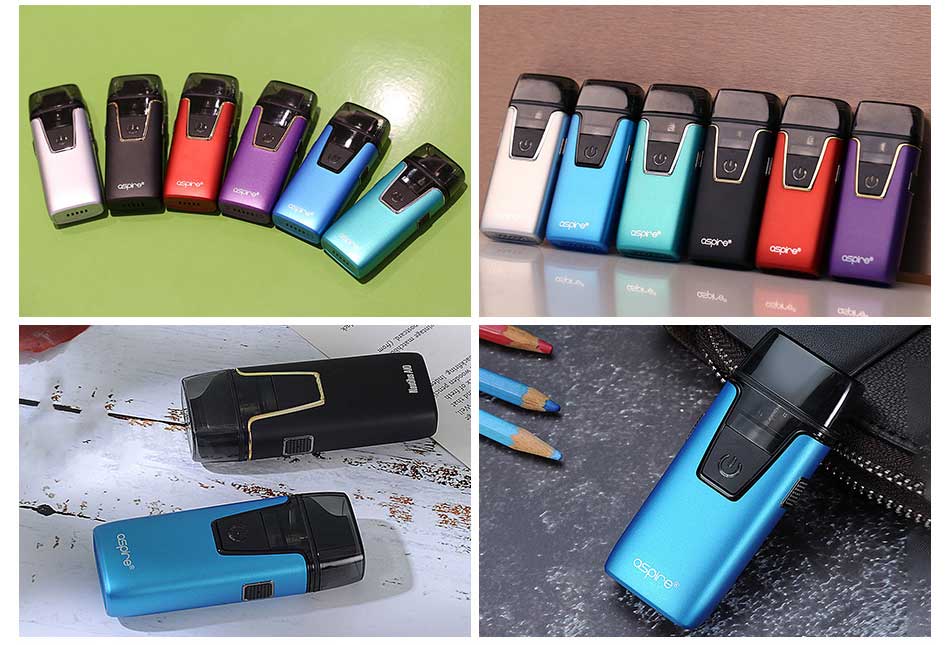 Aspire Nautilus AIO Starter Kit Features:

Dimensions – 87.5mm by 37mm by 21mm
4.5mL Maximum Juice Capacity
Integrated 1000mAh Rechargeable Battery
Constant Output Wattage: 12W
Single Fire Button Operation – LED Backlit Light
Soft-Touch Satin Finish
Snap-In Connection – Pod Release Button
Adjustable Airflow System
Protective Drip Tip Top Cap
Bottom-Fill System – Silicone Plug
Aspire (BVC) Bottom Vertical Coil Technology – Nautilus
1.8ohm Nautilus BVC Coil – Rated for 10-14W
1.8ohm Nautilus BVC NS Coil – Rated for 10-12W (Optimized for Nic Salts)
Bottom Ventilation Hole
MicroUSB Charging Port – 1A Max Current
Available in Blue, Green Jade, Silver, Black, Red, Purple
Note: Install and Prime Coil Before Use
Includes:

1 Nautilus AIO Device
2 1,8ohm BVC Coils
2 Extra O-Rings
1 Silicone Seal
1 MicroUSB Cable
1 Warranty Card
1 User Manual
Quick Links :
Vapes
E-Liquids
Nic Salts
Tanks
Accessories 
Special Sale