Nitecore Intellicharger I4 V2 Charger in Pakistan – 4 Slot
Nitecore New I4 battery charger is a universal, smart-charger compatible with almost all types of rechargeable batteries. It is a new version of I4. You can charge at up to 1.5A in one slot, which halves your waiting time.
Parameters
140mm x 94.8mm x 37mm
Input
AC 100~240V 50/60Hz 0.25mA(max) 10W
DC 9~12V 1A
Output
4.35V±1%/4.2V±1%/ 3.7V±1%/1.48V±1%
1.5A×1/0.75A ×2/0.5A ×2/0.375A ×4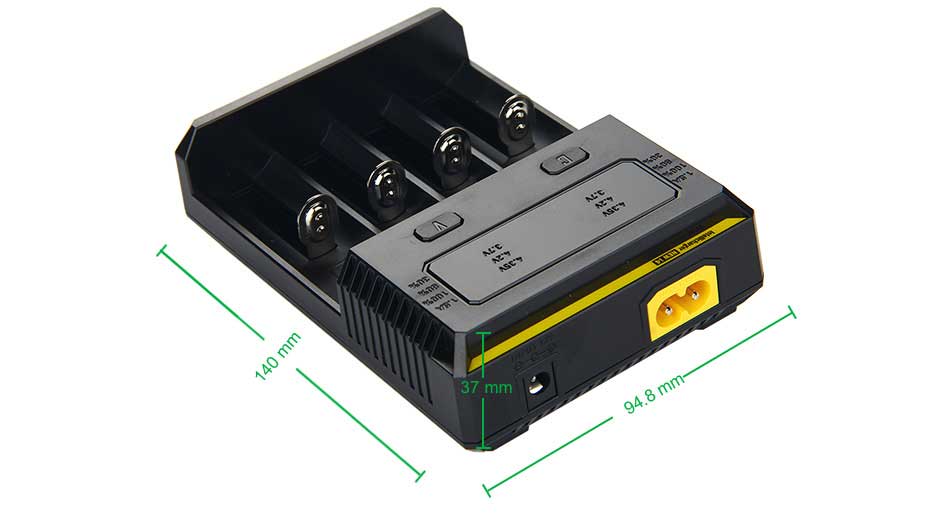 Capable of charging 4 batteries simultaneously
100% charging acceleration
Active current distribution technology
Expanded compatibility to support 3.7V and 4.35V batteries
IMR battery restoration
Automatic detection of non-rechargeable batteries
Automatic current selection based on battery capacity
Automatic adoption between three charging modes (CC, CV and dV/dt): Optimal -dV/dt charging for Ni-MH/Ni-Cd batteries and charging program optimized for IMR batteries
Reverse polarity prevention and short circuit prevention
Overcharging timeout protection and over-discharged battery activation
Automatic intelligent temperature control and protection
Uncluttered and concise design, artisan craftsmanship and comprehensive power compatibility,
Compatible with 1.2V, 3.7V, 4.2V, 4.35V batteries
Terminating threshold for battery voltages and charging current can be set independently for each individual slot
Automatically detects battery power status and displays charging progress
Designed for optimal heat dissipation, made from fire resistant, flame retardant PC materials, certified by RoHS, CE, FCC and CEC

Power on: Connect the NEW i4 to an external power source (such as vehicle adaptor, power socket) with its charging cord.
Battery placement: Put one batteries in each independently-controlled slot according to the polar mark on the charger.
Battery identification: All Four LEDs indicators will be lit when Lithium batteries are placed in, two lower LEDs will be lit
when Ni-MH batteries are placed in. Charging begins in two seconds.
Battery inspection and error reporting: The NEW i4 automatically distinguishes rechargeable batteries from
non-rechargeable batteries. It automatically reports errors when non-rechargeable Lithium batteries are inserted, or batteries
are short-circuited or inserted backward, all four LED indicators will blink, and the charging process will be halted.
Note:
(1) The non-rechargeable Lithium battery detection is an ancillary function.
a. The main purpose of this function is to identify completely discharged CR123 batteries in case that such batteries
are inserted for charging, which could lead to explosion.
b. Due to the diversity of battery chemicals, the charger cannot detect all non-rechargeable batteries. Please do not
insert any batteries known as non-rechargeable in the charger.
Smart charging: The NEW i4 adopts the appropriate charging currents based on battery types and capacities. Whilst the
option to adjust the current is also available. The NEW i4 is compatible with:
1) 3.7V Li-ion rechargeable batteries
2) 3.8V Li-ion rechargeable batteries
3) 1.2V Ni-MH/Ni-Cd rechargeable batteries
4) 3.2V LiFePO4 batteries
During the charging process, the three indicator LEDs indicate the batteries' status.