Oxva Xlim Pro Pod Kit System 30W (1000mAh) Price in Pakistan Review & Specs:
The Xlim Pro pod kit by OXVA is the sequel to the highly popular Xlim v2, This compact and stylish pod kit is a perfect companion for vapers who like to travel in style. With the reliability of the Oxva Xlim v2 pods and the new top fill Xlim v2 pods along with a built-in 1000mah battery you can enjoy your favourite nic salt juice without interruption. Aiflow control and 30w of power mean vapers can dial in their draw and enjoy hit after hit without interruption and with maximum flavor.
The Oxva Xlim Pro pod kit features 5 watts – 30 watts of power and has a built-in 1000mah battery. It has a USB C charge port and can charge at 2Amps meaning very little downtime. The included Xlim top fill pod aims to keep you leak free to save your liquid from pesky leaks and the kit is compatible with the standard Xlim V2 pods. It also features inhale activation along with button activation for a simple experience. The clear screen shows you your selected wattage and the RGB light adds style.
Compatible with Xlim V2 pods and the new top-fill version of these pods the Xlim pro gives a flavourful well rounded vape that has become a favorite among vapers everywhere. Available in 0.6oh, 0.8ohm, and 1.2ohm the Xlim pods perform to the highest standard. Weighing in at only 66 grams this lightweight pod vape features everything you need to keep the cigarette cravings at bay and aims to give you the most satisfying mouth-to-lung vape.
Features:
Glittering is better with RGB light
A glittering display of light and color, lets you enjoy the extraordinary, with the new RGB lighting design.
Anti-leak Top-fill cartridges
The upgraded Top-fill cartridge offers you the same best experience, in an easier way.
1000 mAh bigger battery
Say goodbye to battery anxiety, at least 3 days.
Up to 30w stronger power
Unleash new levels of performance with this bigger powerful beast.
Parameters:
Output Power:5-30W
Cartridge Capacity:2ml/2ml(TPD)
Resistance Range:0.33-3.0Ω
Top Fill Cartridge:0.6Ω /0.8Ω /1.2Ω
Refill: Top Refill
Airflow Control: Side AFC
Battery:1000mAh
Charging: V/2A, Type-C
Material: Zinc Alloy+IML+PCTG
Size: 111.0*25.0*14.3mm
Weight: 66g
Package includes:
1 x XLIM Pro Device
1 x Top Fill Cartridge 0.6Ω(Pre-installed)
1 x Top Fill Cartridge 0.8Ω
1 x Type-C Cable
1 x User Manual
1 x Lanyard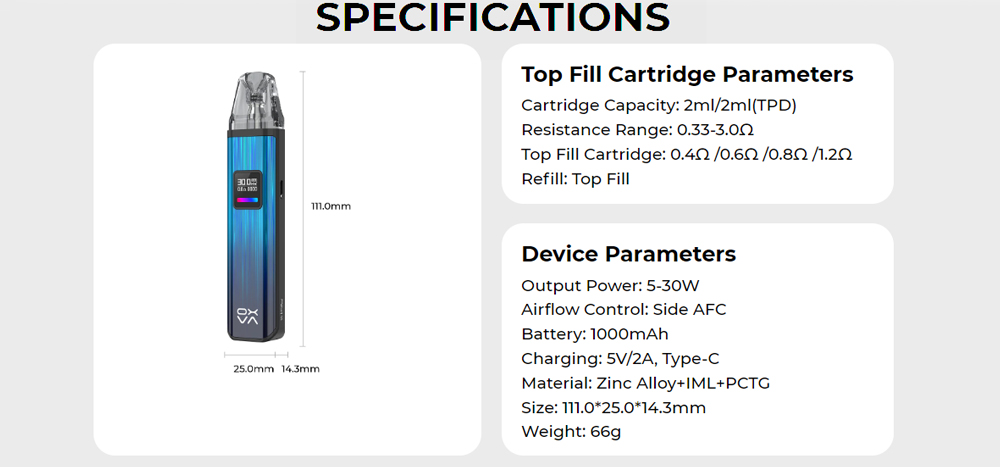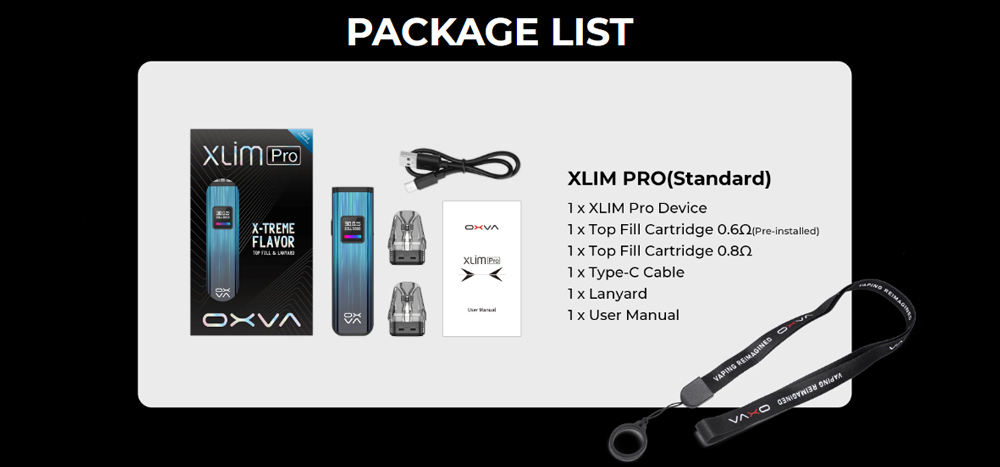 Quick Links :
Vapes
E-Liquids
Nic Salts
Tanks
Accessories 
Special Sale