SMOK Novo 4 Pod Price in Pakistan
SMOK NOVO 4 Pod is available in Pakistan at a price of Rs 5,599/-. You can order it from our website or visit our outlet stores in Karachi.
SMOK NOVO 4 Pod review & specs:
It has exquisite packaging, giving it a bold and matte look and aesthetic. It is convenient and portable. 
Let's explore some of the key specs of this kit. 
It features a Type C charging type Port with a refillable pod capable of holding 2ml of juice. 
 It has an adjustable airflow dial which makes you control the flow of smoke.
It has a 0.49″ OLED Display Screen that makes you adjust the wattage settings and other functions
It has a draw-activated firing system, which makes it great for those on the go.
It has a single button option to adjust wattage settings.
Pro tip: After filling up the pod, wait for 10 minutes and start vaping. 
Easy To Use:
It is a very Easy to Use device. Its System is excellent for those that are on the go. You can fill the pod with a simple side filling method. 
Battery:
It features an Integrated 800mAh Battery that supports your vape for a day. It can fully charge the device within 90 minutes.
SMOK Novo 4 Pod Details:
It has a 2ml Refillable Pod Capacity which gets refilled by the Side Fill System. It has a feature of Rotating Airflow Intake and Smart Detection Function to make your vaping experience worthwhile.
Watts
It has a 5-25W Wattage Output Range, which is ideal for any vape. The Wattage adjustment allows the user to select the output they desire depending on the nicotine strength and flavour they choose to use. Higher wattages burn out and reduce the battery life.
Voltage:
It has a constant Voltage Output of 0.5-4.0V, which is considered ideal for vaping. It simply works like the higher the voltage you set, the higher the heat. A lower voltage setting makes the pod release subtle and rich flavours.
Device Protection:
This device features Short-Circuit and 8s Overtime Protection as it protects against excessive currents and stops the vaping device from working when the current reaches beyond the limit. Additionally, it takes care of Low Voltage Protection, saves your battery from getting charged at Low Voltage, and takes care of your safety concerns.
SMOK Novo 4 Design:
It is available in 8 different shades: Black Armor, Silver Carbon Fiber, Red Stabilizing Wood, White Armor, Fluid Black Grey, Black Stabilizing Wood, Blue Grey Cobra, Fluid 7-Color, Black Carbon Fiber, Cyan Pink Cobra, which you can choose according to your preference. It is constructed from Zinc Alloy Chassis.
It also Includes:
1 NOVO 4 Pod System
1 2mL NOVO 4 Pods
2 0.8ohm LP1 Mesh Coils
1 Type-C Cable
1 User Manual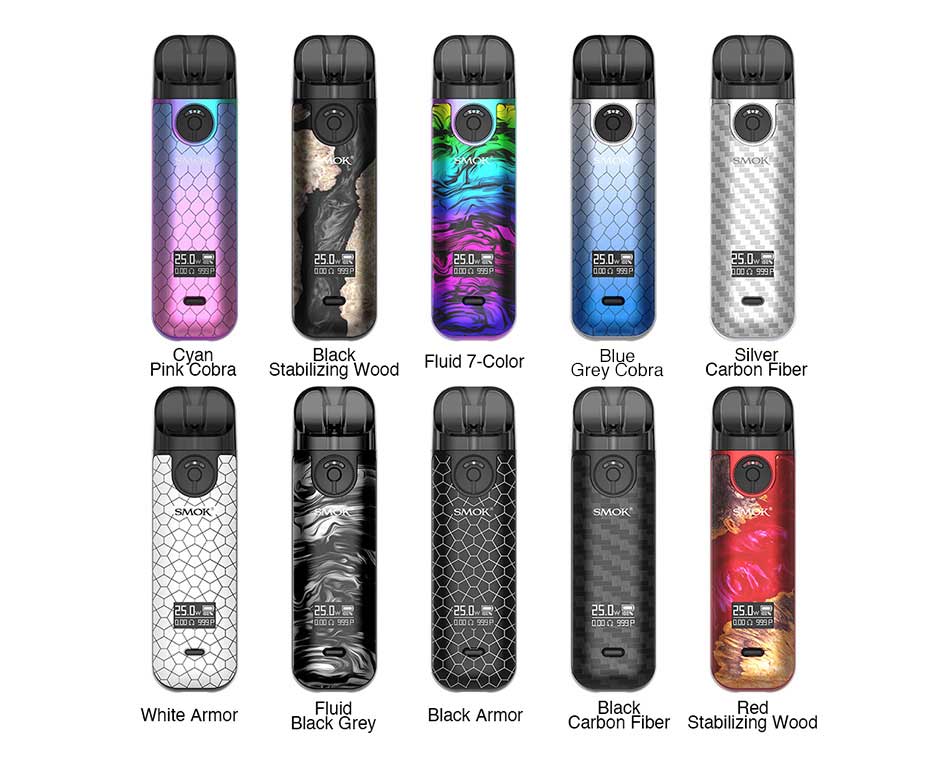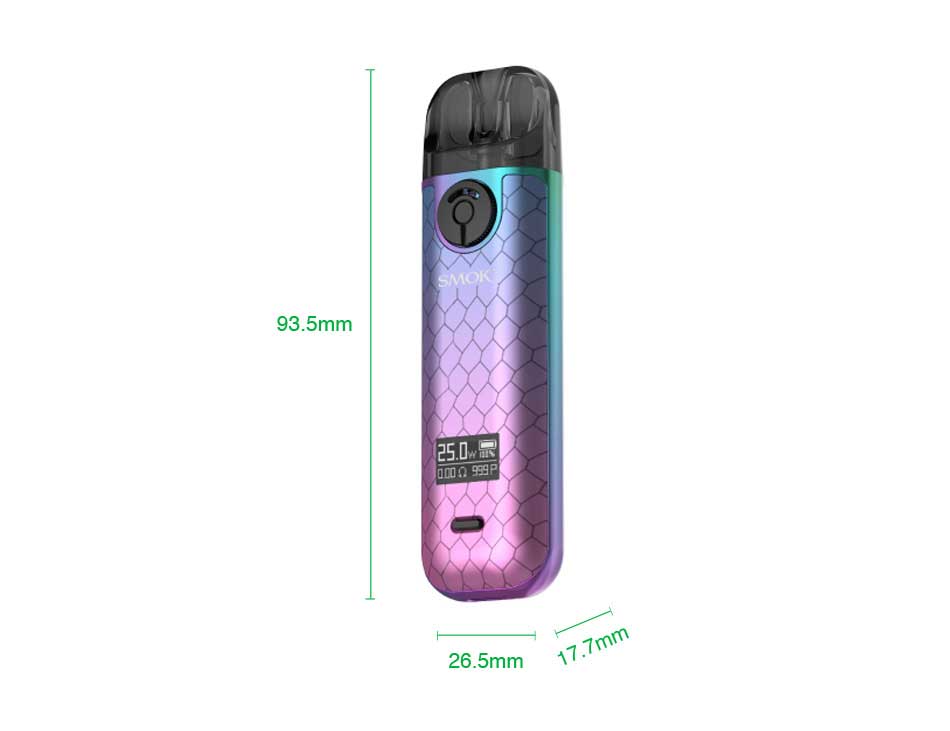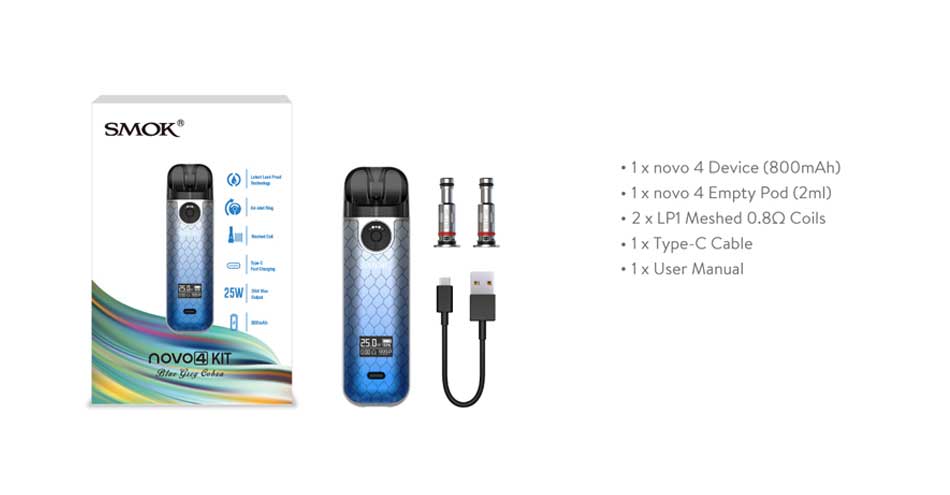 Quick Links :
Vapes
E-Liquids
Nic Salts
Tanks
Accessories 
Special Sale