SMOK TFV12 Baby Prince Tank 4.5ml
The SMOK TFV12 Baby Prince Sub-Ohm Tank is the culmination of design elements from the industry-changing TFV8 Baby Beast Tank and the current leading tank in its segment, the TFV12 Prince Tank. Included V8 baby-Q4 ,V8 baby-T12 red light coil and V8 Baby Mesh coil are compatible with baby beast coils, the new coils can produce denser clouds and purer flavor at the same wattage, which is an awesome improvement.
Check out the product info-graphics to help you better understanding how it works!|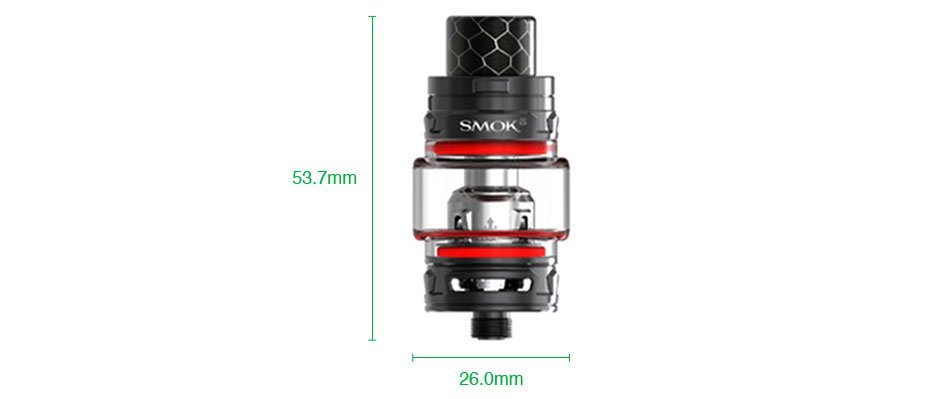 Design and Concept SMOK TFV12 Baby Prince Tank 4.5ml
These coils are newly designed, the light coil will emit beautiful light when you are vaping and the mesh coil has larger heating area to speed heating process. Besides, this tank employs bulb glass tube, which can enlarge the e-juice capacity to 4.5ml. Every detail of TFV12  is the best guarantee for high-quality vaping. Innovation keeps changing the vaping experience
Please Note: The TFV12  does not fit the TFV12 Prince Coils. It utilizes similar atomizer structure as the TFV8 Baby.
Quick Links:
Mods
Vapes
E-Liquids
Nic Salts
Tanks
Accessories 
Special Sale
SMOK TFV12 Sub-Ohm Tank Features:

23mm Base Diameter
26mm Diameter at Widest Point
4.5mL Maximum Juice Capacity
Superior Stainless Steel Construction
Bulb Glass Pyrex Glass – Food-Grade
High-Grade Glass Reinforcement
High-Temperature Resistant – Explosion Proof
Convenient Top-Fill Rotary Design – Lock Button Mechanism
Massive Dual Adjustable Airflow Control at Base
Compatible with TFV8 Baby Coils
0.4ohm V8 Baby-Q4 Quadruple Coil – rated for 30-65W
0.15ohm V8 Baby-T12 Red Light – rated for 50-90W
0.15ohm V8 Baby Mesh – rated for 40-80W
Cobra Resin Ultra-Wide Drip Tip
510 Connection
Available in Stainless, Black, Purple, White, Auto Pink, Gold, Green, Red, Prism Blue, Rainbow (7-Color)
Includes:
1 SMOK TFV12 Baby  Prince Tank
1 0.4ohm V8 Baby-Q4 Quadruple
1 0.15ohm V8 Baby-T12 Red Light
1 0.15ohm V8 Baby Mesh
1 Replacement Glass Tube
Spare Parts & O-Rings
Instructional Manual