SMOK TFV16 Lite Replacement Coil – 3 Pcs
Introducing the SMOK TFV16 LITE Coils, a set of intricately crafted performance coils for the SMOK TFV16 LITE Sub-Ohm Tank, implementing fine woven mesh heating structures and improved absorbtion and wicking capacity for the rapid and even vaporization of eJuice within the heating element, providing a plug 'n' play feature for quick and easy coil changes. Offering a 0.2ohm Conical Mesh Coil and a 0.15ohm Dual Mesh Coil, the SMOK TFV16 LITE Replacement Coils are sure to generate large dense clouds of vapor with ease.
Designed for the SMOK TFV16 Lite Tank and SMOK G-GRIV 3 Kit, the SMOK TFV16 Lite Replacement Coil is coming! The SMOK TFV16 Lite​​​​​​​ Coil is easy to install and replace. 3 pieces each pack. Just get it as a spare part.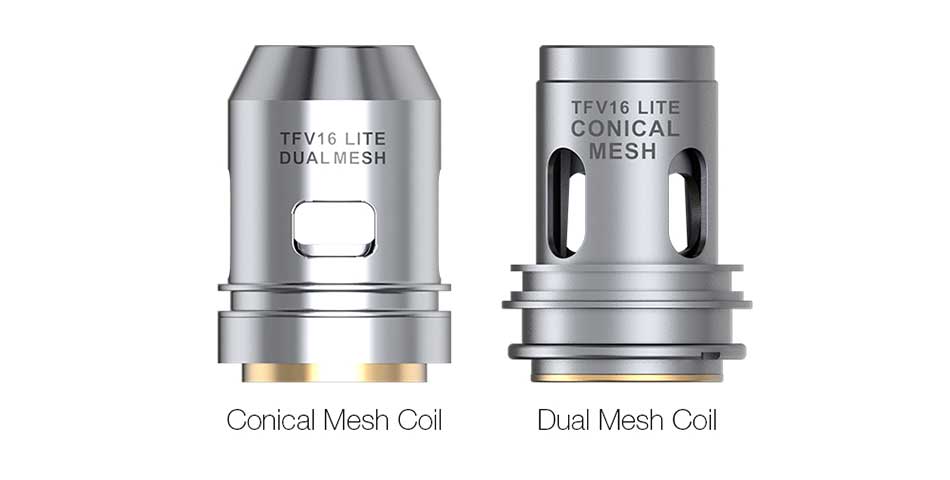 Parameters
Quantity: 3pcs/pack
Coil: Conical Mesh Kanthal 0.2ohm (Best: 60W-85W); Dual Mesh 0.15ohm (Best: 60W-90W)
SMOK TFV16 LITE Replacement Coils Features:
SMOK TFV16 LITE Coil Series
0.2ohm Conical Mesh Coil – rated for 60-85W
0.15ohm Dual Mesh Coil – rated for 60-90W
Plug 'n' Play Coil Installation
It comes with
1 x SMOK TFV16 Lite Replacement Coil 3pcs​​​​​​​
Quick Links :
Vapes
E-Liquids
Nic Salts
Tanks
Accessories 
Special Sale