VOOPOO VSUIT 40W Pod Price in Pakistan:
VOOPOO VSUIT 40W Starter Kit is available in Pakistan at a price of Rs. 5,799/-. You can order it from our website or visit our outlet stores in Karachi.
VOOPOO VSUIT 40W Starter Kit Specs:
The VOOPOO VSUIT 40W Starter Kit is compact and beginner-friendly. Let's explore some of the key specs of this kit:
 It has a 0.54″ OLED Display Screen with a vertical menu in white font and a black background for crystal clear viewing.
It's ideal for the MTL(Mouth To Lung) Vaping Experience.
It has a Single Firing Button, making it great for those on the go.
It has a Press-Fit Coil Installation and Resistance Range of 0.3-3.0ohm.
It features a type-C Charging Port with a refillable pod capable of holding 2ml of juice. 
It has a Bottom fill system made up of Silicon stoppered. 

It has Overcharge and Low Battery Protection.

It has a Magnetic Pod Connection that prevents leakage.
Pro tip: After filling up the pod, wait for 10 minutes and start vaping. 
Easy To Use:
It is a very Easy to Use device. Its System is excellent for those that are on the go. You can fill the pod with a simple method. 
VOOPOO VSUIT 40W Pod Details:
It has a Pod Capacity of 2ml and gets refilled by the Bottom Fill System. 
Design:
It has exquisite packaging, giving it a bold, matte look and aesthetic. It is a slim set-up that's simple to use and offers plenty of options for customization. It is made up of Zinc-Alloy Chassis. It is available in 5 mesmerizing colours: Black, Blue, Red, Warm Grey, and White, which you can choose according to your preference.
Battery:
It features an Integrated 1200mAh Battery that supports your vape for a whole day. It can fully charge the device within 90 minutes. It has Overcharge and Low Battery Protection on your device. 
Watts:
It has a 5-40W Wattage Output Range, which is ideal for any vape. The Wattage adjustment allows the user to select the output they desire, depending on the nicotine strength and flavour they choose to use. Higher wattages burn out and reduce the battery life.
Volts
VOOPOO VSUIT 40W has a constant Voltage Output of 3.2-4.2V, which is considered ideal for vaping. It simply works like the higher the voltage you set, the higher the heat. A lower voltage setting makes the pod release subtle and rich flavours.
Device Protection:
This device features Short-Circuit and Output Over Current Protection as it protects against excessive currents and stops the vaping device from working when the current reaches beyond the limit. Additionally, it takes care of Over Temperature and Max Power Protection, saves your battery from getting overcharged, and takes care of your safety concerns.
Includes:
1 VSUIT Mod

1 PnP MTL Tank

1 0.8ohm PnP-TM2 Coil

1 1.2ohm PnP-TR1 Coil

1 Type-C Cable

1 User Manual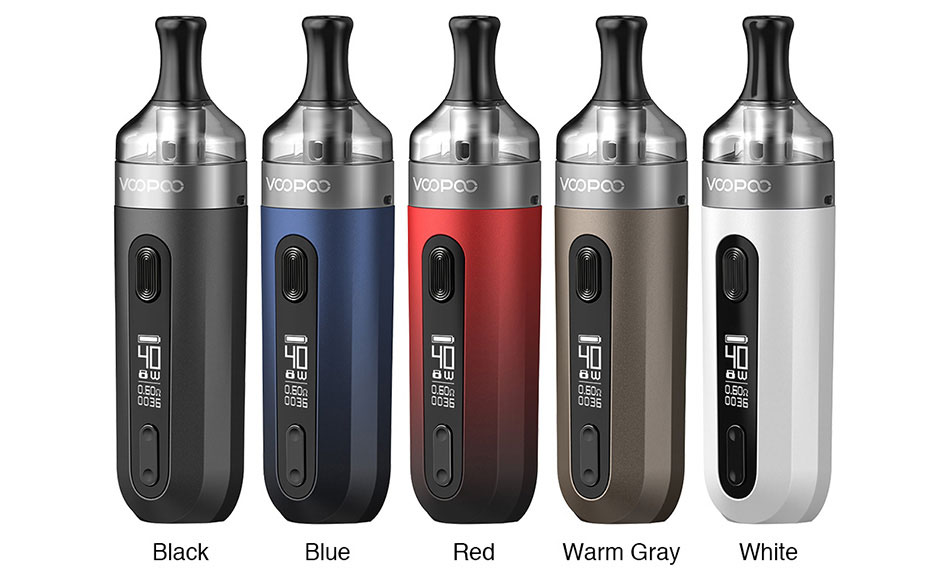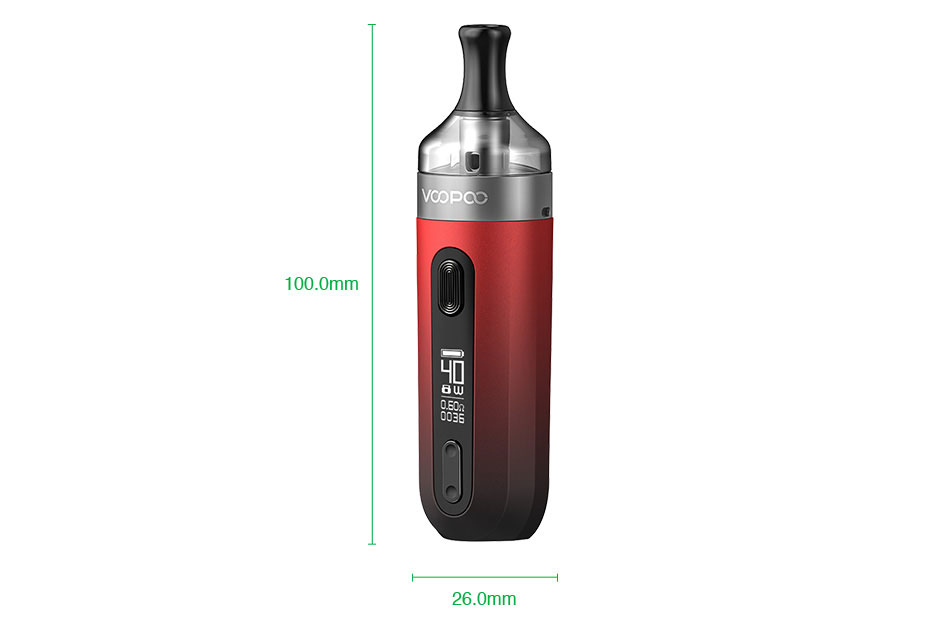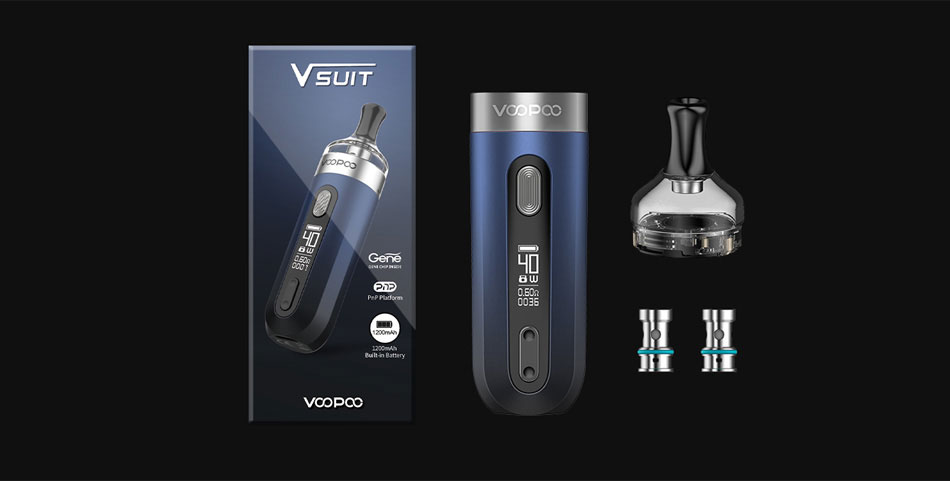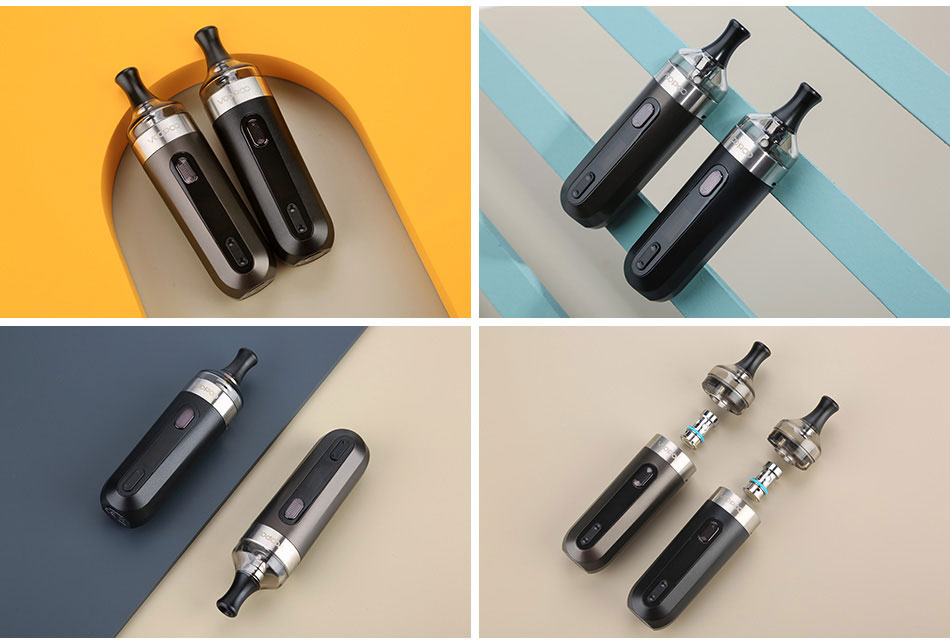 VOOPOO VSUIT 40W Starter Kit Features:

GENE Chipset
Dimensions – 100mm by 26.5mm Diameter
Integrated 1200mAh Rechargeable Battery
Wattage Output Range: 5-40W
Voltage Output Range: 3.2-4.2V
Resistance Range: 0.3-3.0ohm
Zinc-Alloy Chassis Construction
Single Firing Button
OLED Display Screen
Two Adjustment Buttons
Magnetic Pod Connection
2mL PnP MTL Pod
Bottom Fill System – Silicone Stoppered
VOOPOO PnP Coil Series
1.2ohm PnP-TR1 Coil
0.8ohm PnP-TM2 Coil
Press-Fit Coil Installation
Short Circuit Protection
Over Temperature Protection
Overtime Protection
Output Over Current Protection
Low Battery Protection
Max Power Protection
Overcharge Protection
Type-C Port
Available in Warm Grey
Quick Links :
Vapes
E-Liquids
Nic Salts
Tanks
Accessories 
Special Sale