9 Top Disposable Vapes in Pakistan
This is the list of the top 10 Vaping and E-cigarette brands in Pakistan. Read More in this Blog.
A disposable vape is a simple way to enter the world of vaping without too big of an investment. If you try starting with a complex mod, it can be both pricey and risky.
Many people stick with their disposable vapes for the long term, too. These vape pens are affordable and effective, and you never have to worry about refills or coils.
What is a Disposable Vape?
If you aren't familiar with all these vaping terms, then a disposable vape is a non-rechargeable device that is pre-filled with your favourite flavour of e-liquid. When you get a disposable vape, there is no need to recharge or refill the tank. Once your disposable vape runs out of e-liquid, it is time to throw it away and get a new one.
For those who need a small vape to replicate the experience of smoking, using a disposable vape is a great option. There aren't too many buttons to deal with, nor do you have to worry about changing the coil once every few weeks. With a disposable vape, all you need to do is inhale and enjoy a satisfying vape experience with zero hassle.
Top 9 Disposable Vapes in Pakistan
If you are wondering which disposable vapes to buy in 2021, here's an expert guide on the best disposable vapes in Pakistan:
1. Esco Bars Disposable Vape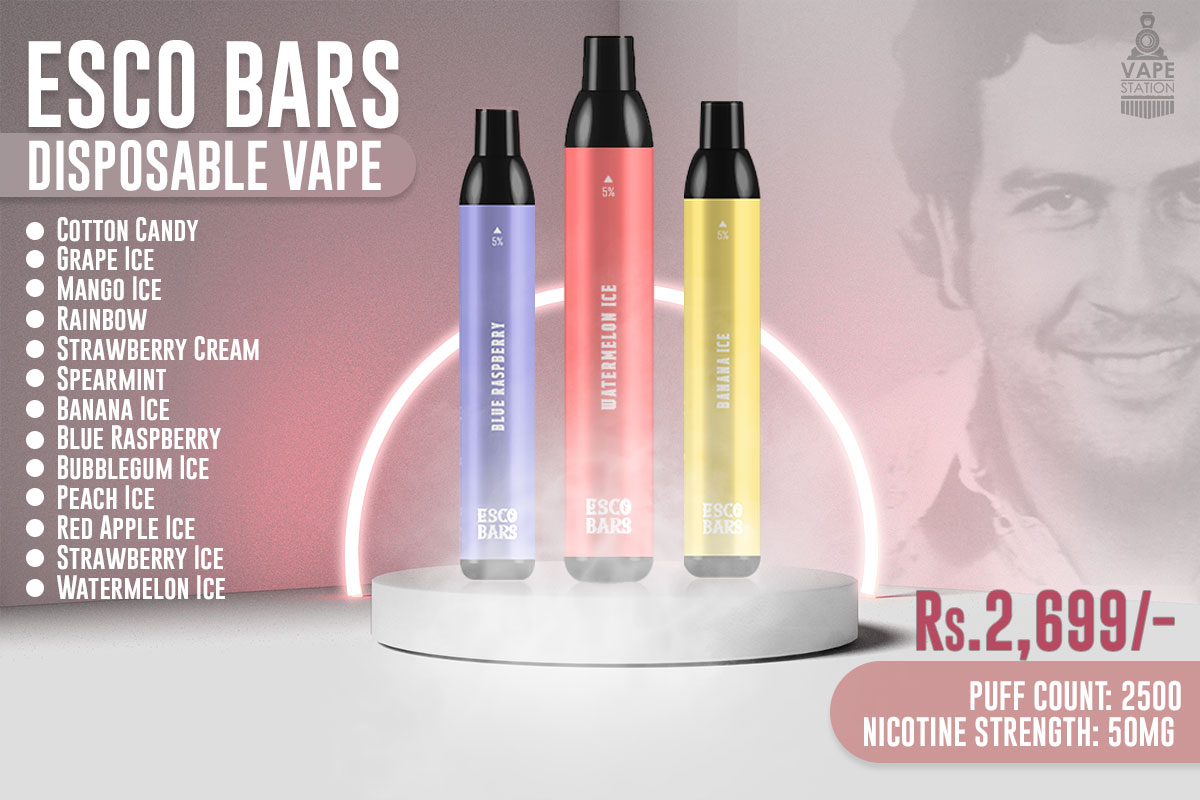 Puff Count: 2500
Nicotine Strength: 50mg or 5%
If you want a long-lasting disposable vape, then look no further than the new Esco Bars Disposable Vapes by Pastel Cartel. With a perfect combination of 6ml e-liquid tank and 1000 mAh battery, you can get a hassle free vape experience with this sleek device.
The most promising feature of the Esco Bars Disposable Vapes is the built-in mesh coil that enhanced the flavor profile of your vape. With every puff, you can get a satisfying taste of the e-liquid along with a great cloud density.
With unique flavors like banana ice and blue raspberry, each Esco Bars disposable vape can take your tastebuds to a new height of adventure. Not only do you get a wide variety of flavors to choose from, but the design of the Esco Bars disposable vape is certainly to die for.
The sleek and lightweight body can fit right into your palm, and the shiny finish is simply the cherry on top. Whether you like a metallic orange or pastel blue, Esco Bars range of disposable vapes has got everything covered.
---
2. GEEK Bar Disposable Pod
Puff Count: 575
Nicotine Strength: 50 mg or 5%
If you are on the search for an affordable disposable pod device, then the GEEK Bar is perfect for you. Powered by a 500mAh battery, the GEEK Bar disposable pod will give you up to 575 puffs.
The best part about having a low-powered pod device is the freedom to keep experimenting with different flavors over time. If you start off with their most popular Blueberry ICE flavor, you can easily switch to the classic Tobacco flavor once your pod runs out of e-liquid. The GEEK Bar disposable pod comes with 2.4 ml to 2 ml pre-filled juice that can last for a few days, depending on your usage.
Despite the 50mg nicotine strength, the GEEK Bar disposable pod offers an MTL kit that ensures a smooth hit with every puff. When you start using the GEEK Bar disposable pod, you can enjoy an amazing flavor hit with a smooth taste that lets you experience the true essence of vaping.
---
3. Vaporlax Mate Disposable
Puff Count: 800
Nicotine Strength: 50 mg
For an affordable vape option with a higher puff count, opt for the Vaporlax Mate. This vape is especially designed by a team of young and professional vapers who know exactly what you need in the right vape. Despite being a young brand, the team behind Vaporlax Mate strives to design and produce innovate products that give each user the vaping experience of a lifetime.
With a 500 mAh built-in battery and 800 puffs, the Vaporlax Mate disposable vape can last for a couple of weeks with no hassle. The pod is pre-filled with 3 ml of e-liquid in the flavor of your choice, so you don't have to worry about running out of flavor until the very last puff. The sleek design with a flat mouthpiece is carefully designed to give you a smooth hit of flavor and nicotine, just the way you like it.
Each pod has a unique ombre design, mixing and matching some of the most exotic colors. Not only is their design aesthetic on-point, but the flavor range is enough to get anyone intrigued. From Crush Grape to Red Bull Energy Drink, you can find the right flavor to entice your taste buds with Vaporlax Mate.
---
4. Maskking High Pro Disposable
Puff Count: 1000
Nicotine Strength: 50 mg or 5%
For those vapers who like the classic experience of vaping, the Maskking High Pro vape device is the perfect choice. Powered by a strong 650mAh battery, this device can last for up to 1000 puffs and give you a satisfying hit of flavor throughout. The pre-filled 3.5ml of e-liquid is enough to last you 1000 puffs which you can fully enjoy with the 50mg nicotine strength.
The Maskking High Pro is fitted with a 1.7 ohm atomization coil that ensures a smooth hit of an MTL vape. To give you a hassle-free vaping experience, the Maskking High Pro has a durable interior chassis and an independent interior pod cartridge. This means that you can carry your Maskking High Pro disposable vape anywhere without worrying about a leaking vape.
Take your disposable pod back to basics with Massking High Pro's range of vapes. Each device has a stainless-steel finish and is available in a range of bright colours, including an exotic blue and magenta pink.
---
5. VEIIK Micko Alpha
Puff Count: 600
Nicotine Strength: 50 mg or 5%
The new and upgraded design of VEIIK Micko Alpha now comes in a classic black design that gives your device a unique and mysterious aesthetic. With an adjustable airflow function, you can easily switch from MTL to DTL vaping to give you the most out of a disposable vape.
Fitted with a 3 ml pre-filled cartridge, VEIIK is known to offer some of the best flavor combinations in the market. You can count on the 500 mAh battery to last for up to 600 puffs, giving you the right flavor and nicotine hit combination until the very last puff. The 1.8 ohm coil is designed to complement the low wattage level on this disposable pod.
Not only is the sleek, rounded design easy to hold in your palm, but the mouthpiece is also very comfortable to inhale from. VEIIK Micko Alpha offers a range of exotic flavors for you to experiment with, ranging from Energy ICE to Strawberry Cake. Whether you like strong flavors or sweeter ones, VEIIK Micko Alpha always has something in store for you.
---
6. VEIIK Micko Max Pie
Puff Count: 1500
Nicotine Strength: 50 mg or 5%
If you want your disposable pod to last longer, then you can rely on the VEIIK Micko Max Pie to give you up to 1500 puffs with the right level of flavor hit. The stainless-steel design on this portable pod device offers a comfortable and first-class vaping experience.
Once you get the VEIIK Micko Max Pie, all you need to do is inhale and enjoy as there are no buttons to worry about on the device. The 900 mAh battery supports the draw-activated firing mechanism which lets you enjoy your favorite vape flavor with zero maintenance.
The VEIIK Micko Max disposable vapes are undoubtedly amongst the best disposable options in the market due to their functionality and impressive flavor quality. Fitted with a mesh coil, you can enjoy a pop of flavor with every puff. Once the 6ml e-liquid is finished, you can dispose off the device and experiment with a new flavor.
Speaking of flavor, VEIIK offers an exotic range of enticing flavors that every vaper is intrigued to try. If you need to satisfy your menthol cravings, then the Aloe Grape flavor gives you the perfect chilly mint hit with every puff. For a cooler twist and icy flavor, you can get the Lush Ice. Each flavor profile offered by VEIIK Micko Max Pie is carefully curated in a way to take your tastebuds for a wild adventure.
---
7. VEIIK Micko Pie Disposable Vaporizer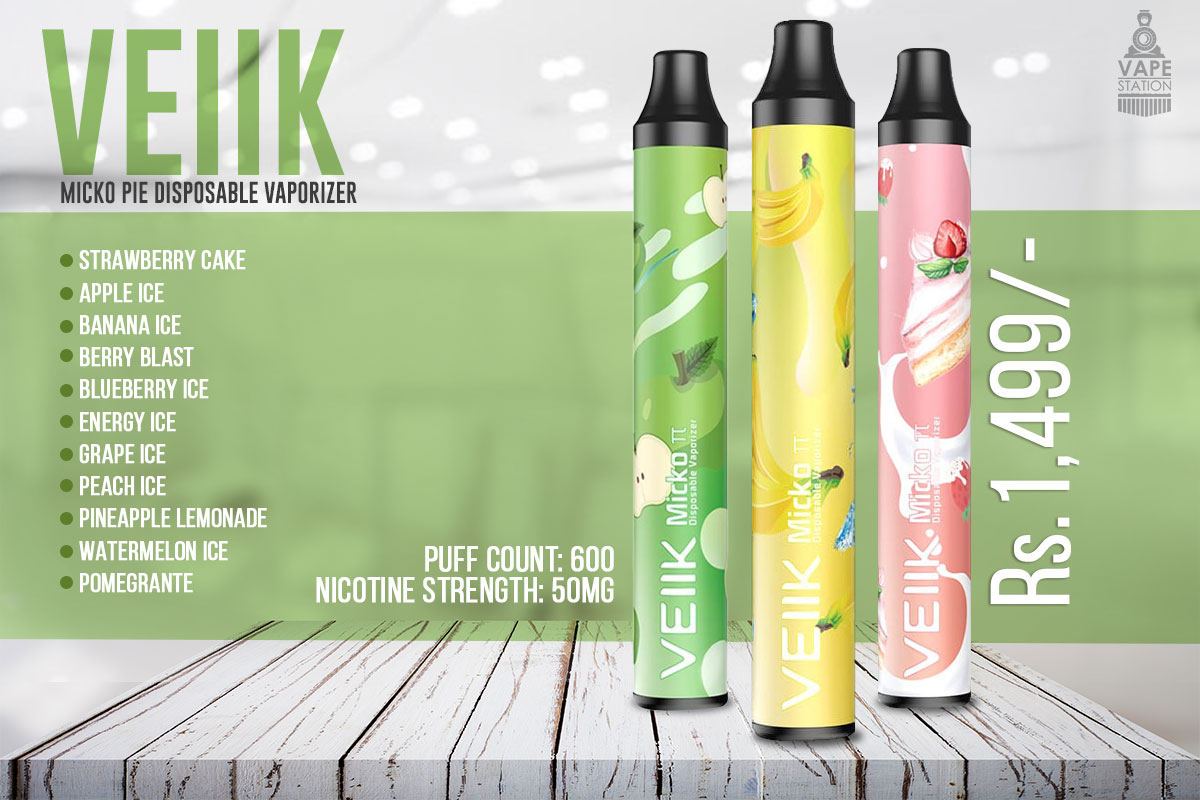 Puff Count: 600
Nicotine Strength: 50 mg or 5%
Similar to the last disposable pod on the list, the VEIIK Micko Pie is designed for vapers who only want limited puffs from one device. The 500mAh built-in battery supports up to 600 puffs, which is optimal for the 3ml fitted cartridge inside the vape.
The 1.8 ohm coil resistance gives you a rich and pure flavor with every hit. Made with organic Japanese cotton, the coil is designed to give you a satisfying pop of flavor.
Each of these vape pens has a unique Japanese-themed pattern that is a sight for sore eyes. Along with aesthetically pleasing colors, VEIIK Micko Pie has a variety of interesting flavors that you can enjoy as either a novice or expert vaper.
If you prefer your e-juice infused with sweet and creamy richness, then Strawberry Cake is the perfect flavor for you. If you like to get a tangy hit along with an icy touch, then Pineapple Ice is just the right combination for you.
---
8. VEIIK Micko Mega Disposable
Puff Count: 800
Nicotine Strength: 35mg
VEIIK Micko Mega is designed for vapers who want a lasting disposable device but a lower nicotine strength. Powered by a standard 500 mAh battery, the VEIIK Micko Mega can last for up to 500 puffs. This device is especially designed to give you the perfect flavor hit with two sides of airflow at the bottom.
The VEIIK Micko Mega has a pre-filled 2.8ml e-liquid capacity with a 35mg nicotine strength. The rectangular long device looks almost like a rechargeable pod device. The design is perfect to fit right into your hands, and the flat mouthpiece makes it easy to have more control over each hit.
The VEIIK Micko Mega is available in a few different colors, each corresponding to the flavor of e-liquid. Bright green for spearmint and a dark magenta for red wine flavors makes it easy for vapers to spot their favorite flavor from afar.
VEIIK Micko Mega is available in a variety of flavors, including Mango Ice and Cola Ice. With a lower nicotine strength of 35mg, the VEIIK Micko Mega is often recommended to beginner vapers who don't want a very strong nicotine hit.
---
9. VEIIK Micko Shark Series
Puff Count: 2300
Nicotine Strength: 50mg or 5%
The VEIIK Micko Shark series is for vapers who want their 50mg nicotine strength flavor to last for a considerable amount of time. Ideal for carrying the device around, the VEIIK Micko Shark series is designed with stainless-steel PC material and is extremely lightweight. The BVC cotton coil allows you to experience the hit of vibrant flavors alongside of satisfying your nicotine cravings.
With a rounded mouthpiece and a similarly cylindrical body, the VEIIK Micko Shark series focuses on providing an impeccable vape experience to every user. Every puff from this disposable vape will give you just the right hit of flavor without being too harsh on your throat.
With a 900mAh battery and over 2000 puffs, it is easy to note that the VEIIK Micko Shark pods are powerful devices that are well-suited to the needs of novice and experienced vapers alike.
The metallic finish body on the VEIIK Micko Shark series shines bright enough to set you apart from the crowd. The range of exotic flavors is based on fan-favorite combinations like blueberry cotton candy and pineapple coconut milk.
---