5 Best Pods in Pakistan – Pod System Kits Review
Pod vapes are the most convenient way to fulfil your daily nicotine fix. These compact devices are portable, easy to use, and you can keep experimenting with different flavours of e-liquid. However, finding the best refillable pod vape in Pakistan is not that easy. Instead of just buying a vape off the shelf, you should consider all your options to have the best vaping experience.
To help make your decision easier, here are the five best refillable POD VAPES in Pakistan.
Unlike closed pod systems like JUUL or RELX, these devices are refilable, in other words "pocket friendly".
So here goest the list of some of the most affordable vapes of 2022
---
If you are looking for an industry-leading brand, then we recommend Vaporesso. The company is well-known for its budget-friendly pod vapes that still contain some of the most premium features. With Vaporesso, you can enjoy OLED display screens and smooth finishes on your vape.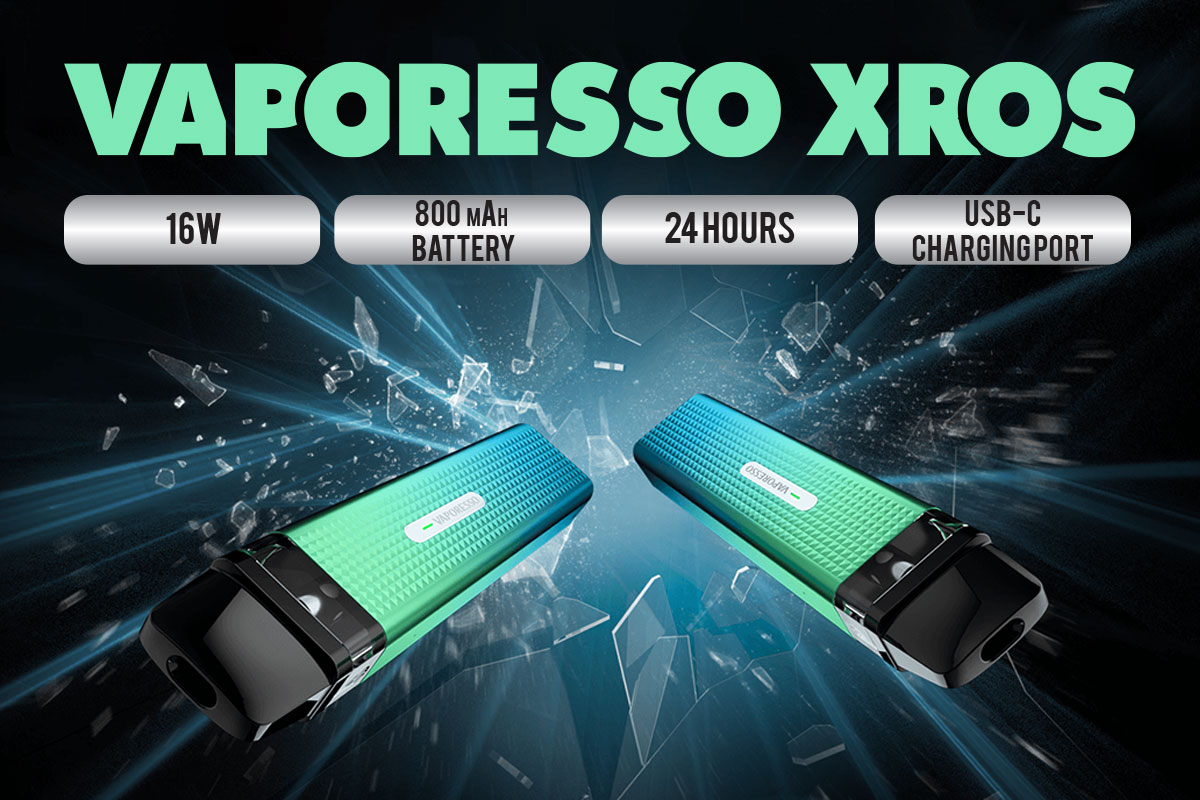 Vaporesso XROS 16W Review
The Vaporesso XROS is a refillable vape pod that competes directly with the most popular Caliburn devices. Following a modern aesthetic, the Vaporesso XROS has a stainless-steel finishing that makes it incredibly attractive.
You can fill up to 2 mL of e-liquid into the pods, which have a box-like shape. We recommend opting for the 1.2 ohms pod, mesh coils and cotton wicking for the ultimate flavour experience if you are a heavy vaper.
You can Activate the Vaporesso XROS in two ways: draw or push-button. You can use whichever way you prefer to start creating clouds of smoke with the Vaporesso XROS.
Modern Asthetics
Ultimately, the Vaporesso XROS is an excellent choice for those who want a modern aesthetic for their vape yet make no compromise on features. You don't have to worry about pod leaks with the Vaporesso XROS, and you can even adjust the airflow.
Battery and Recharging:
The Vaporesso pod vape also has an 800 mAh internal battery which can last for up to 24 hours for the light vaper. To recharge, you can use the USB-C charging port at the bottom of the vape pod.
Pros:
Long-lasting battery
USB-C charging port
Draw activation or push-button operation
Easy refill
Mesh coils and cotton wicking
Cons:
Pods are box-shaped
The mouthpiece protrudes from the device
Consumes e-liquid quickly
---
The Uwell Caliburn has been a customer favourite pod vape for years. Recently, Uwell decided to rebrand their entire Caliburn range into Caliburn A and Caliburn G Series.
The Caliburn A includes the Caliburn Koko, Original Caliburn, and the Caliburn A2. Each of these vape pods has fixed coils that you can discard when the performance begins to deteriorate.
Uwell Caliburn A2 15W Review
Out of the entire Uwell Caliburn A series, we recommend the Caliburn A2 Kit. These vape pods have a fixed coil, but you can continue using it with the refillable pod system.
When you remove the mouthpiece, you can fill up to 2 mL of e-liquid into the vape pod. The Uwell Caliburn A2 is only compatible with one type of pod – the 0.9 oHm Meshed-H. Two of these are already in the kit for your convenience. To refill, press on the side of the mouthpiece as it pops off and reveals the pod. You can either fill the pod while it's still attached to the device or pull the pod off entirely and re-attach it later.
Button and Draw-Activated
One of the best features of the Caliburn A2 is that you can either choose the auto draw activation by taking a pull from the mouthpiece or press the button manually.
Battery and Recharging:
The Caliburn A2 has a 520 mAh battery which you can recharge using the USB-C port. Even if the battery runs out too quickly, you can go from 0% to 90% in only 35 minutes.
Pros:
Slim and sleek design
Quick recharge
Easy refilling
Cons:
Short battery life
Only one compatible pod
---
Are you looking for a vape pod with the latest technology? Try GeekVape – a company that strives to create innovative devices to cater to the vaping industry. The company not only makes use of high-end technology but also aims to provide a healthy vape experience to the community.
GeekVape Wenax K1 16W Kit Review
GeekVape has designed The Wenax K1 for the modern vaper. With a sleek form factor and low operating wattage, the device prioritizes a smooth mouth-to-lung vaping experience. If you want to invest in a portable pod vape instead of carrying a hefty and fancy device, then the Wenax K1 is the perfect choice for you.
The Wenax K1 kit uses the classic PCTG plastic pods. These pods have a 2 mL e-liquid capacity, which should be enough to last a single day before needing a refill. We recommend using the 1.2 ohm Pod that comes in the kit to make your e-liquid last longer. The Wenax K1 is a closed system pod kit, which means that you cannot replace the coils if the performance deteriorates.
3 Power Settings 9W to 16W
Since GeekVape is all about innovation, the Wenax K1 has three different power settings, auto-draw mode and a push-button fire to start vaping. Users have the option to switch between 9 watts and 16 watts of power. You can enjoy a phenomenal mouth-to-lung vaping experience with the tight airflow.
Even though there is no screen on the Wenax K1, we highly doubt that it needs one. GeekVape combines a range of features into a simple device that is incredibly easy to use.
Overall, the Wenax K1 has a slim and sleek body that resembles most Pod sticks. With the metal finishing and smooth rounded corners, you can hold it comfortably in your hand. You puff through the fixed drip mouthpiece at the top of the device.
Battery and Recharging:
The GeekVape Wenax K1 comes with a 600 mAh battery that can last through most of the day. Once the battery drains out, you can recharge it using a USB-C port for fast charging.
Pros:
Responsive auto draw
Pocket fire protection
3 levels of power output
Stylish and portable
Cons:
It does not have a lasting battery
Difficult to refill using the rubber plug
---
While Suorin doesn't release vape devices as often as other manufacturers, they still have one of the best pod systems in the market. Previously, Suorin had their Air and Air Plus vape systems become the talk of the town relatively quickly. Now, the Suorin Air Pro brings an update to those devices and offers a new range of features to the regular vaper.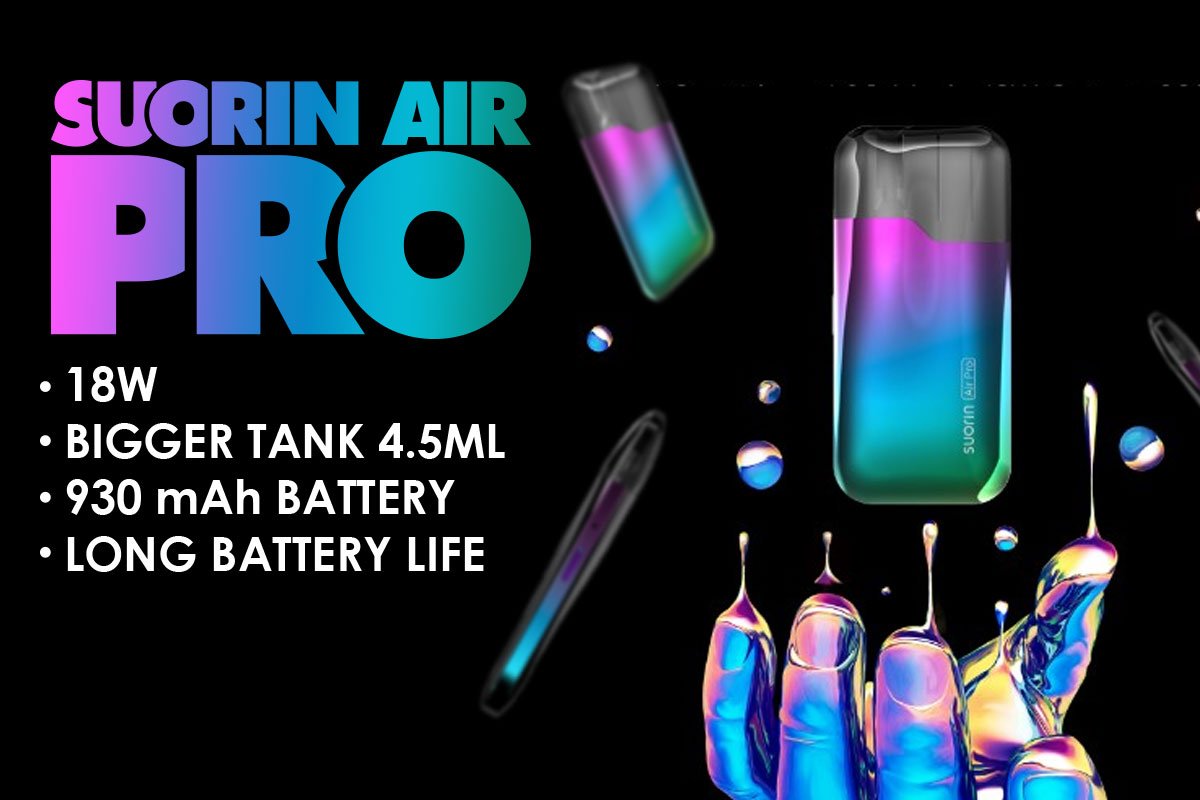 Suorin Air Pro 18W Review
The Suorin Air Pro has an 18W power output which seems sufficient for the single pod and coil on the device. A small LED indicator light on the fire button lights up when the device is active. Most importantly You can fire your Suorin Air Pro with either draw activation or by pressing the fire button.
Bigger Tank 4.5ml and Long Lasting Coil Performance
The most impressive part about the Suorin Air Pro is the 4.6 mL e-liquid capacity with an integrated coil system inside the pod. The company claims that you can refill the pod up to 6 times without worrying about decreasing performance.
We recommend the Suorin Air Pro for vapers looking for an incredibly sleek yet stylish MTL pod kit. You can buy this pod vape in 11 different colours, including Ice Blue and Gunmetal!
Battery and Recharging:
Even though the Suorin Air Pro is almost as thin as a credit card, it still has an impressive 930 mAh battery that can easily last for over a day. You can charge this slim and sleek device with the 1A micro-USB charger or the Pogo charging dock now sold separately by the company.
Pros:
Lightweight and portable
Large e-liquid capacity
LED button to indicate activation
Long battery life
Cons:
Difficult to refill the pod
---
While we already introduced Uwell earlier on our list, one more device from their range is worth mentioning. If you are looking for an affordable MTL pod system, the Uwell Yearn Neat 2 is a great choice.
Uwell Yearn Neat 2 12W Review
With the Uwell Yearn Neat 2, you can enjoy a comfortable vaping experience with the draw-activation and Pro FOCS flavour technology that delivers a satisfying hit with each draw.
You can fill up to 2 mL of e-liquid into the Yearn Neat 2. The pod fits perfectly into the body, and a powerful magnet holds it firmly in position. Moreover, filling the pod is simple – there is a side port that is wide enough to fill your favourite vape liquid.
Lightweight, Portable & Sleek
The size of the Uwell Yearn Neat 2 is as sleek as a disposable vape pen. The device can easily fit into your pocket or bag, and you can carry it just about anywhere. Even holding the Uwell Yearn Neat 2 in your hand is a comfortable experience with the rounded shape and sturdy exterior.
If you're not a big fan of branding on your vape device, then the Uwell Yearn Neat 2 only has 'NEAT' written at the front of the device.
Battery and Recharging:
Uwell Yearn Neat 2 comes with a 12W power output and a 520 mAh battery. These attributes should be enough to get an average vaper through the day.
Pros:
0.9ohm coil provides great flavor
USB-C charging port
Draw activation
Portable and easy to use
Cons:
Only a single pod included in the kit
---
Final Thoughts
To Sum it up, all Vapes have their upsides and downsides. Eventually, it all comes down to an individual's preferences.
Now that you know everything about the top 5 refillable vapes in Pakistan, you can head on to your favourite VAPE SHOP and make a better decision. Try out the latest collection of Vapes, E-cigarettes, Vape Pens, Disposables, Coils and E-liquids online.
The most significant advantage of investing in a refillable pod system is that you don't have to worry about buying a new device every few days. On top of that, you can keep experimenting with different E-LIQUID FLAVOURS in your device until you find a favourite one.